There was a massive Fisher-Price recall involving more than 10 million toys years back. My son's Fisher-Price Ocean Wonders™ Kick & Crawl™ Aquarium was affected. The valve on the inflatable ball could come off and there were three children reported to have begun choking on the valve. Needless to say, I have thrown the ball away.
As toys are such an integral part of our baby's or toddler's playtime, here are some important tips for parents on toy safety.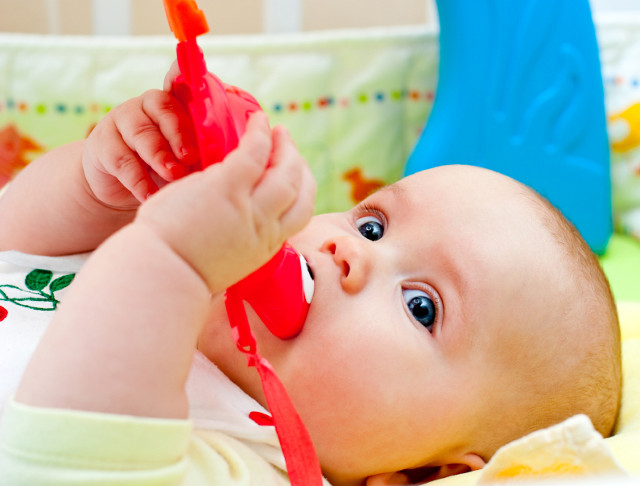 Choosing Toys
Read packaging label and instructions: Select toys that are of the appropriate age group for your child. Read the instructions carefully, focusing on warning statements. If you are confident that your child is no longer mouthing things, and choose to offer him a toy labelled as unsuitable for age 0 to 3 years old, supervise him closely during play.
Check manufacturer's safety standards and policies: Both large and small brand names may produce toys subject to recall. Take some time to read the manufacturer's safety policies on its website. Sometimes, you would be able to find safety tests certifications.
Use the toilet roll tube test: If the toy can fit into a toilet roll tube, it is too small and poses a choking hazard for young children.
Beware of small parts: Ideally, the toy should not have any detachable small parts such as the eyes, nose, buttons of a teddy bear. Stuffed toys should also not contain beans and pellets, which are hazardous when the toy is torn. The wheels of some toy cars may also come off during play, posing a choking risk.
Avoid small magnetic parts: U.S. CPSC (Consumer Product Safety Commission) warns that when two small magnets (or a small magnet and a metal item) are swallowed, they can attract each other through the intestinal walls, leading to intestinal damage and even death. For this reason, avoid getting toys with small magnets that could fall out. Any magnets in the house should also be out of young children's reach. One such hazard is fridge magnets, which are popular in many homes.
Avoid toys with cords and strings: Cords and strings pose a strangulation hazard, especially when many children love to wrap them around their necks. For pull-string toys, you may choose to tie a dead-knot to significantly shorten the strings, or cut them off.
Avoid toys that produce loud / sharp noises: These could cause permanent hearing damage. A young child may put the noisy toy next to her ears or her peer's ears, so it is better to steer clear of these toys.
Choose toys made of wood or cloth: To avoid potentially harmful chemicals such as PVC, phthalates and BPA, some parents opt for wooden or cloth toys, especially for their children who are still mouthing items. When getting wooden toys, choose those with lead-free paint
Check the quality of the toy:
Not easily breakable or chipped, especially thin plastic parts
No sharp corners
Nothing to catch small fingers
No wooden splinters
No opened seams for soft toys
No metal rust
No peeling paint
Battery case is screwed tight (Without a screw, a child may remove the cover and ingest the battery, which is very dangerous.)
These Toys Aren't Mine
Check hand-me-down toys carefully: When you receive a bag of handed down toys, check every item for its suitability and quality according to the other tips mentioned above. After that, clean and sanitise the toys before giving them to your child. However, there is always the risk of recalled toys that you are unaware of when accepting hand-me-downs.
Be extra careful during a play date: This is especially so if your baby is younger than the host's child and still mouthing things. Scan the toys for small parts and supervise closely. You may politely ask the host to keep potentially dangerous items during the play date.
More Good Practices
Check toys regularly for wear and tear: Every week, check existing toys for signs of wear and tear, or accidental damage. If necessary, repair the items or throw them away before danger arises.
Check toys before next newborn arrives: The arrival of a new baby means many toys could be considered dangerous again. Keep unsuitable items out of the youngest baby's reach and educate the older child on items that are unsuitable for a baby.
Stay updated on toy recalls: When unsure of a toy, you may search the U.S. CPSC website to check it has been previously recalled.
As parents, we can never be too careful, so let us make playtime as safe as possible for our precious little ones.
By MieVee.
MieVee is a Stay-At-Home-Mum with a 2-year old son, Vee. She supports cloth diapering, natural parenting and homeschooling. Her website, aims to help parents make smart purchases and organises regular giveaways.
* * * * *
Like what you see here? Get parenting tips and stories straight to your inbox! Join our mailing list here.
Want to be heard 👂 and seen 👀 by over 100,000 parents in Singapore? We can help! Leave your contact here and we'll be in touch.