Chinese New Year means many things to the Chinese. To most, it is a time for reunion dinners and catching up with relatives and friends. To the kids, it means getting red packets from the adults and eating lots of candies! To the fashionistas, it means getting to wear that special red dress they bought. To the newly married couples, it means having to give ang bao's for the first time.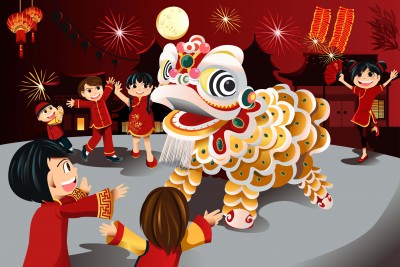 What does Chinese New Year mean to you? Have you ever wondered how some of the traditions originated from? Well, here are some legends and origins of some New Year traditions.
Firecrackers
There are several legends with regards to lighting firecrackers during Chinese New Year.
According to one legend, there once was a foul-smelling giant, named Shan Sao, who lived deep in the forests, near the Western part of a village. He caused the villagers to be afflicted with diseases and caused them to feel very hot and cold. In an attempt to scare the beast away, the villagers decided to construct a heap of bamboo stems and set it alight.
The other legend is the story of Li Tien. Li Tien had a neighbour, Chung Sou who frequently fell ill. Believed to be possessed by spirits, Li Tien suggested exploding bamboo stems hanging from dozens of poles. On New Year's eve, they burned the bamboo stems and the fire caused the stems to explode with a loud noise, and this scared all the evil spirits away. Over time, the burning of bamboo stems or the beating of drums became a ritual observed every Chinese New Year's Eve and spilled over to other Chinese festivals as well.
Fun Fact: Did you know that Bamboo burns in a series of explosions? Hence it was often used to light firecrackers.
Giving Hongbao
About 1,000 years ago in China, parents gave their children 100 coins known as ya sui qian 压岁钱, hoping that they would live up to 100 years old. The coins were presented on the eve of Lunar New Year for children to buy clothes or to save up. In the Song Dynasty of China during the 12th century, giving money or li shi became a common habit. As a wish for good luck, it is given to children by their parents on New Year's Day and to well-wishers who come beating drums and gongs, greeting everyone a happy New Year.
Fun Fact: Did you know that the li shi packets were probably made of silk or cloth? It was only in the late 19th century that people started using red packets and calling them hongbao.
➡️ Related Read: 10 Chinese New Year Dos and Don'ts
Lion Dance
Dating back to more than 1,500 years and performed during auspicious occasions, Lion Dance is believed to bring good fortune and wealth. During the Chinese New Year, Lion Dance is performed because of its story of a mythical beast, Nien.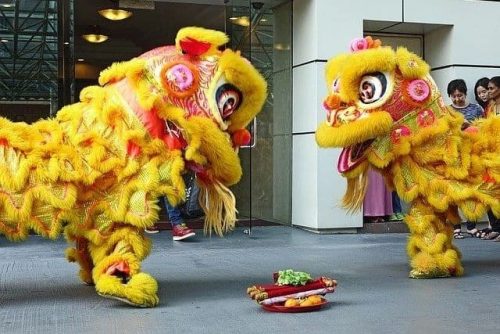 According to legend, every Chinese New Year's eve, an unknown animal came to destroy the fields, crops and animals belonging to the farmers of a village. Unable to identify the beast, the villagers called it Nien, which came to mean "year 年" in Chinese. To put a stop to the beast's ravaging, the villagers made a fearful model of the animal out of bamboo and paper, with two men controlling it, accompanied by the loud beating of instruments. They waited for the animal on New Year's eve and succeeded in driving it away. From then on, the Nien dance was performed annually on Chinese New Year's eve along with drums, cymbals and gongs.
Fun Fact: As time passed on, the image of the animal came to look more like a lion and the dance was later regarded as auspicious for all significant occasions.
New Year Meals
Image from Anthony Chen's short film, "Reunion Dinner"
Food served on New Year's Day is normally prepared in abundance and the day before. Taking surplus amount in the following days of New Year is said to symbolize wealth being brought over from the previous year.
Fun Fact: Did you know for most traditional families, the first meal on Chinese New Year will be vegetarian food as consuming meat and slaughtering animals on this day is considered 'bad'.
➡️ Related Read: Videos That Sum Up What Chinese New Year Is All About
* * * * *
Like what you see here? Get parenting tips and stories straight to your inbox! Join our mailing list here.
Want to be heard 👂 and seen 👀 by over 100,000 parents in Singapore? We can help! Leave your contact here and we'll be in touch.