Gong Xi Fa Cai!
It's just a month after Christmas feasting and now our waistbands are going to be stretched again by all CNY goodies. Unfortunately, most traditional New Year goodies pack quite a caloric punch and offer little nutritional value. Many treats are high in sugar and fat, and excessive consumption can be very unhealthy for you, even if it's just "once a year".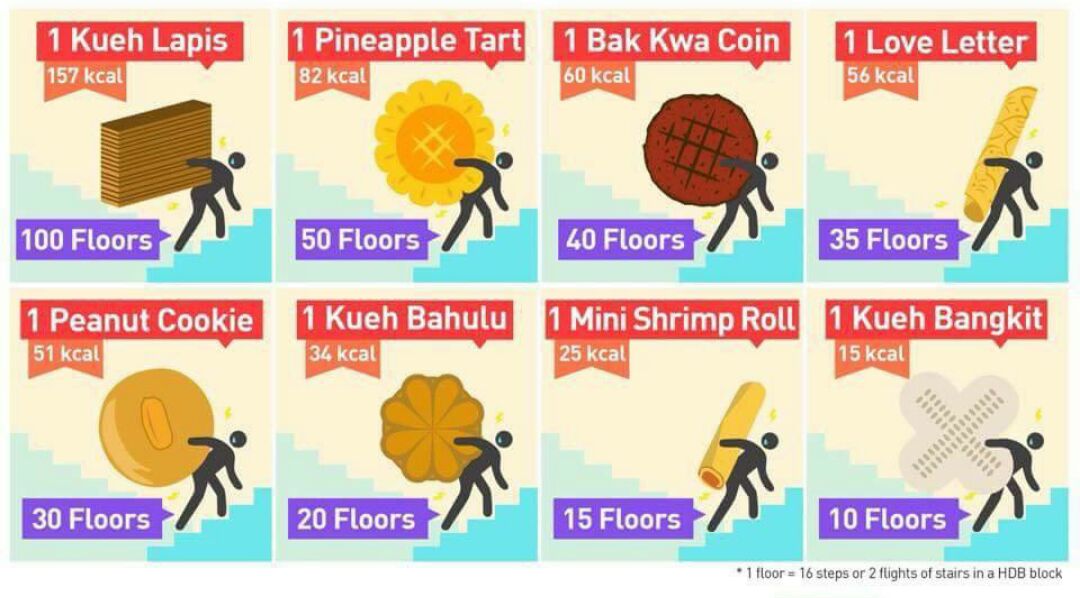 Source: Unknown
Here's the low down on some common goodies and their damage.
Photo credit: IKEA
The juicy orange fruit is both low in calories and rich in vitamin C.
Serving size: 116g (1 orange) – Fat: 0.3g Sugar: 10.6g, Calories: 51
We say: Eat more!
*******************************
Nuts are generally healthy. But not all nuts are equally healthy. The majority of peanuts sold as snacks come packed with salt, and they are often roasted and come coated in unhealthy fats. And once you start eating, it's hard to stop.
Serving size: 20g (A handful) Fat – 10g Sugar: 0.8g, Calories: 113
We say: Be strict with yourself and don't mindlessly pop nuts into your mouth! If you love nuts, try a mix of almonds, raw cashew nuts and groundnuts instead.
*******************************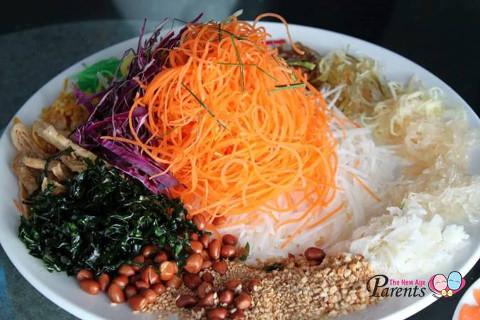 On the surface, this looks like a healthy salad, with some raw fish thrown on top! However, the crackers and plum sauce contain quite a few calories.
Serving size: 387g – Fat: 42.6g, Sugar: 15.5g, Calories: 561
We say: Replace the crackers with unsalted peanuts. Add more fresh vegetables, use less plum sauce and pickles. And one serving is really more than enough.
⇒ Related Read: How To Lo Hei Yu Sheng
*******************************
This traditional Peranakan treat, also known as kueh kapek or kuih belandah, is made of flour, coconut milk, sugar and egg, making it high in calories, fat, saturated fat and sugar.
Serving size: 26g (2 pieces) – Fat: 2.1g, Sugar: 9.9g, Calories: 112
We say: One or two pieces is enough. Resist the urge to slather on a layer of butter!
*******************************
The store-bought ones are typically deep fried in palm oil, which is high in saturated fat. These seemingly small and innocent rolls are also high in sodium.
Serving size: 45g – Fat: 14g Sugar: 2g Calories: 228
We say: 6-8 pieces are just about right for this treat.
*******************************
These pretty white cookies with delicate designs contain a lot of sugar and coconut milk, so go slow on them.
Serving size: 12g (2 pieces) – Fat: 2g, Sugar: 2g, Calories: 46
We say: Let the first piece melt slowly in your mouth and savour the sweetness before reaching for that second (and last) one.
*******************************
Photo credit: Bakerzin
Pineapple paste, eggs and a huge amount of sugar and butter make this popular goodie a very fatty one indeed. Consuming tarts in excess is almost guaranteed to lead to unnecessary weight gain.
Serving size: 40g (2 pieces) – Fat: 8g, Sugar: 12g, Calories: 164
We say: Ok, we know 2 pieces is really hard to keep to. So if you must, must, must eat your tarts, be sure to cut back on some of the other goodies on your list! Where possible, buys tarts with less sugar and which are trans-fat free.
⇒ Related Read: Where To Buy The Best Pineapple Tarts
*******************************
The pork is not an issue – it's the marinade of fish sauce, dark and light soya sauce, rice wine, sugar and honey, which makes this treat very high in calories, sodium and sugar. Too much of it can increase your risk of hypertension. Bak Kwa is also considered a "heaty" food in traditional Chinese medicine, and thought to contribute to the development of coughs, sore throats and ulcers.
Serving size: 57g (1 slice) – Fat: 7.8g, Sugar: 24.5g, Calories: 229
We say: One slice can go a long way. One is enough.
*******************************
With glutinous rice flour, brown sugar and oil as some of its main ingredients, this traditional goodie is definitely too much of a good thing. It's also extremely sticky, so you don't want to offer this to the kids.
Serving size: 20g (1 piece) – Fat: 0.1g, Sugar: 7g, Calories: 46
We say: Avoid as far as possible, or limit yourself to one tiny piece only.
By Dorothea Chow.
* * * * *
Like what you see here? Get parenting tips and stories straight to your inbox! Join our mailing list here.
Want to be heard 👂 and seen 👀 by over 100,000 parents in Singapore? We can help! Leave your contact here and we'll be in touch.