Whether you've lived on our sunny little island for 10 or 50 years, there are many interesting things to learn every day. Here are 49 (+1) fun facts you probably never knew about Singapore!
1. Our national anthem is in micro-text on the back of the $1000 note. Have a look and see!
2. Singapore has the biggest Yakult bottles in Southeast Asia, and the most expensive.
3. Any primary school student will know the story of Sang Nila Utama, a prince from Palembang who saw a creature he thought was a lion, and duly named the island Singapura, which means Lion City in Sanskrit. But truth be told, there were no lions ever in Singapore. Well, except now, in the zoo.
4. Singapore is one of only three surviving city-states in the world, because we don't have a capital. The other two are Monaco and the Vatican City.
5. Popular cable channel Cartoon Network initially thought Singapore was in Malaysia. It's true, Singaporeans are often mistaken to be from Malaysia or China when travelling overseas.
6. We are the fastest walkers on the planet! According to a study by the British Council, Singaporeans have the fastest walking speed. On average, we can walk about 6.15km in an hour!




7. The youngest person to pass the GCE 'O' Level Chemistry paper in the world is a Singaporean. Ainan Celeste Cawley was only 7 years and 1 month old when he took the GCE 'O' Level Chemistry paper and passed, making him the youngest in the world to do so. Kudos to him!
8. Gasp! There's another Singapore in the World! Singapore is also the name of one of Michigan's famous ghost towns.
9. Besides our main island, the nation of Singapore includes 63 other tiny islands. Most of these islands are uninhabited. (Picture below: Kusu Island)
10. Singapore is among the 20 smallest countries in the world, with a total land area of only 682.7 square kilometers. To give you context, USA is about 15,000 times bigger.
11. Singapore became the 117th member of the United Nations on 21 September 1965.
12. Ever wondered what the symbols on our national flag represent? Red symbolises universal brotherhood and equality of man while white signifies purity and virtue. The crescent moon represents a young nation on the rise and the five stars signify the ideals of democracy, peace, progress, justice and equality.
13. The national flower of Singapore, Vanda Miss Joaquim, was first discovered in 1893 by Agnes Joaquim, an Armenian.
14. The Merlion, a half-fish, half-lion beast, is a fitting symbol of Singapore. Here's why – The "Singa" or lion represents the animal that Sang Nila Utama saw (see point 3 above), and the fish is a tribute to Singapore's history as "Temasek", an ancient sea town.

Related Read: How Many Merlions Are There In Singapore
15. Our local blend of Singlish is actually pretty well-known internationally. We even have two words – lah and sinseh – in the online version of the Oxford English Dictionary.




16. The flying fox, the world's largest bat with a wingspan of up to 1.5 metres, can be found on Pulau Ubin, one of the islands off the mainland.
17. The world's first night zoo, The Night Safari, is located in Singapore.
18. Despite our relative lack of farmland and agriculture, Singapore is the largest exporter of ornamental fish (contributing to 25% of the world market).
19. The Bukit Timah Nature Reserve in Singapore contains more species of trees than the entire North American continent.
20. The highest natural point in Singapore is Bukit Timah Hill – which is only 164 metres high.
21. Buildings in Singapore cannot be higher than 280 metres. There are presently three buildings of that height: OUB Centre, UOB Plaza and Republic Plaza.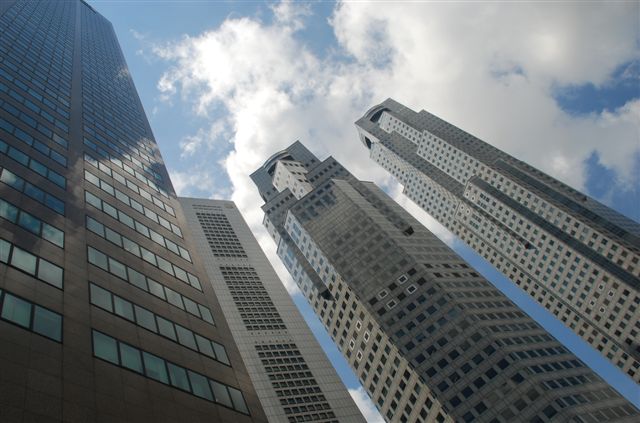 22. The largest fountain in the world is right here in Singapore at the heart of Suntec City. It cost an estimated US$6 million to build in 1997.
23. The towers in Suntec City have been built in the shape of a palm of a hand symbolising good "feng shui".
24. Since 1987, Singapore's Changi Airport has consistently won the award for "Best Airport in Asia" from The Asian Freight and Supply Chain Awards 2014. That's 28 consecutive years!
25. The Guinness book record for the longest human domino chain was set in Singapore on 30th September 2000. Formed by 9,234 students, it measured 4.2km.
26. The record for the biggest ever game of pass-the-parcel was set in Singapore on 28 February 1998. It involved 3,918 students removing 2,200 wrappers from a 1.5 x 1.5 x 0.5 m parcel. That must've been some package!
27. In May 2002, the record for the most number of people participating in line dancing was set in Singapore – with 11,967 dancers.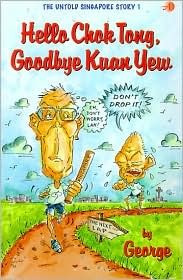 28. The fastest selling book of all time in Singapore is Hello Chok Tong, Goodbye Kuan Yew: The Untold Story. Written and drawn by political cartoonist George Nonis, it sold 40,000 copies in two months. Time to get your hands on a copy!
29. Russell Lee, a pseudonym for a team of ghost-writers, is the hottest-selling local author in Singapore. Their 11 volumes of True Singapore Ghost Stories have sold more than 600,000 copies to date.
30. The highest grossing movie of all time in Singapore (before 2014) is Avatar, which brought in S$10.65 million in 2009.
31. The first Singaporean film to be shown at the Cannes Film Festival was director Eric Khoo's 12 Storeys in 1997.
32. Ilo Ilo (Chinese: 爸妈不在家), the debut feature of director Anthony Chen, is the first Singaporean feature film to be awarded the Camera d'Or award at the Cannes Film Festival in 2013. In total Ilo Ilo has received 21 awards and 10 nominations around the world, making it the most critically acclaimed film in the history of Singaporean cinema.
33. Violinist Vanessa Mae Nicholson, known for the pop music she weaves on her electric violin, was born in Singapore and moved to England when she was four.
34. More Singaporeans are born in the month of October than any other month of the year.
35. The most common Chinese surnames in Singapore are Tan, Lim and Lee.
36. Singapore has more than 3,000 kilometres of roads. Stretched out end to end, they would cover the distance from Singapore to Hong Kong.
37. 80% of Singaporeans own cell phones. In fact, many working professionals own two – one for personal use and one for work-related matters.
38. Swimmer Ang Peng Siong was ranked world number one in the 50m Freestyle in 1982.
39. The Singapore Sling was first served up to guests at the Long Bar of the Raffles Hotel in 1915. The ingredients are gin, Cointreau, cherry brandy, Dom Benedictine, pineapple juice, Grenadine, Angoustura bitters and limes.
40. The national language of Singapore is Malay, not English! The national anthem (Majulah Singapura) of the country is written on this language. In Singapore, the four official languages are English, Chinese, Tamil, and Malay.
41. Singapore is one of the world's leaders in the number of death sentences meted out (mostly to drug dealers).
42. Singapore is a member of the group "East Asian Tigers", along with South Korea, Taiwan and Hong Kong, because all these countries have experienced huge economic growth in the past few decades.
43. Despite the fact that Singapore is often referred to as a "concrete jungle", the truth is that there is an abundance of greenery in almost every area of the city. Almost half of the territory of Singapore is covered by vegetation!
44. Nearly 9 out of 10 Singaporeans live in public housing.
45. The largest tropical orchid garden in the world is found in National Orchid Garden in Singapore Botanic Gardens.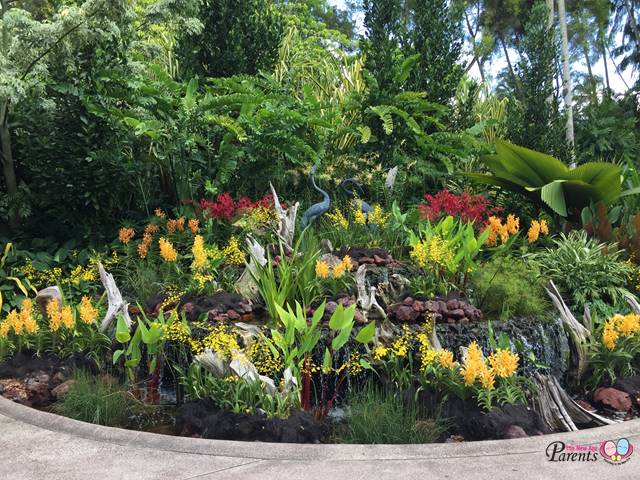 46. In 2015, Singapore Botanic Gardens was honored as a UNESCO World Heritage. It is the first tropical and only the third botanic gardens on the UNESCO World Heritage listing. This was announced during Singapore's 50th year of independence.
47. 2016 marked Singapore's first Olympic Gold medal. On 12 August 2016, in Rio de Janeiro, 21-year-old Joseph Schooling won a gold medal in the 100m butterfly with a time of 50.39 seconds, the first Olympic gold medal won by Singapore.
48. In the same year, Paralympic swimmer Yip Pin Xiu earned a new world record in the 2016 Paralympics, earning her a gold medal. She went on to win her second gold medal of the 2016 Games in the 50 m backstroke.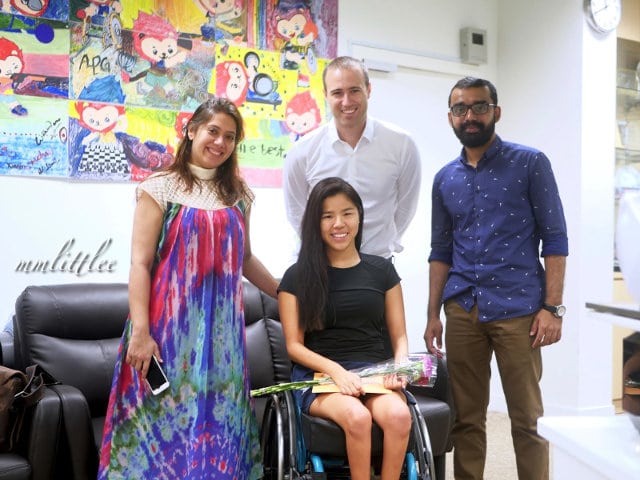 49. The old National Library at Stamford Road, closed its doors on 31 March 2004 to mixed views. But a number of old bricks from the old building are in the new building at Victoria Street.
Here's an extra fun fact to add to the list!
50. The newly-opened National Stadium has a retractable roof that not only keeps out the rain, but also doubles up as a giant projector screen. It covers 95% of the seats, takes about 20 minutes to open or close, and is made of a cutting-edge weather-resistant material that blocks out the sun's rays as well as raindrops.
Note: List compiled in 2014.
By Dorothea Chow.
* * * * *
Like what you see here? Get parenting tips and stories straight to your inbox! Join our mailing list here.
Want to be heard 👂 and seen 👀 by over 100,000 parents in Singapore? We can help! Leave your contact here and we'll be in touch.