There are many substantial support and critics by parents and even educators about the proper placement for children with special needs. While some parents and educators feel that every child deserve to be placed in the regular mainstream schools, others feel that it is only by special intervention centres that the children will be able to benefit.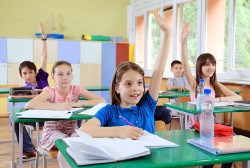 While these views are important to keep in mind, one thing to consider is this: Which make the most sense for my child right now?
1. Mainstream school
What is it? The placement of children with special needs in the general education classroom.
Examples: Local Childcare Centres & Kindergartens
Common characteristics
Full day/Half day programmes
Interaction of children with and without special educational needs in social activities and classroom instruction
May have limitations for child in participating in certain aspects of school life
May or may not provide additional services or support as required by child with special needs (eg: therapists, learning aids)
Considerations:
Will my child be able to cope with the standards and demands of this mainstream setting?
Does the centre's philosophy and teaching beliefs tie-in with what my child needs?
Tips for parents:
– Understand the limitations that your child may have while enrolled in the centre
– Enquire about the additional services and support that they can provide for your child
– Visit the school and keep a lookout for both benefits (eg: trained teachers) and potential hazard(s) that may be present for your child, and then weigh the pros and cons
2. Special Intervention Centres
What is it? The placement of children with special needs in the schools specially designed to cater to the unusual needs of an exceptional student.
Examples: AWWA, CSHI, MINDS, Thye Hua Kwan (THK) Moral Eipic Centre, Rainbow Centre
Common characteristic
Half day programmes
Caters to specific needs of children
Other related facilities and services
Considerations:
Does the programme offer opportunities for my child to develop holistically; physically, cognitively, emotionally, socially and morally?
Tips for parents:
– Learn the specifics about your child's learning disability and understand how the centre caters to these needs
– Understand the teaching techniques used that is specific for your child
– Enquire the frequency, cost, and subsidies available for the programmes are available (eg: in-house therapists)
– Includes specialised teaching techniques and equipment
– Provides special transportation
3. Mainstream School & Special Intervention Centres
Another alternative is to enrol your child in both the mainstream and special intervention programmes. The half-day programme in most special intervention centres now allows parents to have the option of placing children in their programme and then having the child back in a mainstream school for the other half of the day. To ease the transition process, do enquire with the Special Intervention Centres to ensure that they are able to provide transportation between the Child Care Centre/Kindergarten and their school.
However, not every child is suited for this option.
As parents, you have to consider:
– Your child's age
– Whether your child requires structure and routine
– Is he/she is able to tolerate the transition and longer hours
So, which option is best for my child?
Every option has its pros and cons and varied cost. Even as you ponder through the options, keep in mind about "Which setting will be the most productive, beneficial, stimulating and least threatening place for your child to learn?" Once your decision has been made, continue to monitor the situation closely, and work closely with the educators involved. Your child's placement is not set in stone and you can always make adjustments to it, for the best of your child.
By Melisa Neo.
* * * * *
Like what you see here? Get parenting tips and stories straight to your inbox! Join our mailing list here.
Want to be heard 👂 and seen 👀 by over 100,000 parents in Singapore? We can help! Leave your contact here and we'll be in touch.