It's no secret that swimming is an essential life skill for every child. Swimming lessons come with a plethora of benefits such as building your child's water confidence and enabling them to stay safe in and around the water.
A full-body workout in itself – swimming builds strength, endurance and helps one maintain a healthy set of heart and lungs. It is the sport with the least impact on your joints and if taught correctly, will result in the least injuries in the span of one's lifetime.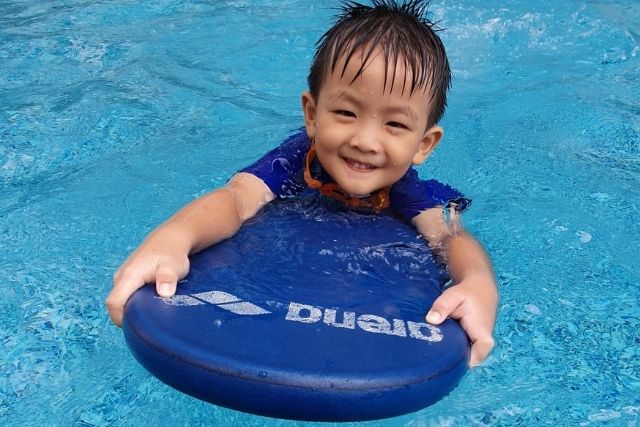 Not to mention, swimming develops your child's full-body coordination and balance, equipping them with skills that can extend to saving their own lives and the life of others in emergency situations.
In Singapore, one's swimming journey is often part and parcel of growing up and is a milestone not to be missed. It is always recommended to choose a trusted swim school, to guide and support your child through this milestone.
There are so many schools out there. Which is the right one for my child?
Most parents would agree that children should start swimming lessons when young, giving them the chance to develop a fun hobby and have wonderful experiences with friends. However, not every child will start as a fish in the water. Getting your child to take the first step (or splash!) can be one of the most difficult and intimidating endeavours.
It is possible for children unfamiliar with bodies of water to have quite a number of fears such as submerging their heads underwater or floating on their own. Another difficult factor to consider would be choosing the right school for your child.
Using The Aquatics Swim School as our model example, here are five tips to help you choose a school for your child.
1️⃣ Place Importance on the Basics
You cannot build upon a weak foundation. For beginners, the focus should be on positive associations and experiences surrounding water. Your child should begin with gradually building their water confidence, learning to float, survival skills, breath control, safety and underwater submersion.
The Aquatics Swim School focuses on four main areas – Technique, Accuracy, Speed and Survival (TASS). They adopt a progressive learning approach, following an in-house syllabus that ensures that your child builds their swimming skills and techniques from a strong foundation of basics.
Once they progress to the intermediate stage, coaches will emphasise various movements and strokes. When students level up to the advanced stage, they'll have a firm mastery of essential techniques. Rescue and survival skills will be taught, along with the opportunity to progress to other areas such as diving, participating in swim competitions and even becoming a future lifeguard!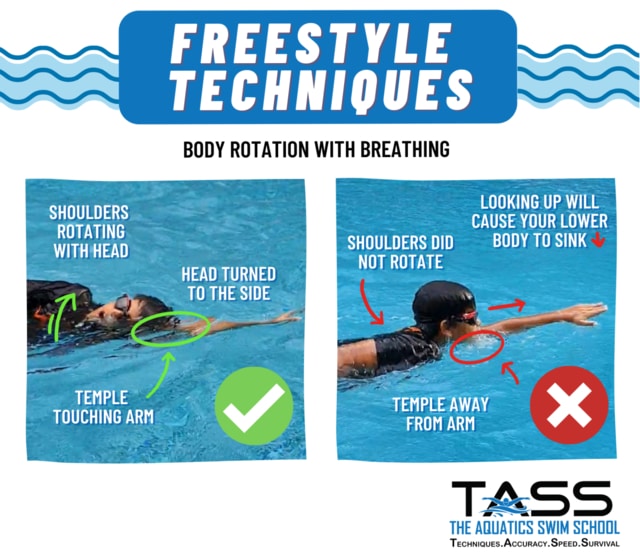 2️⃣ Skill-based Assessment for Class Placements
Do you often worry that your child is not coping with the swimming classes? Or that your child is losing interest? Excellent swim schools believe that children should learn to swim at a level that is on par with their abilities and be grouped according to their skill levels in precedence of their age.
With this in mind, rest assured that The Aquatic Swim School will find the right class for your child! The lessons and placements are customisable based on your child's swimming skills and past experience.
No matter what their current abilities are, they'll be placed in a class where they can learn at a comfortable pace. As they progress, their pace will be still taken into consideration, and one can qualify for and advance to the next level in the programme regardless of their age.
3️⃣ All-rounded Enrichment
Enrichment is more than learning a new hobby or skill. Through enrichment, children should be learning and developing their character and other lifelong values that they can take with them beyond their classes.
Excellent schools conduct their classes in such a way that character building and values learning are of equal importance. It is also an added bonus if they are able to provide your child with experiences beyond what is expected.
Taught alongside the swimming syllabus, The Aquatics Swim School have 12 different values that train their students to be leaders inside and outside the pool. One such value is respect, where each class begins with a greeting and students and coaches develop mutual respect for one another.
The school has the understanding that children absorb things best when enjoying themselves. Hence, they make sure that their values are inculcated through fun and engaging activities, allowing children to recognise that conducting themselves with good values will result in a positive experience for everyone.
For example, fun buddy races teach kids the value of teamwork, as they test the power of their kicks with coaches cheering them on. And through an exciting traffic light kicking game, kids learn determination and enthusiasm.
The Aquatics Swim School also aims to give its students an all-rounded experience of swimming, providing opportunities for students to participate in competitions and take the SwimSafer Examinations. As the national water safety program developed to raise the standard of swimming proficiency, SwimSafer is the only one recognised by all schools, institutions and water-related sports in Singapore.
4️⃣ Qualified Coaches that Care and Nurture
The best environments for learning always come from the coaches that have a heart for the children. You would want to be assured that your children are in the good hands of coaches who are committed to your child's learning.
The Aquatics Swim School is filled with dedicated and patient coaches who love to see the courage and confidence that is slowly developed in their children. They do their best to enable even the timidest child to step up to new challenges. This includes overcoming their fear of stepping into the water, like the young boy in this video!
The coaches do their best to conduct their classes with the school's Excellency rules in mind to aid in the character building of their students!
Excellency Rules
Respect
I will try
I will do it
Maximum effort
Learning should not stop, even for coaches! To uphold standards and continually give the best to students, The Aquatics Swim School coaches attend regular coaches training programmes – even after obtaining their qualifications.
Through the coaches' dedication and diligence, you can rest assured that they will deliver you and your child the quality swim lessons that they promised.
5️⃣ Transparency and Trust
Have you sent your child to swimming classes and did not see any improvement at all after a long period of time? You can never be too sure how your child is progressing in terms of techniques and skills. It is up to the schools to keep you informed and up to date with your child's progress.
One of the reasons why The Aquatics Swim School is so trusted is because they provide transparent and accessible avenues for parents to see if their child is progressing well through their swimming lessons. The Aquatics Swim School keeps a comprehensive online portal that tracks each student's learning and development.
Through the portal, parents have access to their child's class records, which are updated after every session by their committed coaches. In addition to attendance-taking, these records include their skill level and mastery in specific strokes, body positions and turns, closely following the in-house syllabus.
A dedicated customer service team also communicates regularly with parents, conducting online calls to let them know of their child's progress. This way, parents are given the opportunity to journey with their child as they become confident swimmers!
A Trusted Swim School: The Aquatics Swim School
The Aquatics Swim School will be able to give your child the support and guidance that they need, helping them to overcome their fears and build confidence in the water.
As a registered swim school in Singapore, The Aquatics Swim School can help your child to develop their swimming skills through fun and positive reinforcement. This allows your child to cultivate positive experiences surrounding the water, creating passion and interest in the sport.
There is never an age limit to begin one's swimming journey. The Aquatics Swim School offers a wide range of swimming programmes for students as young as 3 years old! This includes their toddler swim class (ages 3 to 4.5 years), children's swim class (ages 5 to 12 years), as well as adult swim class (ages 13 and above).
Parent Elioria Peh shared that the coaches at The Aquatics Swim School are extremely patient and great with little ones.
"My son had problems getting his eyes into water initially and his coach used toys and games to encourage him to put his head underwater," she continued. "The coach is very patient too."
She also loves the fact that small group learning is employed. Each class is deliberately kept to a small teacher to student ratio, with a maximum of 6 participants per group. (One-to-one coaching is available as well.) This allows coaches to have more supervision, ensuring the safety of their students. It also allows peers to bond and learn together more closely.
Click here to find out more about The Aquatics Swim School and to sign up for classes and check out their short introductory video!
Connect with them through their Instagram and Facebook pages for info and updates!
This post is brought to you by The Aquatics Swim School.
By Rebecca Wong.
---
The Aquatics Swim School is one of the nominees for The New Age Parents Awards 2020 – Readers' Choice! To cast your vote, head over to The New Age Parents Awards 2020 – Cast Your Votes Now! and stand to win attractive prizes. Voting for Phase I Enrichment category ends on 30 Sep 2020.
* * * * *
Stay in touch! Subscribe to our Telegram here for all our latest updates.
Want to be heard and seen by over 100,000 parents in Singapore? We can help! Leave your contact here and we'll be in touch.