What gives your age away? Is it the wrinkles on your face? Or the lines on your eyes?
Guess again.
Experts say it is hair that betrays your age.
If you have thinning and greying hair that is dull, dry and breaks easily, chances are your hair may be ageing faster than your actual age.
We've heard of face treatments to help one maintain the skin's youthfulness.
But what about our hair?
Is it possible to defy our hair from ageing?
With the right expertise and treatment, it is possible. This is where a professional trichologist comes in.
What Is Your Scalp Like?
At TK TrichoKare, a certified TrichoKare trichologist will give you a personal assessment of your hair scalp and condition. After analysing your scalp, the trichologist will come up with a customised remedy to tackle your scalp conditions and hair type.
The Remedy For Younger, Thicker And Healthier Hair
Complementing modern technology with the use of premium European natural herbs, TrichoKare's Advanced Age Defying Hair Treatment is created to combat the signs of ageing hair.
It features the latest innovation – Oxyjet technology.
As the word suggests, the technology uses jet infusion of oxygen to pump a concoction of Emu Oil and Ginkgo Biloba extracts into your scalp, penetrating these two essential nutrients into your hair roots.
Why Emu Oil and Ginkgo Biloba?
Emu Oil reactivates 80% of your dormant hair follicles, accelerating cell regeneration and in turn, stimulating your hair growth.
Ginkgo Biloba extracts increase collagen and melanin production, preventing your hair from greying. It also contains powerful antioxidants for protection against UV rays.
Here's what you can expect after the treatment: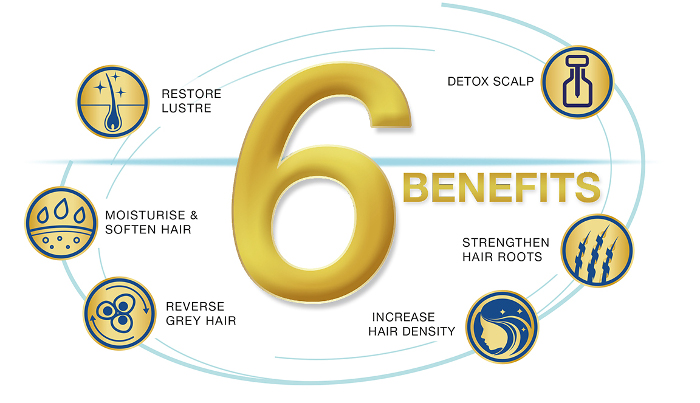 Combat the First Signs of Ageing Hair
Working mother Elaine Lau has kept long hair for most of her life. She always had long, straight jet-black hair. But over the past few years, she noticed more and more grey hair growing out at the crown of her head. The mother of two also saw an increase in her hair fall.
After taking the Advanced Tricho Hair Test, it showed that her hair is ageing 5 years ahead of her actual age.
"The trichologist was able to point out the problem areas immediately: I have a greasy and flaky scalp, so the sebum buildup was clogging up my hair follicles which impeded my hair growth. This may result in excessive hair loss, hair thinning and brittle hair strands, and explains why my hair aged faster than it should," said Elaine.
Trying TrichoKare's treatment for the first time, she was a little hesitant about the effectiveness of one session. Yet, she was also curious about the results.
OxyJet Treatment
The OxyJet treatment (pictured above) is paired with a customised ampoule selected specially to combat greasy scalp. A deep-cleansing procedure, it removes impurities and excess sebum in hair follicles. The stimulating sensation of the air jet strengthens the cohesion of keratin fibres, increasing one's hair density. It helps to increase collagen and melanin production, preventing hair from greying.
Infared Therapy
The infrared therapy light helps to improve blood circulation in your scalp; increasing oxygen flow to the hair follicles. It cleans your hair roots and causes hair pores to open up, preventing the follicles from becoming dormant. This intensive regeneration promotes hair activity on a cellular level, boosting hair growth and restoring your hair to its former glory, while soothing your scalp at the same time.
After the treatment, Elaine could see visible results immediately.

"I was most amazed to see the difference in my scalp when the Trichologist did my hair analysis after the treatment. Before, my pores were clogged and there was dry, flaky skin on my scalp. Based on the after hair scans, the dry and flaky skin on my scalp was completely removed! My pores look visibly clean and more dilated. I was told by the Trichologist this is what an ideal healthy pore should look like. I also didn't notice much of my hair falling on the same day."
Need we say more?
Even celebrities need that extra help when it comes to healthy hair growth and hair loss prevention. Well-known online blogger Xiaxue and Vasantham artiste Jay Nesh are one of the many satisfied customers.
TrichoKare has also been recognised by many beauty magazines, bagging several hair and beauty awards for the past years, and continues to do so today.
Discover your hair age today and combat the first signs of ageing hair!
TrichoKare is having an exclusive promotion:
Advanced Age Defying Hair Treatment @ ONLY $40 + Hair Care Kit + HairGRO Serum (U.P. $758)
Extra perks just for The New Age Parent Readers: Stand to WIN a staycation at Marina Bay Sands (worth $680) after your trial treatment
Don't miss this one-time special promo!
Register here: tk-hair.com
This post is brought to you by TK TrichoKare.
* * * * *
Like what you see here? Get parenting tips and stories straight to your inbox! Join our mailing list here.
Want to be heard 👂 and seen 👀 by over 100,000 parents in Singapore? We can help! Leave your contact here and we'll be in touch.