Mummy: "James, come and drink some water"
James: (takes a sip) "Mummy, my mouth is painful!"
The common symptoms of Hand Foot Mouth Disease (HFMD) are blisters in the mouth, poor appetite, rashes, and fever.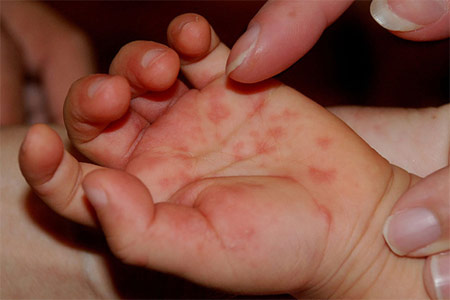 In this year alone (2011), there have already been more than 4,000 cases of hand foot and mouth in children or Hand Foot Mouth Disease in Singapore (as of May 2011. Source : Ministry of Health).
As a community, we are responsible for the safety of our children. It is important to keep our environment clean and to teach children to be active warriors in fighting this disease.
2 simple steps to prevent contamination:
Use

mild soap

with warm water to clean toys and commonly used household items weekly
Use

separate utensils

during meals, and avoid sharing of food and drinks
2 hygiene practices to teach children:
When sneezing or coughing, use a tissue to

cover our mouth and nose

Wash hands with soap

at regular intervals – especially after using the toilet, and before meals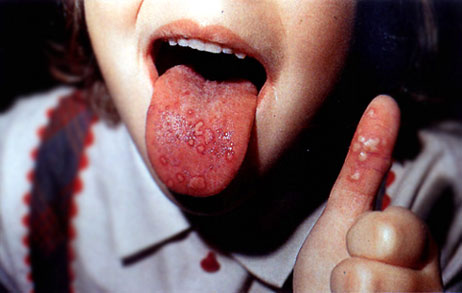 When our children are infected, we do our best to find ways and means to ease their pain. Of utmost importance is taking the prescribed medication from the doctor and drinking plenty of fluids.
Taking good care of our children can be a challenging task. We can help children to stay positive on their road to recovery.
Tips to motivate your children to fight dehydration:
Imagine the ulcers and rashes are "bad guys" who are afraid of water. Cheer your children on, and praise them for being brave and drowning the monster to make it go away
Provide alternative fluids such barley, or even

vanilla ice cream

(it's milk-based!)
Fast Facts
The numbers of Hand Foot Mouth Disease HFMD cases have been at a warning level since February, rising to epidemic levels at the end of June last year. The disease is caused by a group of more than 80 viruses. Some viruses (such as EV71) are more dangerous and can lead to brain damage. Depending on the severity, the incubation period can range from a few days to 2 weeks.
MCYS and MOE are posing strict guidelines for the functioning of Childcares and Kindergartens. Children can only return to school upon receiving a certified letter from the doctor determining the child "fit for school". If more than 16 cases or 23% of the children are reported to be infected within 24 days, the law requires centres to be shut down for 10 days.
The Ministry of Health reported that while it is natural for Singapore to have periodic outbreaks of HFMD, early vigilance and action can help keep children safe from the disease. We encourage families to continue acting responsibly to guard our children from these diseases, towards building a healthy Singapore!
*Photograph courtesy of KK Women's and Children's hospital
Article written by Michele See.
* * * * *
Like what you see here? Get parenting tips and stories straight to your inbox! Join our mailing list here.
Want to be heard 👂 and seen 👀 by over 100,000 parents in Singapore? We can help! Leave your contact here and we'll be in touch.