How can I use flashcards to nurture my child's curiosity and when is a good age to start?
Parents can start using flashcards to stimulate children's right brain as well as impart knowledge as young as 6 months old. This is to maximise the limited formative period from birth till 6 years old for right brain development.
By then, their neck would have been developed so that they can be carried or seated upright to look at the flashcards.
They are also generally believed to already have good colour vision after around 6 months old. Their eyes are also capable of working together to form a three-dimensional view of the world and begin to see in-depth.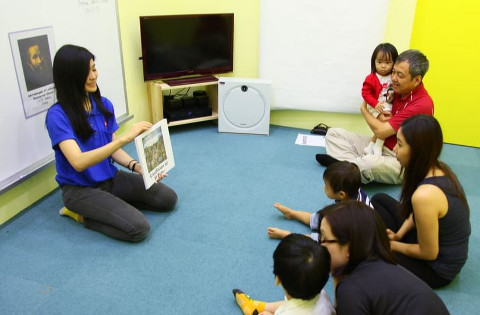 How does the flashcard method work?
Flashcards is a useful medium to stimulate the right brain when they are flashed quickly to children. Benefits of flashing cards are aplenty.
Stimulates the right brain
When children look at the flashcards that are being flashed quickly, their right brain gets stimulated as they try to process the information.
Develops instant memory ability
As they try to remember the information instantaneously while the cards are being flashed, the instant memory ability is being developed.
Connects the right and the left brain
When children listen to the words of the flashcards, the left brain, which is the linguistic brain, is being used. As they look at the flashcards being flashed quickly, the right brain gets stimulated. Through this activity, both the right and left hemispheres of the brain are being used at the same time, connecting or bridging both hemispheres for a whole brain development.
Expands general knowledge and vocabulary
From the contents of the flashcards, parents can expand the general knowledge and vocabulary of their children.
What are the things I should look out for when buying a set of flashcards?
Different types of flashcards serve different purposes.
To stimulate the right brain and develop visual memory, it is best to use flashcards with large, colourful pictures with no words. This is because words are processed by the left side of the brain, which is the linguistic brain.
On the other hand, if we want children to learn words or languages, we can use flashcards with a combination of words and pictures.
These questions were answered by Mr. Mr Kuah Eng Liang, Executive Director, Heguru Education Centre.
This was first published in The New Age Parents Enrichment and Preschool Resource Guide.
---

HEGURU EDUCATION CENTRE
Heguru Education Centre is a multi-award-winning enrichment school in right brain training and whole brain development for children. Originated from Japan, Heguru has more than 30 years of history and proven results. Heguru Education Centre has received prestigious awards from several local parenting magazines with raving reviews of the effective Heguru programmes and dedicated teaching team.
For more enrichment programmes and preschool tips, read our Enrichment and Preschool Resource Guide, or download it here.
* * * * *
Like what you see here? Get parenting tips and stories straight to your inbox! Join our mailing list here.
Running a service or business targeted for parents? Reach out to a wider audience in our Brain Development Programmes compilation. Leave your contact details here and we will get in touch with you.