Why should we expose our little ones to harness the right brain more? Michelle Hon, a mum blogger finds out more about Heguru Education.
I didn't think Heguru was necessarily the best fit for my kids. It feels a little wrong to start a child as young as a baby in an enrichment class, let alone right brain training. Honestly, I was also a little lazy – having to bring them to classes every week.
But then I read a tiny bit more about it and came to my senses. A child's brain grows rapidly in the 0 – 3 years old period, so it is in fact, the golden period for early childhood education. I admit there are some element of 'kiasuness' here, the fear of missing out on this window of time. But as a parent, don't we all want the best for our children?
So, what is Heguru or HEGL method?
Heguru is an effective early childhood education method that was founded in Japan by Hirotada and Ruiko Henmi, with over 30 years of extensive research and practicum. Its method focuses on enhancing children's fundamental abilities to acquire education. It is believed that right brain training since infancy, will help a child develop a natural learning ability. And when a child is able to learn faster, it increases their confidence and develop a life-long interest to learn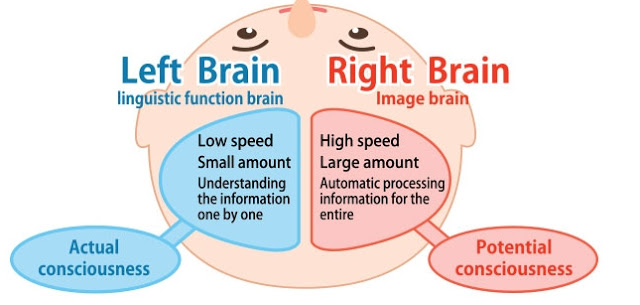 Why the right brain, I hear you ask?
Well, I can't actually hear you but I had the same question. Here is what I found out. So basically, our left and right brain function differently. Left being the 'logic/rational' brain, and the right being 'creative/ideas' brain. They are both equally important.
The problem with our formal education system is that, when the children go to school, most learning are done using the left side of the brain. Think about it, spelling, math equations and even science experiments require logical, step by step understanding which works the left brain.
As you can see from the diagram above, the right brain enables a child to learn subconsciously and has the potential to process large amount of data at high speed. It also has great memory retention ability. I certainly wouldn't mind some of those abilities. So why aren't we harnessing the right brain more?
Heguru Education Centre @ One KM and Sengkang Singapore
This is where Heguru Education or right brain training comes in. It focuses on developing the right brain exponentially. There are two Heguru Education centres, located at One KM and Sengkang. The centres offer lessons for three groups – Infant and Toddler Course (6 months to 4 years old), Preschool Course (5 to 6 years old) and their latest programme – Primary Course (7 to 12 years old). The classes are grouped according to their age.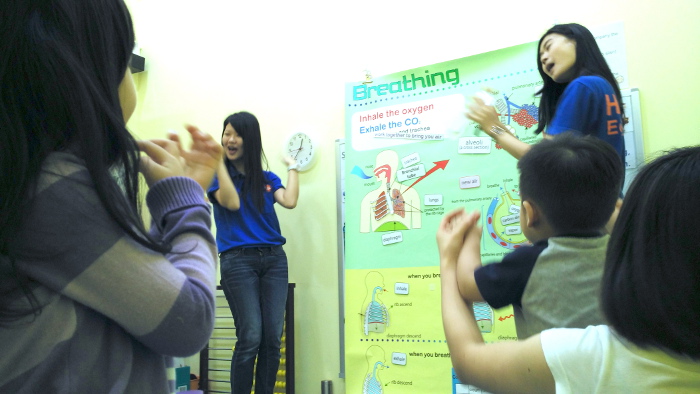 My daughters, Lauren and Georgia are in Genius Bee (born in 2012) and Genius Owl (born in 2014) classes respectfully at the Heguru Education Centre One KM branch. The classes are parent accompanied and there are usually 4 to 6 students and their parents in each class.
As I mentioned before, I had some initial reservations. 2 months in, I'm still surprised every time we attend a lesson. My easily distracted daughters are engaged and seem to enjoy the lessons very much. Conducted by 2 teachers, the class is fast-paced with little downtime in between activities. Parents are encouraged to participate; I must say I get some serious brain workouts during class too!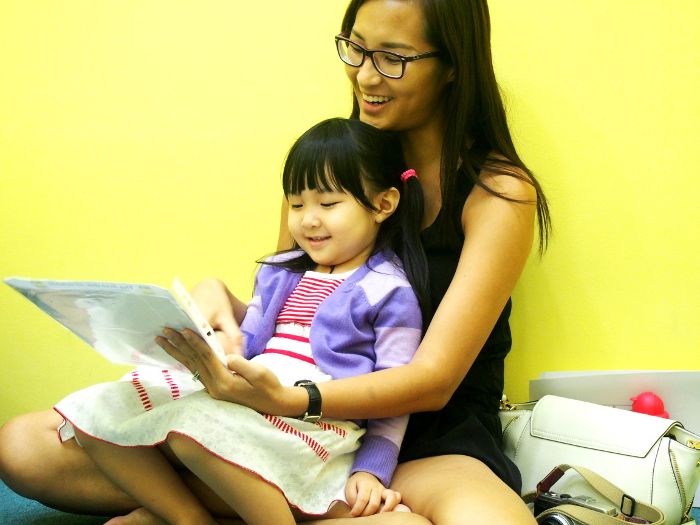 Some of these activities that take place during the hour-long class include link memory, flashcards, tangram, poetry appreciation, singing and dancing. I look forward to sharing my child's learning progress with you in the next series!
For more information, visit Heguru Education Centre website at hegurueducation.com.sg.
This is the first part of The New Age Parents and Heguru Education series. In the next part of the series, Mum Blogger Michelle Hon, explores what happens during a Heguru class and how it has improved her children's learning ability.
Read part 2 here: What Goes On In A Heguru Class
Michelle Hon is a mother of two, writer and founder of The Chill Mom Baby Planner & Maternity Concierge. A certified early childhood educator, she has helped many busy mothers-to-be plan and manage the arrival of their babies. Michelle has been featured on The Asian Entrepreneur and Harper's Bazaar Kids. Besides being a contributing writer at The New Age Parents, Michelle shares her motherhood tips and experience on her website.
This article was first published in The New Age Parents e-magazine.
* * * * *
Like what you see here? Get parenting tips and stories straight to your inbox! Join our mailing list here.
Want to be heard 👂 and seen 👀 by over 100,000 parents in Singapore? We can help! Leave your contact here and we'll be in touch.