This month, I decided to jump on the Dinovember bandwagon. What's that, you say?
Dinovember is the opportunity to spend a whole month trying to convince your child that their beloved dinosaurs have come alive! Started by Refe & Susan Tuma in 2013, what you do is to put your child's dino toys in unexpected poses when he's either asleep or busy with something else, and let him discover them caught in the act of doing something naughty, quirky or strange.
Ideally, you can do this every night when your child is asleep so that he will discover the crime scene when he wakes up. But it doesn't have to be a morning thing really – I've created scenes when my two boys were busy eating or having their daily TV time, or taking their afternoon nap. It sure was fun to see the look on their faces when they discovered their dino-friends up to all sorts of mischief!
When Dinosaurs Come Alive At Night
Since my two boys are as different as chalk and cheese, their reactions to Dinovember were interesting to observe.
My younger son was thrilled to find his dinosaurs at play. He's not one to read between the lines, so he didn't even stop to think how they got there in the first place! He was just all "Wow! Look! See!" and then grabbed the dinosaurs to take them on some other adventure.
My older boy was the one who wondered.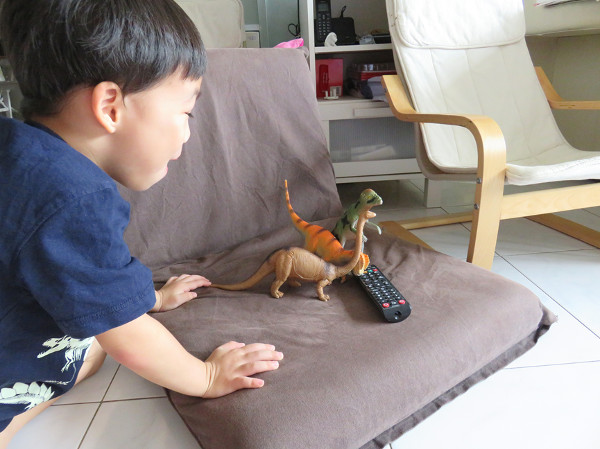 The dinosaurs were watching TV when he got home from his Berries class. How did they turn it on?
It has taken me a LOT of self-control for me not to giggle uncontrollably and give the game away. Thus far I've managed to keep my reply to a non-committal "Hmmm… I wonder how they managed to do that."
Of course, his first thought was "I know! Didi did it. Didi, you did it, right? It was you."
And the reply, "No, kor kor, I didn't do it."
So… I'm going to let him wonder for now.
The dinosaurs were getting in touch with their roots when he woke up. How did they get on the table?
➡️ Related Read: Where to See Dinosaurs in Singapore
The dinosaurs beat the boys to the bathroom for bath time, and have taken over their bucket and body wash!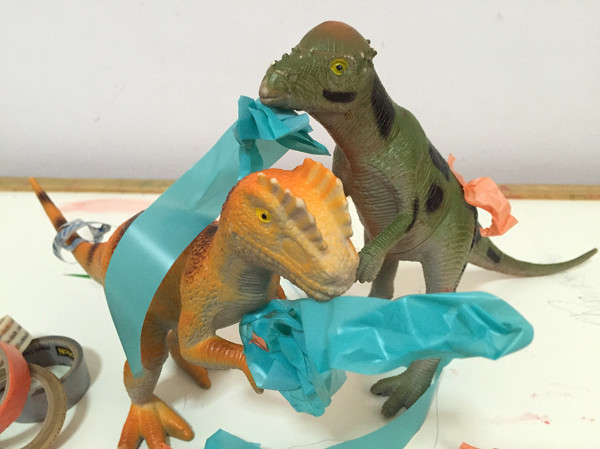 The dinosaurs messed up all of mummy's washi tape. Now, who's the naughty one?
The dinosaurs ate up their snacks when they went to the toilet! But don't worry, mummy has more snacks for you…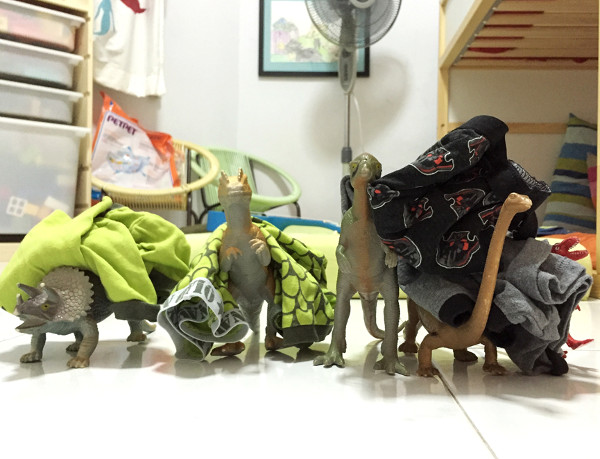 The dinosaurs got the boys' clothes from the drawers while they were having their bath. How did that they know David wanted to wear his Star Wars PJs?
Text and photos by Dorothea Chow.
Kids don't stay young for long. Try this with your kids and share their reactions with us!
* * * * *
Like what you see here? Get parenting tips and stories straight to your inbox! Join our mailing list here.
Want to be heard 👂 and seen 👀 by over 100,000 parents in Singapore? We can help! Leave your contact here and we'll be in touch.