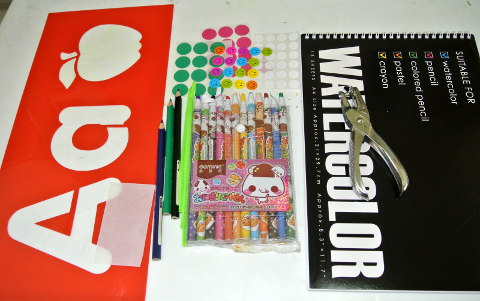 Activity Duration: 1-2 hours
Age: 3 – 5 years old
Introduction:
Children can learn through the following ways: observing, listening, playing, exploring, questioning, experimenting, and his/her five senses – touch, taste, smell, vision and hearing.
Objectives:
Create a fun and explorative way of learning alphabets, names, or words
Parent and child bonding session
Improves fine motor skills
Encourage creativity
Materials Needed:
Alphabets stencils
Stickers
Hole puncher or chopsticks or scissors
Colour pencils or crayons
Craft furry wires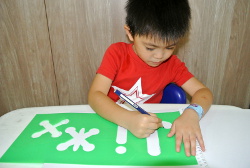 Step 1: Letter Recognition & Stencil Tracing
Discuss with your child about the letters in his or her name
Allow the child to identify and pick out the letters from the stack of alphabets stencils
You can also brainstorm on the other objects/animals/vehicles which starts with the same letter of your child's name
Let your child use the stencils to trace out the alphabets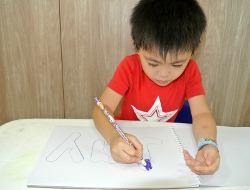 Step 2: Colouring
After tracing out the letters, let your boy or girl pick out his/her favourite colour to colour each letters of their name.
Step 3: Learning how letters are formed
Parents Demonstration: demonstrate to the child on how to write the letter on a separate paper
Ask your child to use his/her fingers to follow through the traced letters done earlier
This helps your child to visualise how a particular letter is form
To further re-enforce this and to make learning fun, get some cute, colourful stickers for your child to decorate the letters
Ask your child to paste accordingly to how he or she would write the letter
This is to demonstrate that he/she understands how the letter is formed/written
Next is to fill those letters with colours!
Step 4: Lacing Letters – Parent's task
Help your child create holes using a pair of scissors, a hole puncher or chopsticks
The space between each hole should not be too far apart
Step 5: Lacing Letters (Re-enforce learning)
Parents Demonstration: demonstrate how to write the letter on a separate piece of paper
Ask your child to use his/her fingers to follow through the traced letters he/she has done earlier. This will help your child to visualise the shape of the letter
Pass the craft furry wire to lace the letter
It's finished! You can paste this in your child's room or door.
By Poppletots.
About Poppletots: Started in 2010 by a mom who left her job to be spend more time with her child, Poppletots aims to provide unique, fun and useful children related products such as educational kits and apparels. Within 2 years, Poppletots has become a fun-going cosy community for reviews and parents to exchange ideas.
This article was first published in The New Age Parents e-magazine.
* * * * *
Like what you see here? Get parenting tips and stories straight to your inbox! Join our mailing list here.
Running a service or business targeted for parents? Reach out to a wider audience in our Art Classes for Kids compilation. Leave your contact details here and we will get in touch with you.