When you think of a good infant care centre, what comes to mind?
What does a quality infant care centre look like?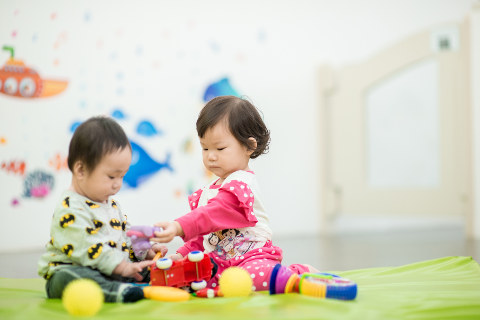 With 30 years of experience in the Early Childhood field, Dr. Geraldine Teo-Zuzarte, Group Professional Practices Officer from NTUC First Campus (NFC) and Centre Director of The Caterpillar's Cove Child Development and Study Centre, shares with TNAP three important things to look out.
#1 Is there a balance of play experiences and routine care in the programme?
Dr Teo-Zuzarte: The routine care aspect is important, but it should not be the only aspect.
On top of teachers sharing with you the routine details, such as the timings of when your baby defecated, ate and was diapered, there need to be other activities involved.
Effective infant toddler programmes pay close attention to learning in infants and toddlers.
What do teachers do when they see infants pulling to stand? Do they allow infants to crawl? Are there activities provided that will enhance their physical and language development? On top of a clean, safe and cosy environment, sensorial motor development like messy or sand play are crucial, especially for older infants transiting to toddlerhood.
#2 Do the teachers sing and talk to the infants?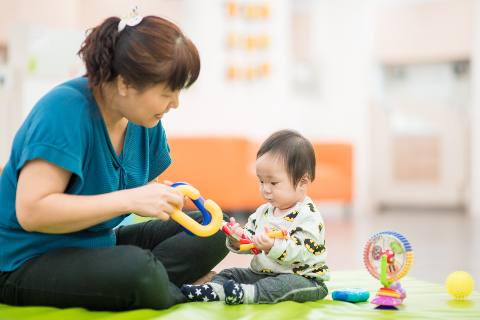 Dr Teo-Zuzarte: Are there activities in the schedule that promotes language?
Teachers in infant care may seem like they are talking to themselves because when they sing or speak to infants, there is no direct response. But it doesn't mean that it is a one-way communication. Although infants do not have the ability to reply, it does not mean they do not understand what is said to them.
A baby's receptive language is present. The window for language acquisition is 0 to 3, when babies start to differentiate different language systems. Research tells us that children have a lot of language in their heads before their first spoken word comes out. They hold a lot of information in their heads. So the more they hear the language, the more they learn.
#3 Is there space and cruising furniture for babies to crawl?
Dr Teo-Zuzarte: Is mobility encouraged in the environment? Does it promote autonomy and independence where they are books and toys within a baby's reach? Or is everything kept high up, out of reach from the baby?
Cruising furniture is something your baby can use to pull themselves up, stand and take a few steps. A low bar is one example. Other examples include movable soft blocks and shelves.
Having a room of crawling infants may seem scary or dangerous from an outsider's point of view, but from an early childhood perspective, it's a positive sign because of such moments aids in an infant's mobility and autonomy.
Once you've checked all the above criteria, speak to other parents and find out more about the centre. When you're at the centre, talk to the principal or teachers to get a sense of their personality and character.
NTUC First Campus Celebrates 40 Years
In his speech during the 40th Anniversary celebration in July this year, NTUC Secretary-General, Mr Chan Chun Sing mentioned how NFC has established a high standard for preschool education in Singapore.
For example, since 2004, NFC has introduced infant care services at various branches to help mothers return to work with peace of mind. It is the first to set up Singapore's first child development and study centre, The Caterpillar's Cove, in 2007. And in 2011, NFC implemented the country's first birth-to-three curriculum framework across all its centres.
It doesn't stop there.
To signal its commitment to outreach and quality, NFC plans to continue to spearhead and uplift preschool education in Singapore. Last year, the first large centre My First Skool (the childcare wing under NFC) at Waterway Point was opened.
Another future pipeline announced by Mr Chan during the 40th celebration was NFC's goal is to double the families they serve by 2025.
This is in line with the government's plan to meet the growing demands and access to a better quality of early childhood education. In PM Lee's National Day Rally speech, he announced that 40,000 preschool places will added by 2022, a 30 per cent increase from this year. The annual spending in Early Childhood Education will also be doubled – from S$840 million in 2017 to S$1.7 billion in 2022.
No Child Left Behind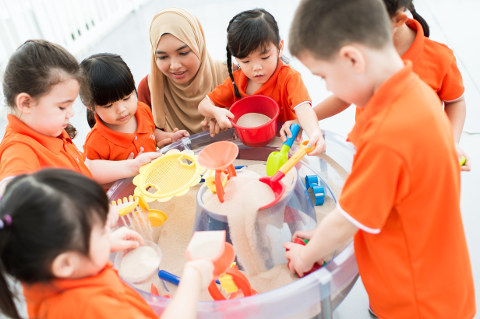 Every child deserves a good start in life. Children from low-income families are not forgotten too. My First Skool sets aside places for children from low-income families. This year, 16% of MFS children are from low-income families, who pay as little as just under $4 a month in fees.
There is also the Bright Horizons Fund (BHF), which pays for enrichment classes, birthday celebrations, field trips, school excursions, and school necessities for these children. This means quality and affordable education for all children, regardless of their family background.
With big plans laid out for the childcare sector, NFC will continue to innovate to provide quality and relevant services for families at an affordable price.
NTUC Social Enterprise Philosophy
To ensure that the needs of Singaporeans at different stages of their life cycle are met, NTUC Social Enterprises have been providing relevant, accessible, affordable and quality services to Singaporeans to meet their needs for the past 46 years.
However, as Singapore progress, the needs and aspirations of the public have also evolved. In order to remain relevant to meet the changing needs of Singaporeans, NTUC Social Enterprises will be expanding their services from addressing one core concern of "managing the cost of living" to managing the four major concerns, to create maximum social impact.
The four core concerns are: Cost of living; ageing; health and healthcare costs and social mobility (fear of being left behind).
Besides offering Child Support Services to provide an integrated and holistic child support programme for at-risk children and children from less advantaged backgrounds, NTUC Social Enterprises will also be expanding their services in the next decade to meet the changing social needs of working people.
Other recent examples include:
To offer good value to Singaporeans every day, NTUC FairPrice and NTUC Foodfare continue to make essential goods and cooked food more affordable and accessible especially for the low-income segment.
To make healthy food options more accessible and affordable for Singaporeans, the NTUC Social Enterprises' "Healthy Eating and Living Initiative" was developed in partnership with the Health Promotion Board (HPB). The main areas of focus are the staples of everyday meals: whole grains, healthier oils and the use of less sugar.
To address ageing concerns, NTUC Social Enterprises have increased their suite of services for the elderly such as NTUC Health's senior wellness centre – SilverCove in Marsiling, the first nursing home at Jurong West, senior day care centres, senior activity centres, home care services, dental clinics, family medicine clinic, the Enabled Stores by NTUC FairPrice as well as SilverCare and Silver Protect insurance plans by NTUC Income.
This post is part three of a series brought to you by NTUC. To read part one, click here. To read part two, click here.

* * * * *
Like what you see here? Get parenting tips and stories straight to your inbox! Join our mailing list here.
Looking for an Infant Care? Remember to check out our Best Infant Care Singapore compilation.