"Who loves to eat cakes?"
A group of six 4 year-olds are huddled together around the teacher as she reads to them Eric Carle's The Very Hungry Caterpillar.
Located in a corner of Block 140 Serangoon North, a hum of activities is happening inside My First Skool (MFS).
Source: The New Age Parents
Laminated pages from The Very Hungry Caterpillar book in Chinese text are plastered along the shelves and walls. Over at the dramatic corner, there is a large cardboard cut-out of Mr Carle's famous caterpillar.
At another table, a group of four children are threading a piece of yarn into holes of their pegboard. They work intently and independently; pinching, threading and pulling.
A teacher looks on, observing how they work. She gives them space and silence to work on their own. She offers guidance, praise and encouragement appropriately.
Source: The New Age Parents
The classroom is open and there are no doors or walls separating each group activity. You think the children might be distracted and float around to see what their peers are doing at the other corners.
But we see none of that. No child is running off visiting other corners.
In their small groups, children are focused on what they're doing, under the watchful and caring eyes of their teacher.
It is in such classrooms, tucked away at the void decks of our heartlands that NTUC First Campus new Relationship-Based Curriculum (RBC) takes shape.
Source: The New Age Parents
If a Primary Caregiver was attached to an infant or toddler during school time, will their learning improve? How impactful will this be in their overall behaviour, development and well-being?
In absence of a well-constructed curriculum for the early years, particularly the infants in preschool education, Professor Emeritus Marjory Ebbeck, Senior Academic Advisor of NTUC First Campus, decided to close the gap.
She and her team of researchers embarked to find out what were the impacts on learning when adopting a primary caregiving approach for young children aged up to 3 years old.
The results found were promising. Children were happier and settled into childcare more quickly and were involved for longer periods in activities.
What Makes Relationship-Based Curriculum Stand Out
RBC moves away from traditional classroom methods. Instead of focusing on education practices and systems, the focus of RBC is to build respectful, responsive and reciprocal relationships.
Respectful: Each child's interest and development is considered.
Responsive: Learning is child-directed and built on positive relationships, care and nurture.
Reciprocal: Lessons are no longer fixed but child-initiated. Lesson are based on the children's interest and to accommodate to the different milestones of each child.
In a nutshell, RBC is based on building attachment and positive bonds between the primary caregiver and the child.
Knowing the benefits of RBC, NTUC First Campus (NFC) decided to enhance their early years' curriculum.
Today, MFS teachers take on the role of Primary Caregivers, planning activities to enhance the development of each child, as opposed to implementing lessons based on a template.
How Does Relationship-Based Curriculum Look Like?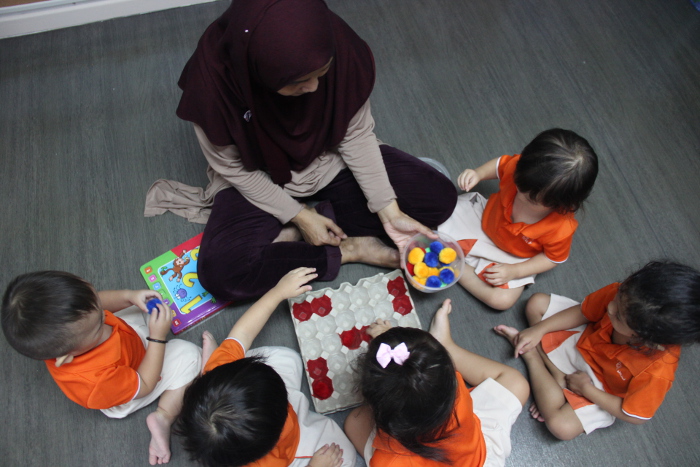 Source: The New Age Parents
Throughout the day, a small group of infants or toddlers are attached to a teacher/primary caregiver. For the infant group, MFS teacher to child ratio is 1:5. Their teacher to child ratio for the toddler playgroup is 1:8.
In the group of children, the teacher may notice that one infant has already hit the milestone of being able to sit up, but another infant is still unable to do. For the infant that is more mobile, she may introduce activities to enhance his motor skills, such as finger painting.
But for the infant who has yet to hit the milestone of sitting up on his own, the teacher will come up with another activity instead. This is a shared responsibility and partnership between the English and Chinese teacher.
➡️ Related Read: What Makes a Good Infant Care Centre
In last year's batch of children who have gone through RBC, Principal Wendy Ong of My First Skool @ Blk 140 Serangoon North, noticed that children were already verbalising within half a year after starting school. They also exhibited more confidence and independence.
"My son isn't a very eloquent boy and prefers to use short phrases to express himself," says 33-year-old Mrs Chen Shu Hui, mother of two. Her 3-year-old son Javian, goes to a My First Skool in North of Singapore.
"One night, I asked him what he learnt in school and he rattled off names of more than five animals. He even made hand movements to describe an animal. Usually, he gives short answers like playing with toys but doesn't elaborate," the working mother recounts.
"Turns out that while planning lessons, his teachers observed the Playgroup class really liked zoo animals and decided to insert more activities around zoo animals. It's a flexibility that the RBC caters for, so teachers can amend lessons based on children's interests that the teachers observe during interactions with the children."
Bonding That is Fun, Free And Easy
Parents, you need to be involved too! It's not just about leaving your child at school and letting the school take charge of your child's learning.
Here's how you can incorporate RBC in your own bonding time with your child.
Grab a copy of Early Experiences Matter: Parent-Child Activity Book
Source: The New Age Parents
To help first-time parents, NFC conceptualised "Early Experiences Matter: Parent-Child Activity Book (pictured above)", a handy book contains activities parents can do that are cheap, free and easy to replicate at home. With this, you won't be lost for ideas!
Keep first Thursdays of the month free
To encourage more parent and child bonding time, toddlers up to 3 years old (plus one parent) get to enjoy free entries to these places.
eXplorerkid at Downtown East and AMK Hub
(Update: eXplorerkid outlets have ceased operations from 1 July 2018)
For uninterrupted play and fun + Music and Dance Movement programmes
Little Skool-House Early Literacy Centre at Downtown East
Let your child discover the beauty of language and literacy through interactive learning zones.
You can visit the above places for free, up to 6 times a year. Each entry is limited to 2 hours and subjected to availability.
Activity Book Available In NTUC Good Start Bundle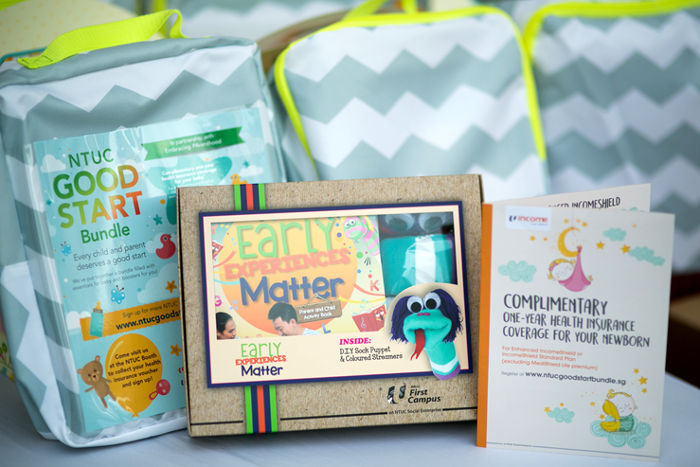 Source: NTUC Enterprise
NTUC and its group of social enterprises have come up with the NTUC Good Start Bundle, offering perks to help young families cope at different stages of their parenting journey.
The "Early Experiences Matter: Parent-Child Activity Book" is one of the items included in the NTUC Good Start Bundle.  Other perks in the bundle include:
FairPrice FairMily Kit
Source: The New Age Parents
This Kit contains up to $100 worth of FairPrice groceries the whole family can enjoy, including a tin of Aptamil infant formula for babies six months old and above.
One-year free health insurance coverage from Income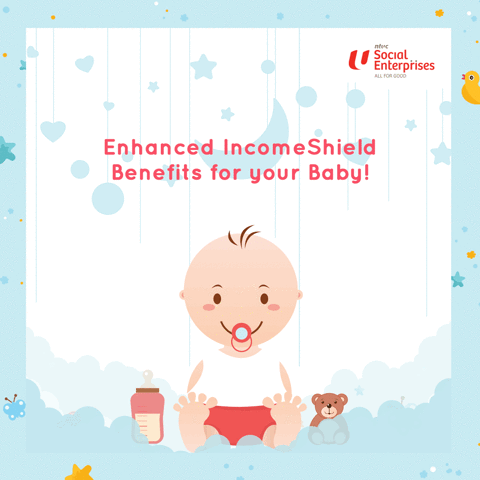 Free health insurance for 1 year from NTUC Income
What happens if intensive medical care is required for your baby? The CPF MediShield Life may not be enough to cover the costs. With the NTUC Good Start Bundle, your newborn's first year premiums are free. The Enhanced IncomeShield Plans are Medisave-approved Integrated Shield Plans.
Who is eligible for NTUC Good Start Bundle?
Families with Singapore citizen babies born between 1 January 2016 and 31 December 2019 are eligible to receive the NTUC Good Start Bundle goodies. Follow NTUC Social Enterprises on Facebook because they will be adding new goodies and perks to the Good Start Bundle!
Visit www.ntucgoodstart.sg now to sign up and receive your kit!
Being a social enterprise under the umbrella of NTUC, NRUC First Campus intention is to provide early childhood care and education services to Singapore families. For 40 years, My First Skool has been a leader of early childhood care and education. Dedicated to bringing quality preschool education within easy reach with close to 130 preschools island wide. My First Skool has also been awarded in Top Influential Brands 2017, emerging as a Top Brand for Preschool Education.
This post is part two of a series brought to you by NTUC. To read part one, click here. To read part three, click here.
* * * * *
Like what you see here? Get parenting tips and stories straight to your inbox! Join our mailing list here.
Want to be heard 👂 and seen 👀 by over 100,000 parents in Singapore? We can help! Leave your contact here and we'll be in touch.