Insulin produced in the pancreas regulates the blood sugar in our bodies. Diabetes Mellitus (DM) refers to a condition where the blood sugar is too high because of abnormal regulation.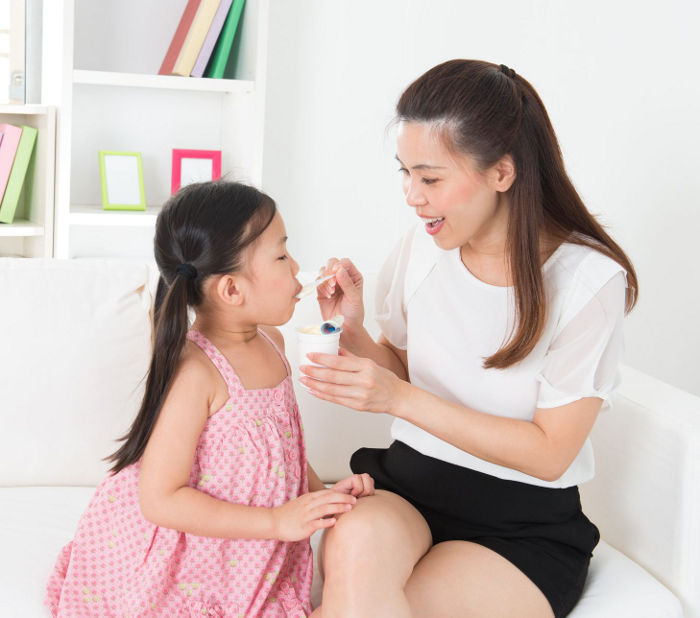 Children with Type 1 DM are unable to produce sufficient amounts of insulin. As a result, they require insulin treatment. Those with Type 2 DM produce insulin but because their bodies have reduced sensitivity to the insulin, large amounts of insulin are required. The pancreas continues to produce insulin but is unable to keep up with the large requirements so there is a relative deficiency rather than an absolute one.
Type 2 DM is often associated with obesity. Type 2 patients take medication to improve their sensitivity to insulin or boost their pancreatic insulin production. In more severe cases of Type 2 DM, insulin may be required.
Diet For Diabetic Children
Children with diabetes should have a healthy normal diet like every other child. In order to grow and develop normally, they should consume enough calories for their age in the form of carbohydrates, proteins and fats.
The only difference is that they should be aware of the amount of carbohydrates they take. Excessive intake will raise the blood sugar levels and also increase weight gain. Complex carbohydrates (like grain, pastas, potatoes) are preferable to simple sugars (like sweets and sodas etc.), especially since the latter often come with little or no useful nutrients.
While fats and protein do not contribute to raising blood sugar levels, they contribute to overall energy intake and weight gain. Fatty or fried foods increase the risk of atherosclerosis and heart disease in all of us. However, people with diabetes are at increased risk of these conditions.
Dietary fibre is important because it slows down sugar absorption in the gut so children with diabetes should be encouraged to take enough fruits and vegetables. They should also try to drink plenty of calorie free liquids especially when their blood sugar levels are high.
Get Active
Overweight or obese children and families should work with a nutritionist to reduce their snacks and caloric intake. Physical activity is just as important as diet and children should be given time and space to exercise and play.
Insulin Intake
Type 1 diabetics should be sure to take the appropriate amount of insulin for the amount of carbohydrates in their meal. Occasional treats and desserts are fine as long as the appropriate amount of insulin is given with the meal.
By Dr Vera Oh, SBCC Baby & Child Clinic.
This article was first published in The New Age Parents e-magazine.
* * * * *
Like what you see here? Get parenting tips and stories straight to your inbox! Join our mailing list here.
Want to be heard 👂 and seen 👀 by over 100,000 parents in Singapore? We can help! Leave your contact here and we'll be in touch.