When you think of the word 'confinement', what's the first thing that comes to mind?
For us, it's food.
Because food is the way to a person's heart. Food nourishes our body, and the food we eat during confinement is especially crucial to our postpartum recovery.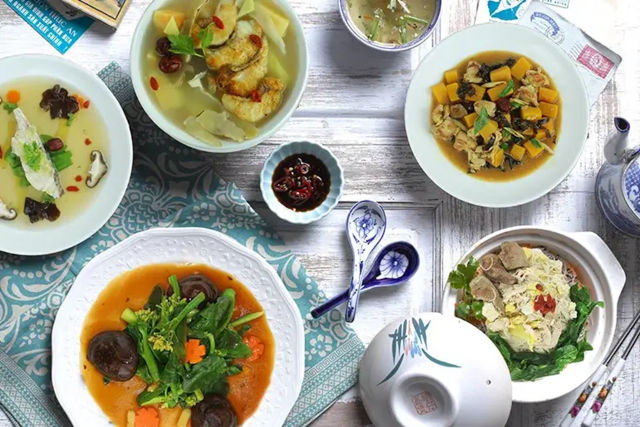 Photo: Tian Wei Signature
According to traditional Chinese confinement theory, ingredients such as old ginger, sesame oil, rice wine, black vinegar and red dates help to dispel 'wind', remove 'cold', regulate blood levels and stimulate 'qi'.
Dishes like pigs' trotters cooked with ginger and vinegar, chicken cooked in sesame oil, or herbal tonics – these are common confinement food Chinese mummies usually take after giving birth. But it can be quite boring eating the same types of food for an entire month.
Why Confinement Food Delivery?
If you're a new mum or expecting baby number 2 or 3 and don't plan to hire a confinement nanny, or looking for extra support after your nanny leaves, why not consider a confinement meal delivery service to free yourself from the burden of having to plan, prep and cook your meals?
You may have a mother or mother-in-law who has readily offered to help with the confinement prep and cooking, but it can be tiring to do so regularly. It's useful to have other alternatives on hand.
There are a couple of confinement meal providers in Singapore, but one caterer stands out from the rest for its wide array of fusion and traditional confinement meals. Even we got excited while browsing their menu and wanted to order a few dishes to try!
Haven't heard of Tian Wei Signature? Now is the time to get to know them.
A Confinement Food Delivery With A Twist
Tian Wei Signature began with a desire to create confinement meals for mothers that not only boosts their recovery but also tastes yummy.
The first thing that wowed us is the variety available! Expect a range of different flavours with over 90 dishes to enjoy, specially prepared to revitalise your body and tickle your tastebuds.
Photo: Tian Wei Signature
To spice things up, their head chef with over a decade of experience has skilfully crafted a mix of traditional and modern cuisine. Fancy eating Japanese or Mediterranean food during your confinement? Now you can!
Tian Wei Signature fusion menu consists of a mixture of Japanese, Mediterranean, and western cuisines. You get to treat yourself to appetising dishes such as Seared Salmon with Cauliflower Cream, Chicken Chop with Chestnut in Mushroom Cream Sauce, Coq Au Vin, and Passion Fruit Apple Salmon. To top it off, each meal also comes with a serving of dessert in their fusion meal set.
In case you were wondering if Japanese or Mediterranean food is suitable for confinement, the answer is yes!
Tian Wei's menu is guided by a dietitian, incorporating traditional confinement herbs and vital ingredients so that it is well-balanced, and the nutrition factor is not compromised.
Various milk-boosting lactogenic ingredients in their fusion menu such as salmon and quinoa have also been included to promote breastmilk flow.
Don't want to be taking in MSGs during your confinement? You'll be happy to know that Tian Wei Signature dishes are all 100% prepared using natural flavours.
Photo: Tian Wei Signature
Smoother Transition To Motherhood
For mummies who wish to breastfeed, outsourcing your confinement meals equals less time and energy spent on grocery shopping, this means more time to express your breastmilk and more fridge space to store your breastmilk. Double win!
Most of all, you'll have more quality time to spend with your baby, and the extra headspace to rest and focus on your recovery. When you are healthy and in a good state of mind, you can better care for your baby and family.
Tian Wei Signature understands the busy schedule of modern mums. That's why they offer 5 different confinement meal packages to choose from.
Confinement Food Delivery Packages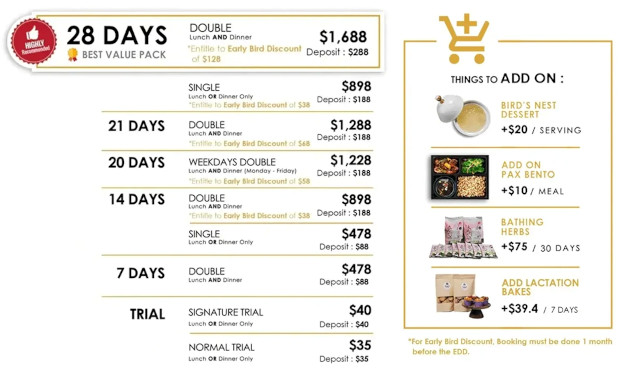 Click here for a larger view.
Photo: Tian Wei Signature
Charlotte Yeo enjoyed her meals with Tian Wei Signature in 2019 so much she went with their confinement food delivery again for her second confinement.
In her Facebook review she shares, "I could not find any other caterer that offered such a varied menu and I have no regrets. I especially like that the soups and red date teas are kept in thermos flasks to keep them warm, and the service rendered by the sales staff is of high quality."
Varied, wholesome and nourishing. That's how we like our food. And that's the kind of food that Tian Wei Signature delivers.
Check out their normal or signature meal trials at just $35 or $40.
Book yours now at tianweisignature.com/confinement-meal-booking
To learn more, visit tianweisignature.com
This post is brought to you by Tian Wei Signature.
By Michelle Ang.
---
* * * * *
Like what you see here? Get parenting tips and stories straight to your inbox! Join our mailing list here.
Want to be heard 👂 and seen 👀 by over 100,000 parents in Singapore? We can help! Leave your contact here and we'll be in touch.