Caring for your baby in the first few months can be daunting and stressful. One of the first tasks mothers may do is to breastfeed their children. Breastfeeding regularly requires discipline, effort, and time. Experienced mums would know that it also requires mental and emotional commitment.
While our baby is our top priority, it is equally important for mummies to take care of their physical and mental health. This entails looking after our mind and body. During our postpartum recovery, we must be mindful of what we do, think, and eat.
If cooking isn't your strong suit and being in the kitchen makes you nervous, it may be worthwhile to seek professional assistance.
Dietitian Guided Lactation Meals
Say hello to ReLacto, Singapore's first lactation meal delivery service, which offers lactation-friendly and healing meals to support breastfeeding mothers on their nursing and postpartum recovery journey.
Specially curated by their award-winning chef and in-house dietitian, ReLacto's holistic lactation menu consists of traditional "homely" meals and exciting fusion dishes that can whet your appetite.
Josephine Tan, who has recently started her lactation meal plan, couldn't agree more!
"It's great! First, it solved my problem of not having to worry about what to eat. Next, all their meals are so well-balanced that they taste like home-cooked meals. Their deliveries were also always on time, and the food was always warm. I am looking forward to continuing my meal service with them after my current plans conclude," shares Josephine.
As ReLacto's meals are designed keeping breastfeeding mothers in mind, lactogenic ingredients such as papaya, fennel, fenugreek, garlic, ginger, and moringa oleifera are all thoughtfully incorporated into their menu to help boost your breast milk supply and ensure that your baby receives the best breast milk.
Hearty Lactation Meals At Your Doorstep
With a convenient daily lunch and dinner catering service at your disposal, you no longer need to rack your brain with meal planning.
Plus, eco-friendly mums will be delighted to know that ReLacto uses thermal flasks and biodegradable containers for their packaging. Did we mention that their dishes are also MSG-free and that each set includes a lactation-friendly beverage?
Soups, mains, drinks, and desserts – ReLacto has it all! Their daily hassle-free nutritious meals add freedom and flexibility to your daily routine, giving you valuable time to focus on caring for your baby.
Lactation Meal Plan Packages
Looking at the wide variety of fusion and Chinese traditional dishes available on ReLacto's menu certainly makes us want to try them all.
With a whopping 56 different protein and veggie dishes, 30 types of grains, 51 soups, 5 desserts, and 4 lactation drinks to choose from, mummies are truly spoiled for choice!
There are also a variety of add-ons available, such as lactation cookies, a bento set, and a bird's nest dessert.
You can enjoy delicious, warm meals with minimal repetitions. There are 5 types of lactation meal plans to choose from: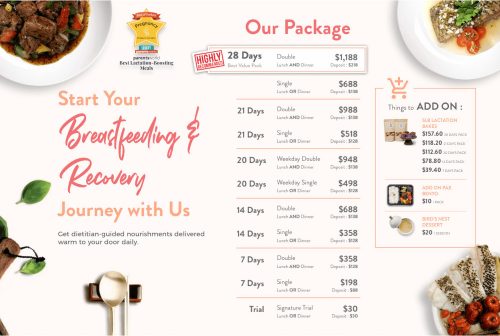 Click here for a larger view.
Photo: ReLacto
To breastfeeding mums or mums who have recently given birth, ReLacto is now offering a Signature Trial Meal, which allows you to choose either a lunch or dinner dish from a menu of their most popular dishes for just $30.
Mummy Tang Hon Leng was so satisfied with ReLacto's trial meal that she immediately subscribed to their lactation meal package after her trial ended.
She adds, "Weekly meals are often different and tasty, with a mama's breast milk nutrition needs in mind. Not to mention their friendly customer service and polite delivery service."
ReLacto Signature Meal Trial Choices:
Staple & Grain
Mains
Drink & Dessert
Choice of:

Black Sesame Quinoa Rice
Impossible Spaghetti Bolognese (Vegan)

Choice of:

"Xiao Bai Cai" with Superior Scallop Gravy
XO Sea Prawns with Yam XO
Yuzu Honey Chicken
Wok Fried Bacon with Brussels Sprouts
Black Pepper Wagyu Beef Cube
Mint and Lemon Marinated Salmon
Fish Soup with Tofu

Choice of:

Osmanthus Coral Seaweed with Chia Seed
Lactation Drink of the Week

A Healthy Diet For the Whole Family
Photo: ReLacto
With over 100 appetising dishes to choose from, ReLacto does more than just provide meals for breastfeeding mothers. There are daily meals that are family-friendly, as well as meals for mums who simply want to eat a healthier diet without compromising their palates. Their meals are also appropriate for healthy adults recovering from routine surgical procedures*.
ReLacto: Lactation Meal Delivery in Singapore
Photo: ReLacto
Say goodbye to your meal prep headaches and kitchen nightmares because you can now have hot, nutritious meals delivered right to your door with just a phone call or click.
To view ReLacto's full lactation menu: relacto.com.sg/menu
To book ReLacto's trial or lactation meals: relacto.com.sg/booking
Follow them on IG @relactosg and Facebook @relactosg
Website: relacto.com.sg
This post is brought to you by ReLacto.
By Michelle Ang.
* If you have any long-term health conditions or are unsure if you have any, please seek the advice of a medical professional before changing your diet.
---

* * * * *
Like what you see here? Get parenting tips and stories straight to your inbox! Join our mailing list here.
Want to be heard 👂 and seen 👀 by over 100,000 parents in Singapore? We can help! Leave your contact here and we'll be in touch.