Like most toddlers, my daughter is transfixed by music. Lately she's taken to playing her little red recorder. With her puffed cheeks, determined frown, and fingers covering the wrong holes, she makes piercing, ear-splitting noise – or music.
The point is, we want to get her into music. I've heard that learning music makes kids smarter. But if it means I have to sacrifice my eardrums and those of our neighbours along the way, I wanted to find out exactly how music could make a difference in my daughter's learning.
On Sunday, 17 August, I attended "The Power of Music in Early Childhood Education," a talk by Professor Larry Scripp, former Harvard music researcher and current MindChamps Dean of Music in Education. Fifty-five guests learned, laughed, and made music with Scripp at the Professor Snyder Theatre in Toa Payoh HDB Hub.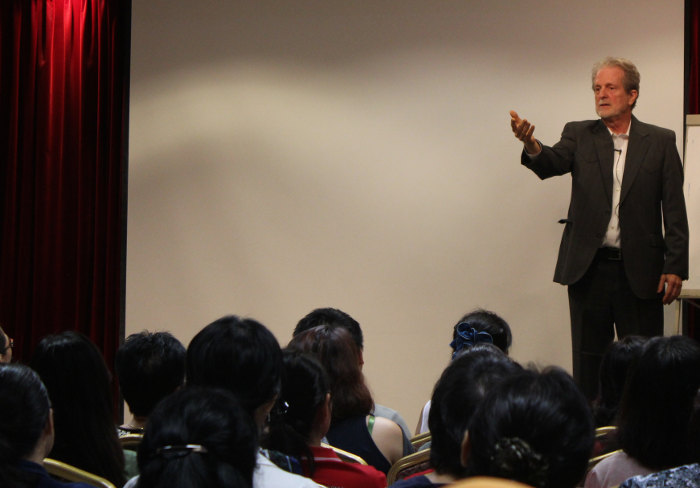 Scripp revealed several eye-opening, evidence-based benefits of learning and loving music. Here are three that I found most helpful:
1. Music + Integration is the Key
It's not enough to play a song correctly. To maximize your music education, you need to apply it to other areas of learning. Understanding the math of music will help you be a better musician and mathematician. The same goes for language.
"Music is math and architecture in sound," Scripp said. To demonstrate his point, he engaged the audience in games where cups and numbers were used to make various beats and harmony. Scripp also got parents to use their most magnificent instrument: their voice. "If you can speak, and you know vowels, you can sing. Singing is simply prolonging a vowel."
Li Teng, a preschool teacher who has a 7-year-old daughter, said it would be good to incorporate music into lessons. "It's actually pretty easy how you can just use body percussion or simple paper cups to make music," she said.
Music has a linguistic quality in phrases and meters, and language has musical elements such as rhythm, flow, tone, and emphasis. In fact, brain scans indicate that the most brain activity occurs when we are exposed to music and language.
Using vowels and numbers to help with pitch, Scripp showed how easy and fun it was to sing together.
Each cup represented one beat, two beats, or a pause. The audience clapped various combinations in different sequences.
2. Talent is Overblown
In the past, music education meant learning to perform music repertoire – with high expectations only for the "talented few."
But music requires far more skill, dedication, and thousands of hours of practice than talent. Scripp's own daughter is a testament to that.
The audience listened to a recording of her playing the cello. Her skills, emotions, and personal discipline were apparent in her interpretation. I'm convinced I wasn't the only one who was moved by her performance.
But she wasn't always that good. In fact, even though she had played the piano since a very young age, she didn't take up the cello until she was 12. When Scripp's friends and colleagues heard her on the cello, they suggested that she go into computers instead of continuing her musical pursuit. The implication was that she didn't have talent. But that didn't stop her.




"Every child possesses the gift to learn, and every child deserves to experience a rich understanding of music and its connection with life-long learning," said Scripp.
He added that now at the New England Conservatory, where he is the Founding Director and Chair of the Music-in-Education program, the word "talent" isn't used anymore. It's actually considered offensive to be called talented because it undermines a musician's exertion and hours upon hours of practice.
3. Music Builds Cognitive Capacity
Music is a multi-sensory experience that engages the entire brain. Studies have shown that there is a connection—in both children and adults – between learning to play an instrument and improved executive functioning, like problem solving, social-emotional skills, speech perception, and switching between multiple tasks and focus.
In addition, studies show that practising music increases myelin, an insulating protective layer that forms around our nerves. Einstein, who practised the violin and piano everyday, had an unusually thick layer of myelin covering his brain.
One interesting finding is that when you're engaged in mental practice, such as singing the next note in your head or visualizing a move, your brain does the same thing as if you were actually doing it.
"Professor Scripp really helped us see that if a child learns music, it will help her in all branches of learning," said parent Magdalene Wu. "But music isn't really integrated into our lives, especially from secondary school on. We have to make it our daily affair."
While research shows that music increases neurological growth, a good thing to keep in mind is that if we want our children to get the most out of their music education, we have to be engaged in their learning, too.
Photos and text by Jenny Tai
If you find this article useful, do click Like and Share at the bottom of the post, thank you.
Want to be heard and seen by over 100,000 parents in Singapore? We can help! Leave your contact here and we'll be in touch.