Does music really affect your child's brain development? Dr Carol Loy, Curriculum Director at Kinderland Educare Services Pte Ltd explains.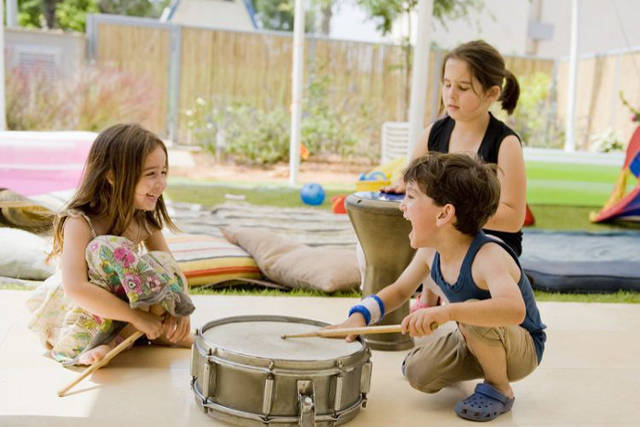 Music aptitude can be influenced in the early years. Exposure to music through playing and listening to music – before the age of 7 – has significant effect on parts of the brain related to planning and motor skills.
Studies have shown that music at an early age helps to fully stimulate the brain, engaging both the left and right sides. The earlier a child is exposed to music, the more the brain responds to different music tones; the more rhythmic integration, movement and learning. All these help strengthen the brain.
Benefits of exposing children to music
1. Your child speaks and learns language faster
Singing and music help stimulate the various senses and help children in learning and developing language skills. According to a 2012 research by Rice University's Shepherd School of Music and University of Maryland, College Park – "infants listen first to sounds of language and only later to its meaning". By repeating sounds associated with words, they remember vocabulary and basic parts of speech.
2. Your child is a better communicator
Music develops listening, reading and writing skills, improving the fluency of speech and communication.
3. Your child moves with ease
Music boosts motor skills and improves rhythm and movement.
4. Your child can think and remember better
Music improves memory, concentration, spatial intelligence, and thinking skills.
5. Your child has a healthy sense of self-esteem and self-awareness
Music helps develop kids with better self-control, higher self-esteem and confidence.
6. Your child is more self-disciplined
Music's form and structure can bring order and security, enhance communication and help improve discipline.
By Dr Carol Loy, Curriculum Director at Kinderland.
Music has been at the heart of the Kinderland curriculum since it started in Singapore 35 years ago. Their Children's Music Programme continues to strongly support the Ministry of Education's direction to place more emphasis on developing children's music and physical abilities at a young age.
* * * * *
Like what you see here? Get parenting tips and stories straight to your inbox! Join our mailing list here.
Running a service or business targeted for parents? Reach out to a wider audience in our Childcares in Singapore compilation. Leave your contact details here and we will get in touch with you.