Which artist was a close friend of Vincent Van Gogh's and quarreled with him shortly before Van Gogh cut off his ear?
Can you answer this question? Don't be surprised! But do you know that this is a simple fact that our young child can easily pick up?
Babies are born with a deep desire to find out how their world operates. To these little minds, nothing is too difficult to learn. How then do we, as parents, play a vital role in developing our child's intellectual potential?
The output of our child's knowledge is dependent on the quality of input that we provide them. It is as easy to teach your baby about Vincent Van Gogh as it is to teach him cartoons. Your child absorbs anything that you teach him. To them, there is no difference between Vincent Van Gogh and cartoons. They can learn anything that you want them to. We strongly believe in our children's capacity to learn and absorb facts about the world around them, together with their loving parents. And we purposefully provide our young minds with this encyclopedic knowledge (also called "bits of intelligence") in a fun and interesting manner.
The Best Gift to a Child
Forget toys, nice clothing or expensive organic food! While these are treats that we often pamper our little children with, the best gift that any parent can provide to their child is the love for learning. This is a valuable attribute that will accompany our child all the way to adulthood. This really is not difficult! Having to work with little children every day, the one thing they all have in common is an innate desire to learn. Have you ever wondered how our little tiny baby could start speaking, walking and even mimicking our actions? Yes, that is because they want to learn!
Tips for Young Parents
How then do we present these facts? Rest assured, we do not mean you have to buy encyclopedia books for your 9 months old to start reading. The key is to present these facts in a clear, fun and joyful manner. The pictures and information that you present to your child must be precise, discrete, specific and new.
For example, when introducing Thomas Edison to your child, you should present a big and clear portrait of Thomas Edison. Present two "bits of intelligence" to your child. "This is Thomas Edison." "He invented the incandescent light bulbs". Then switch on and off a light bulb for your child to see. What have you just done? You have just stimulated his auditory and visual pathways. On top of that, you have presented your child with factual knowledge that sparked a desire in him to learn more about great inventors and their inventions!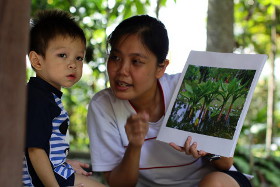 You may be thinking to yourself, I am not a genius and I do not know much about the world. How am I supposed to teach my child? That is the beauty of it. Parents can set an example for their children when we discover the world together with them through various sources. You could do so by visiting the public library or you could even read up on the internet.
You can also actually have it easier by visiting us at our centre – where we provide your child with these interesting facts and teach you the technique of presenting information to your child. And just in case, you want to know the answer to the first question, it was Henri Paul Gaugin. The secret to learning these beautiful facts is in your child's little brain. We hope that, just like us, you are getting excited about playing an active role in your child's development both intellectually and physically.
Indeed, the wonders of the first five years are an amazing journey for both parent and child. In our fifth and final article, we will dismiss talk about the left brain vs the right brain and share with you how you can help nurture a bright and active child by providing the right stimulation concurrently to both sides of the brain.
By Selene Diong, Principal of Sparkanauts.
* * * * *
Like what you see here? Get parenting tips and stories straight to your inbox! Join our mailing list here.
Want to be heard 👂 and seen 👀 by over 100,000 parents in Singapore? We can help! Leave your contact here and we'll be in touch.