17 beneficiary families self-shoot music video to raise awareness of children with rare disorders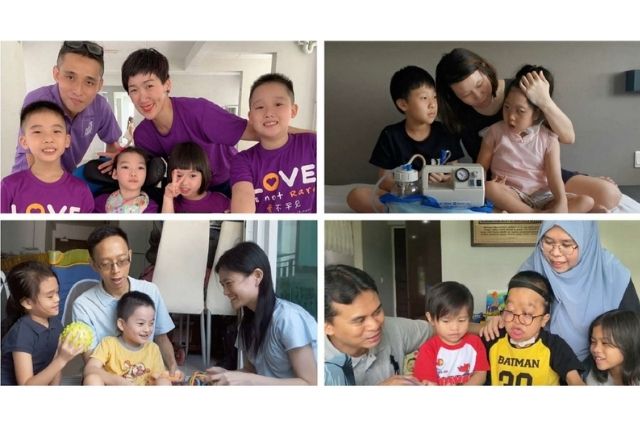 What It Is
A self-shot music video by families of children living with rare disorders in Singapore to mark Children's Day 2020
Who Is It By
The Rare Disorders Society Singapore (RDSS). Covid-19 has put a halt to some of its fund-raising events planned for this year. With this music video to be premiered on FB on Children's Day, 9 October 2020, the charity hopes that awareness for its children living with rare disorders continues despite the pandemic. RDSS families, presenting as Voices of Rare, will sing the song in support of The Purple Parade. The music video will be featured at its Concert on 31 October, streamed live on Facebook.
➡️ Related Read: What's Pandemic? | Children's Book
Why It Is Special
Circuit breaker and restrictions on group singing and video shoots did not stop the charity from producing this music video. It gathered 17 beneficiary families to self-shoot footage instead, from home or their home vicinity. Families were guided virtually to self-shoot by a beneficiary parent, Tham Yin May. The entire process took 3 months. Ms Tham, a former advertising Creative Director, singer and lyricist of the video, re-wrote the lyrics of the popular children's song – Twinkle Twinkle Little Stars.
Watch The Video here:
Special Child: Song Lyrics
You're my little Special Child
All you have to do is smile
Many things you may not know
Yet I'll always love you so
You're my little Special Child
Please stay with me for a while
Like a beacon in the night
You have been my guiding light
When you came into our lives
Never once did we ask why
You're my little Special Child
Please stay with me for a while
There's so much that we've been through
On this road we walk with you
Filled with tears of joy and pain
We will see you through the rain
You're my little Special Child
Please stay with me for a while
Credits
Producer, Creative Director, Copywriter, Singer, Lyricist, Pianist, Video Director & Editor: Tham Yin May
Voices of Rare: RDSS Families
Music Producer and additional instruments: Patrick Chng
Family Coordination: Jasmine Lee
Special thanks to all RDSS beneficiary families in the video
Kenneth Mah, Vice-President of RDSS:
"Two years ago, we did a music video featuring 3 of our families, shot by professionals. This time, we're featuring 17 families, shot DIY style. But I'm confident its impact will be just as good."
"It's a huge challenge for everyone, coming up with the time and the patience to do this. But nothing is impossible. If we come together as a group, do things as a team, things can be done."
"Right now, we can only ride on social media to do advocacy work. We introduced Facebook Live to interview different families to hear how Covid-19 has affected them. We also organise online meetings for siblings of beneficiaries to let them bond through games and chatting. We've also supported every beneficiary with $100 cash and 4 reusable masks."
On marking Children's Day 2020 with the MV:
"Every child, regardless of their different needs, has the right to live and be given a fair opportunity to grow and develop their abilities. We are here to love and offer them the quality of life they deserve."
– Kenneth Mah
For more information, visit here
* * * * *
Want to be heard 👂 and seen 👀 by over 100,000 parents in Singapore? We can help! Leave your contact here and we'll be in touch.
Running a service or business targeted for parents? Reach out to a wider audience in our Best Enrichment Classes compilation. Leave your contact details here and we will get in touch with you.