50 year old Ong Kwee Hoon Annie and has two sons, Weng Siong, 25 and Weng Guan 22. At first glance, they both seem like your typical 20 year old boys.
Weng Siong recently graduated from Temesek Polytechnic, and loves to explore Singapore on his own and takes pictures. He is intrigue with building structures and is always concerned about friends around him. Weng Guan loves to swim and has even represented Singapore in swimming competitions. He has interest in art and attends Art classes with Very Special Arts.
But society sometimes has not been so kind to both of them. Because of their diagnoses, they have been called names and stared at. Weng Siong is diagnosed with autism and anxiety disorder, and younger brother Weng Guan in unable to articulate due to his autism.
What is it like bringing up two sons with special needs? Annie, who is working as a Quantity Surveyor, shares with TNAP on the trials and tribulations of raising her boys and why she is so proud of them.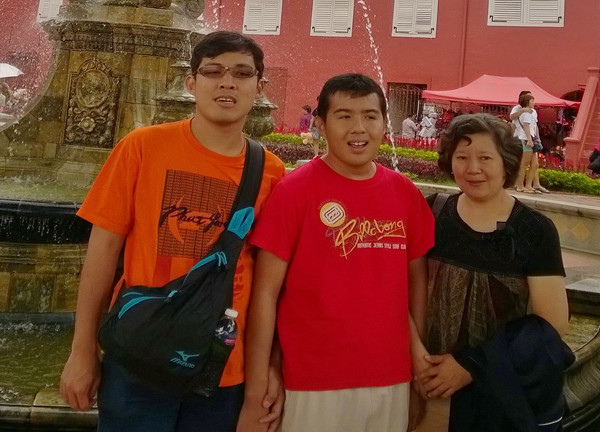 Congrats on being elected as the Family Support Network (FSN) Chairperson! Could you tell us more about FSN and what they do, and your role as the chairperson?
Families are very important in the lives of individuals with intellectual disabilities. Special Olympics Singapore recognizes the vital and significant roles of families in supporting special athletes and in families supporting families.
Families are engaged and encouraged to participate in all Special Olympics programmes. The Annual Family day is one of the many initiatives organised by the Family Support Network for athletes and families from the different sports groups to mingle with each other and thus improve their social development and affective attributes.
As part of the role of chairperson for Family Support Network, I hold frequent discussions with my committee members, plan events and workshops for family members of our sports program and recruit more family members to our Family Support Network with the help of other committee members.
What is the biggest challenge in taking care of Weng Siong and Weng Guan?
Firstly, the boys do not have a sense of danger. They will put anything in their mouth regardless of its edibility. As such, it is important for me to constantly keep my eyes on them whenever they are awake.
Secondly, both Wen Siong and Weng Guan have different characters and sensory issues. Because of this, a teaching method that works for one might not work for the other.
For example, Weng Guan would sit on the ground and refuse to move while crossing the traffic light. Also, he would inflict injury upon himself by knocking his head on the floor/walls and scream and cry whenever he was unhappy or uncomfortable. I would have to hug him and talk gently to help calm him down.
On the other hand, Weng Siong is hyperactive and would run off whenever I am not holding his hand. I have to be very firm with him, and engage him in a lot of exercises in order to calm him down.
How did you and your husband react when you found out about your sons special conditions?
Initially, I was saddened to know that my boys were special and different from the others. I had a tough time understanding why, which led me to want to read more about it through books and research. This eventually helped me acquire a better understanding of their condition, and taught me the appropriate techniques in handling and coaching them.
My husband on the other hand, was unable to accept the fact that they have special needs. He would go to work early in the morning and will only return home past midnight. He would not take the initiative to look after the boys or to play with them.
How did you overcome the obstacles faced?
I told myself that I needed to be strong. It is after all the duty of a mother to take care of her two beautiful boys and teach them as long as she is able to. Slowly but surely, I learnt to do things through time. I ignored the stares and the negativity brought about by others through focusing on my two boys. Whenever I am stressed out, I will listen to my favorite song.
I am lucky to have moral support from my mother and a group of parents with special needs of whom I met in Rainbow Centre. We always share our teachings and provide encouragement to one another.
What is your greatest worry for both of them in the future?
I worry that the boys will be bullied physically and mentally by others when I am no longer capable of taking care of them.
What is your proudest or happiest moment in raising Weng Siong and Weng Guan?
Weng Siong: When he graduated from Temasek Polytechnic on 18 May 2015. It makes me very proud to know that he is capable of graduating like any student with no special needs despite his condition.
Weng Guan: When he won a medal in the Special Olympics National Games. I am proud that he was able to follow instructions and complete the competition.
Besides being diagnosed with Autism, how are the two boys similar to normal developing children? What are their likes, dislikes, fears and ambitions.
Like normal developing children, my boys are very curious. They enjoy travelling overseas, discovering new places and learning new interests. They also love listening to music and watching TV programs. They dislike negative criticism, getting scolded and being shouted at.
How did both boys get into swimming and how has the sport helped them?
Weng Siong started swimming in Primary 3. Weng Guan joined the Special Olympics Aquatics Club two years ago. Swimming helped my boys to be calmer, and improved their body coordination.
How has being involved with the Special Olympics helped you in your parenting journey?
Special Olympics allowed me to meet new people, widened my knowledge and boosted my confidence in disciplining my children as well as conducting sports trainings with them.
In your experience, what is the one biggest misunderstanding people or parents have when it comes to children with special needs?
People do not understand the condition of children with special needs. Other people think that our children cannot be taught and improve, which is untrue. Some people call them crazy whenever they misbehave in public but these people do not know better.
If there is one thing you hope other parents can take away from your story in raising Weng Siong and Weng Guan, what would it be?
It would be to never give up and to accept their children for who they are, and to shower them with unconditional love. Spending quality time with them on a regular basis is equally important, and lastly, to believe that their children can excel if they are granted the opportunities to learn.
Photos courtesy of Ong Kwee Hoon Annie
If you find this article useful, do click Like and Share at the bottom of the post, thank you.
Want more comprehensive info? Check out our e-guides here.