New, lush and spacious, Small Wonder at Serangoon North is the newest and largest of all the four centres. The other three centres are located at Yishun, Punggol and Anchorvale.
Recently furbished in April 2015, the centre has enhanced security features such as facial recognition at the entrance, for your peace of mind. Step into the school and you are immediately greeted with a huge cheery centre piece; an indoor playground with rubberized flooring and a mini track.
The Curriculum
Small Wonder curriculum framework is likened to that of tapestry. Just like how different pieces of woven fabric make up a tapestry; different aspects of your child's development are woven into the school's curriculum.
Extending learning beyond the classroom
Small Wonder's Tapestry of Learning represents the important and interdependent relationship between your child, the community and their interactions between them and the community. Lessons are not just confined within the classrooms. This is one reason why outdoor walks and community visits are a frequent affair.
"It's not just about bringing the community into the centre; we bring the kids out to the community as well." Anne Fernandis, Principal of Small Wonder at Serangoon North who has 28 years of experience in the Early Childhood sector adds.
For example, there are weekly walks to the nearby park and around the neighbourhood. During these visits, teachers will prompt questions for children to think and reflect.
In this manner, the three core fabrics (your child, the community and their interactions with the community) are integrated into their learning. This fosters a sense of community involvement at a young age, and encourages children to think about the relationships within a community.
For example, who helps to clean the streets? Who trims and prunes the trees that we see along the road?
Classroom without walls
Adopting an open classroom concept, Nursery 2 to Kindergarten 2 classes are located at the main area. Younger children will have classrooms of their own.
Open classroom invites children to see, explore and move through all areas of the classroom. It is divided into different learning areas, each equipped for distinct kinds of play. Such classrooms also invite collaboration, where teachers facilitate the children's interest and learning, instead of telling children what they should know or learn.
The infant care centre is located within the school; convenient for parents with an infant and a pre-schooler.
Inviting home-like setting with soft elements in the Infants Room.
The Teachers
The school experience would not be complete if not for passionate and nurturing teachers.
Sharifah Noraini, a parent from Small Wonder Punggol Ripples, feels assured that her daughter is in good hands. She has seen how the affection and caring attention from the teachers had a positive impact on her daughter.
"My daughter has been receiving a lot of love and care from the teachers and staff. Even at home, she will ask about her Form Teacher (Ms Joyce) and some of her classmates. I could see positive changes in her cognitive and social aspects since the day I enrolled her at the centre." says the mother of one.
For parents Maya and Shai, sending their daughter to Small Wonder @ Adora Green (Yishun) has been instrumental in her cognitive and physical learning. "A kinesthetic learner, Alya finds joy in learning through movement and this helps to improve both loco-motor and psycho-motor skills."
They add on, "She is able to converse with her peers in English, express herself well, and has learnt to think holistically in making the right decisions and acting on it to ensure that she has made an impact on others."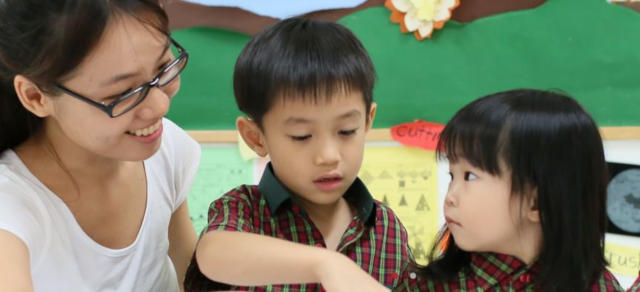 To ensure that each child gets more attention and guidance, Small Wonder adopts a lower teacher to student ratio.
Infant care 1:4
Play group ratio 1:6
Nursery 1 ratio 1:9
Nursery 2 ratio 1: 12
Kindergarten ratio 1:18
Uncovering wonders in small corners
With 25 years of experience in the early childhood field, Small Wonder aims to provide an environment that children can look forward to everyday.
Services offered:
Infant (2 – 17 months)
Playgroup (18 – 30 months old)
Preschool (4 – 6 years)
Website: www.smallwonder.com.sg
Small Wonders @ Serangoon North
6 Serangoon North Avenue 5, #02-01 Singapore 554910
Small Wonder is a member of the multi-award winning Busy Bees Southeast Asia family of preschools.
Like what you see here? Get parenting tips and stories straight to your inbox! Join our mailing list here.
Want to be heard and seen by over 100,000 parents in Singapore? We can help! Leave your contact here and we'll be in touch.