STGCC and GGXP announce a weekend of magic and mayhem with LEGO Harry Potter, Voltron and the World Electronic Sports Games.
Date: 8 and 9 September 2018
Time: 10am – 8pm
Venue: Marina Bay Sands Expo, Halls D, E, F
Admission: Charges apply
Pop culture connoisseurs will get their fill at STGCC, which will see a LEGO universe invasion, high-octane esports championships, as well as creators and performers from the world of cartoons, comics and anime.
Singapore's largest pop culture convention will be bustling with activity-thanks to LEGO's exclusive remarkable brick displays and assembling competition, GGXP's intensive esports tournaments and guest appearances featuring creators from the world of comics, cartoons and anime.
Related Read: Exciting Things To Do This September School Holidays in Singapore
LEGO activities at STGCC
It's a pop culture party at STGCC, with LEGO bringing a suite of beloved characters including Voltron and Harry Potter to the two-day extravaganza.
What's more, exciting collections for the two franchises will be debuting at the convention this year, giving fans a chance to interact with their favourite figurines.
Voltron: Defender of the Universe
Top-rated children's show Voltron: Defender of the Universe will be unleashing its mighty powers at STGCC's LEGO zone. An American remake of the cult Japanese original, Voltron: Defender of the Universe is the story of a group of enterprising cosmonauts who traverse the universe in a gigantic robotic structure of the same name.
Five interactive Voltron-themed lion figurines that transform into robotic lions will be unveiled to the audience at STGCC. Fans can also expect episodes of the series to be streamed on large screens for an immersive experience.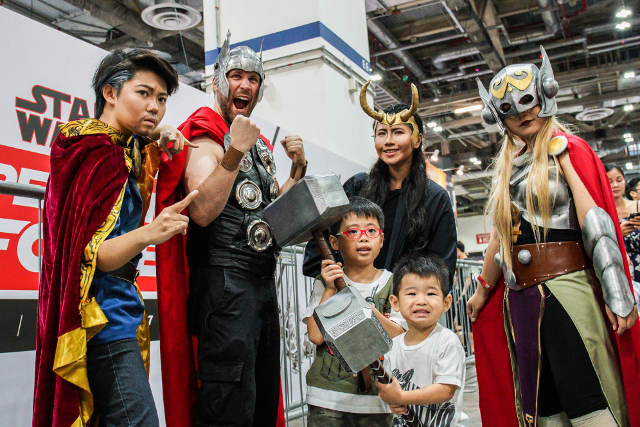 Whether they belong to Team Lion Force or Team Voltron Vehicle Force, Voltron fans can enjoy getting their hands dirty with a hands-on building experience with LEGO bricks. Lovers of LEGO and Voltron looking to show off their skills will have a chance to prove their expertise at the Speed Building Challenge, where a full-size Voltron model must be assembled with LEGO bricks within a specified time limit. The winner gets to walk away with a limited-edition autographed LEGO Voltron set.
Fans not keen on competing can still get to have a good time at the FUN Hands on Building Area where people can build their own version of Voltron figures at their own pace and marvel at the intricate displays made solely from LEGO bricks.
The man of the hour, Voltron – Defender Of The Universe's designer Leandro Tayag, will be making a special appearance at STGCC to sign Voltron merchandise for fans. An avid collector of toys and figurines himself, the software architect is a part of the LEGO Ideas 10K Club, a collective which allows creators to conceptualise and create figurines and projects made from LEGO bricks.




The Harry Potter Universe
Harry Potter fans who never got their Hogwarts acceptance letters can now revisit the sprawling campus constructed entirely from LEGO bricks at STGCC. The Harry Potter Hogwarts Castle which officially launches on 1st September, consists of a whopping 6,000 LEGO bricks, and will be available in limited quantity at STGCC.
Woven into this mystical architecture is a massive interactive diorama consisting of mini figures and micro figures from the Harry Potter universe. Dementors will make appearances, so fans are advised to have their protective Patronuses on the ready.
Both adults and children are cordially invited to revisit the magic of the franchise by using LEGO bricks to build their favourite Harry Potter characters, creatures, locations and artefacts.
On top of this, Harry Potter merchandise will be available onsite for purchase, including the Harry Potter brickheadz x Go Brick Me collections, which will allow people to construct their own renditions of the Chosen One and his companions using Brickheadz materials. They may then be photographed with their creations at the official Harry Potter backdrop, with the option to receive a hard copy of the picture.
Get Your Game On at GGXP with the most scintillating esports event of the year: World Electronic Sports Games
GGXP, also known as Good Gaming Experience, provides a stellar gaming experience for one and all.
Touted as the "Olympics of esports", the World Electronic Sports Games (WESG) supported by Alisports (Alibaba Group's sports branch) and local esports initiative Singapore's Cybersports & Online Gaming Association (SCOGA) is working with SEA organiser Agri Mind to host its Singapore qualifier at GGXP this year. Hardcore gaming athletes hungry for a taste of action will get to battle it out via games such as Counter Strike: Global Offensive, Hearthstone: Heroes of Warcraft, Dota 2, Starcraft II and Vainglory. Spectators can lend support to their favourite local esports teams as they fight for the chance to represent Singapore on the global esports stage.
Selected teams will go on to compete at the Regional Finals in Kuala Lumpur, and subsequently at the Global Finals in Shanghai. A prize pool of USD 5.5 million is at stake for winners. Registration for the qualifiers are now open at here.
Dennis Ooi, Honorary Secretary of SCOGA said: "We're thrilled to be involved in STGCC this year to present the esports segment at GGXP. Gaming and esports are growing rapidly in the region, and we have faith that GGXP has what it takes to further elevate the local gaming scene."
Those feeling extra adventurous can try their luck at the trading card and table-top tournament sections. Thrilling trading card titles include names such as Pokemon GO and Dragon Ball Super Card Game, while tabletop aficionados will find themselves spoilt for choice with titles such as Team Yankee, TANKS!, Warhammer and X-Wing: Miniatures.




Second line-up of guests announced
STGCC's guests are pop culture icons in their respective fields- some of them have worked on some of the biggest superhero projects of this generation (Black Panther, Avengers, X-Men), cartoons which have captivated the imaginations of audiences both young and old, while others have left a monumental impact on the world of anime. This year's line-up is a mixture of faces old and new-some guests who have attended previous editions of the conventions have decided to return because of their strong connections with fans and attendees.
Step into Agnes Garbowska's (CAN)'s magical universe, a self-confessed nerd who happens to be an artist for hit show My Little Pony. From toddlers to middle-aged adults alike, viewers cannot resist diving headfirst into the kaleidoscopic world of Twilight Sparkle, Pinky Pie, Rainbow Dash and other lovable characters from the show. Known for her whimsical watercolour aesthetic, Garbowska's other works include Grumpy Cat, Boo: the World's Cutest Dog, Transformers, Sonic Universe and Powerpuff Girls!
In addition to her return, Agnes is also behind one of three unique STGCC official programme guides' comic variant cover designs this year.
Comic book writer and artist Frank Cho (US) returns to the convention for a second year. Cho, who is known for his depiction of buxom men and women in precise lines has worked on Shanna the She-Devil, Mighty Avengers and Hulk.
Arthur "Art" Adams (USA) first made waves in the comic book industry with Longshot, a Marvel mini-series. Spiderman, X-Men, Godzilla, Fantastic Four, Black Panther, Green Lantern, Hulk, The Avengers and Rocketeer have all been immortalised by Adams's intricate artistic style.
Illustrator and author Joyce Chin (USA) has lent her artistic abilities to several female superhero characters such as Red Sonja, Vampirella, Wynonna Earp, Purgatori, Moon Girl and Xena. Marvel and DC have both had the fortune of engaging her to work on X-Men, Hulk, Superman, Spider-man and Witchblade.
Anime fans will be delighted to know that veteran voice actress Kana Ueda (JAP) will be making her Southeast Asian debut at STGCC this year. Known for voicing prominent characters in popular anime series such as Rin Tohsaka (Fate Series ), Hayate Yagami (Nanoha Series), Kana Ueda's prolific credentials make her unmissable.
Both AkaiRyusei (JAP) and TAM (JAP) are considered legends in the Japanese doujin music scene, and have contributed widely to several games and anime series. They will be bringing their versatile musical compositions to the convention.
STARS Girl Grand Prix is a Japanese idol competition where several girl groups compete for a chance to perform at STGCC. Winner of the competition Japanese girl group chuLa (JAP) will be bringing a taste of Harajuku to STGCC, with their energetic, high-speed music numbers and kawaii aesthetic.
Passes are now on sale online here and at Kinokuniya islandwide in Singapore.
Want to be heard and seen by over 100,000 parents in Singapore? We can help! Leave your contact here and we'll be in touch.