Some animals share a special bond with humans. We came across a few videos and stories of children and their close furry (or scaly) friends that made our hearts melt.
1. Dog Befriends Child With Special Needs

The dog who refuses to give up on a toddler who doesn't want to play with her.
Meet Himalaya, the dog and Little Hernán, from Buenos Aires. Little Hernán has Down Syndrome and according to comments posted by his mom Ana, this has caused him to shy away from physical contact.
But Himalaya's persistence and gentleness slowly wins the heart of Hernán.
2. Cute Friendship of a toddler and his french bulldog
Aya Sakai, a Tokyo-based mother has been taking adorable pictures of her son Tasuku and his best friend, a French bulldog called 'Muu'. She posts her photos on Instagram and her Facebook page.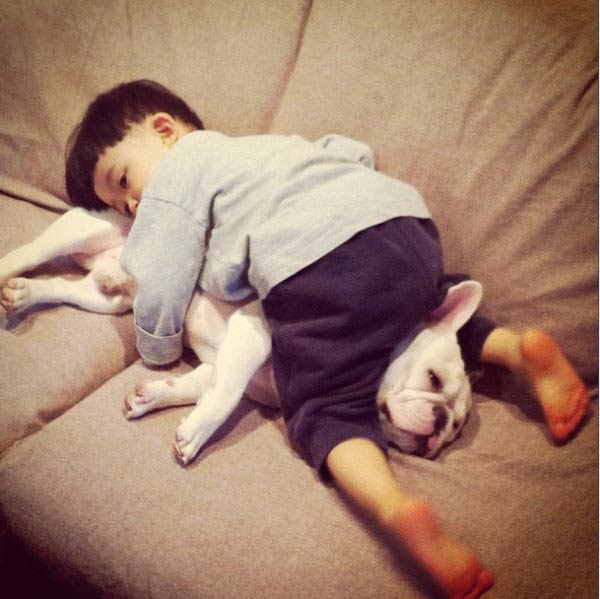 Photo source: www.facebook.com/ig.ayasakai
3. The Real Jungle Girl
A white child, she was born in Namibia to French wildlife photographer parents, and grew up in Africa. Tippi spent her whole childhood playing with wild animals including lion cubs, a mongoose, a snake, a cheetah, baby zebra, giraffes and crocodiles.
The little girl saw nothing unusual about her company: "I don't have friends here. Because I never see children. So the animals are my friends," she once said.
Photo source: http://www.boredpanda.com/tippi-of-africa-real-life-mowgli-girl/
Tippi is now 23 years old, and the only child to wildlife photographer parents Sylvie Robert and Alain Degre, who published her photos in a book called Tippi of Africa. "It was magical to be able to be free in this nature with this child. She was a very lucky little girl – she was born and raised until the age of 10 totally in the wild." said Sylvie.
Does your child share a special bond with any animals?
Related Post: Helping your child cope with his pet's death
If you find this article useful, do click Like and Share at the bottom of the post, thank you.
Want more comprehensive info? Check out our e-guides here.