Can my toddler or preschooler really learn from game apps?
Digital media is part of our lives. A good quality software can help a child to develop skills that he or she is lacking. For parents, play the game or use the app first to understand the contents of what your children will learn and see.
Talk to your child about what they see and hear while using the app. Relate their game experiences to the people and things around them. Focus on the context.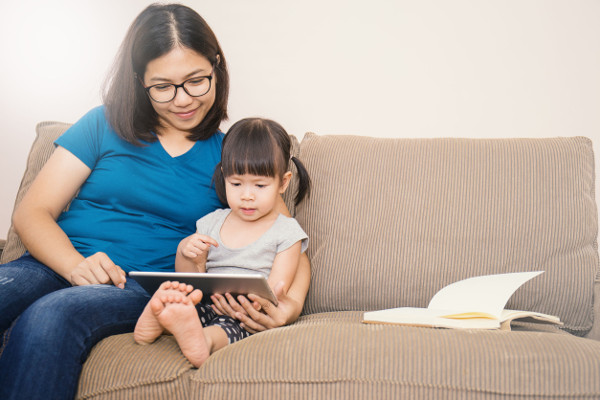 How can I control the use of technology in my child's life?
The challenge with technology today is how we use it. Devices should not be used to pacify, calm or distract the child. Such actions will only impede their ability to develop self-control and self-regulation. Children are at risk of tech addiction when parents rely heavily on digital devices to keep their children occupy.




Here's what you can do:
Limit the tech time and spend more time with the family such as putting the digital devices away during meal times.
Do not give the child the digital devices whenever you are busy or when your child is bored.
Develop healthy media habit such as 20 to 30 minutes of screen time a day for children aged 3 and above
No screen time for children below 3.
Say no to digital devices before or at bedtime.
Go for alternatives such as playing board games or reading good books instead of technology activities.
These questions were answered by Ms. Dawn Choy, Founder of Dreamkids Kindergarten.
This was first published in The New Age Parents Enrichment and Preschool Resource Guide.
---
DREAMKIDS KINDERGARTEN
Dreamkids employs a fusion of the world's best early childhood educational approaches. The school's Education and Curriculum Specialist comes from Finland – recognised as one of the world's leading education systems – and blends knowledge of Finland's well-balanced system with the successful traits Singapore.
For more enrichment programmes and preschool tips, read our Enrichment and Preschool Resource Guide, or download it here.
* * * * *
Want to be heard and seen by over 100,000 parents in Singapore? We can help! Leave your contact here and we'll be in touch.
Like what you see here? Get parenting tips and stories straight to your inbox! Join our mailing list here.