Empathy, self-esteem, and positivity can help bring about happiness and self-reliance. In any emotional toolbox, these are the essential tools needed. Here are 5 steps you can apply.
1. Ask your kid to identify feelings
Build empathy by asking them to identify their feelings. Then expand by asking them how they think others feel: the characters in a story, the classmate who always gets in trouble, an old auntie being pushed in a wheelchair, their crying newborn sibling, the puppy in a cage.
You can also encourage them to imitate expressions of characters in a book or movie. Ask them, "What does sad look like?" "What does lonely look like?" "How about embarrassed?" "Scared?"
2. Volunteer as a family
Kids can be pretty self-involved sometimes. As modern parents, we revolve a lot of family activities around our children to give them a truly enriched upbringing. Teach them to think of others by doing volunteer work as a family. They're never too young to make a difference to the community and help those less fortunate. SG Cares is a helpful resource for volunteering opportunities.
➡️ Related Read: Teaching Our Children The Value Of… Giving Thanks
3. Let them choose – and don't second-guess their decisions
As your kids get older, strengthen their self-esteem by respecting their decisions. Let's say you ask your kid if they want to go to the park or go home. If they choose the park, don't answer with, "Are you sure? You seem a little tired. Maybe you want to rest at home?"
Once you give them the option to choose, be prepared to follow through. Otherwise, that's like saying, "I asked you what you wanted. You told me. But I'm going to choose for you anyway, because I doubt you know what's best."
If you want your kid to become confident decision makers in the future, start empowering them now. Don't ask them what they want, then ignore their answer. Their opinion matters.
Next time, propose low-risk decisions in situations that don't have much at stake. For instance, let's say you're on an evening stroll around the neighbourhood. Ask your kid if they want to go left or right. Whatever they choose, respond with, "That's a good idea." They'll get a kick out of being able to direct the way, and you know the route home either way.
4. Practice optimism
Lead by example. Your kids look up to you, and if you react to a situation-gone-wrong with eye rolls and complaints, they're going to notice your negativity – and perhaps even subconsciously mirror it. Teach them to find the humour in plans that go awry.
The point isn't to pretend that bad things don't affect you. It's to show your kids that life isn't always smooth sailing, and it's okay to be bummed about it, but how you get past it is a choice. Attitude is a choice.
One way to instill positivity in your home is to practice saying phrases like, "Accidents happen. It wasn't anyone's fault," "We can try again next time. But for now, let's think of something else that's fun."
5. Be present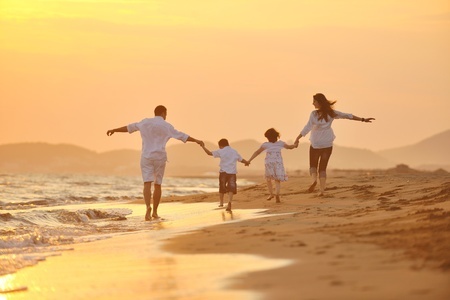 Everyone is an expert multi-tasker these days. We answer work emails while helping our kids with homework. We read to one kid while putting on pyjamas for another, pausing several times in between to reply to strangers' comments on Instagram with the perfect emoji lest we lose those followers. Before our kids even finish telling us about their field trip, we've already checked our phones three times.
So often, we are dismissive without meaning to be. Your kids are not always going to be so eager to tell you about their day. About what so-and-so said to them at recess. And they're not always going to be so interested in you, either. One day they'll ask fewer questions. One day it will no longer be Mummy-this-Mummy-that, Mummy-can-you-come-here, Mummy-now, Mummy-please. Right now though, you are their number one audience.
Attention is love. Cultivate a positive and loving home by being present. Having your undivided attention makes them feel valued, raises their self-esteem because they're being shown that they're important enough to you – more important than anything else that's going on at that moment.
➡️ Related Read: Parenting Mindfully
By Jenny Tai.
This article was first published in The New Age Parents e-magazine.
* * * * *
Like what you see here? Get parenting tips and stories straight to your inbox! Join our mailing list here.
Want to be heard 👂 and seen 👀 by over 100,000 parents in Singapore? We can help! Leave your contact here and we'll be in touch.