HIGHLY RECOMMENDED FOR CHILDREN AGE 5-9 YEARS OLD
Do you wish to help your child cultivate a passion for Chinese?
Do you want them to soar in their Chinese language proficiency?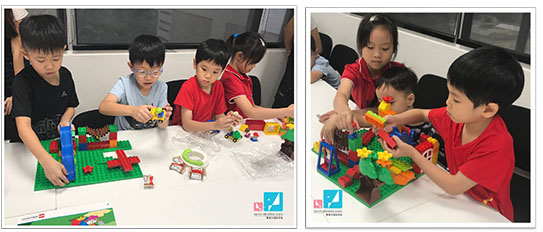 In recent years, there has been a growing push to allow children to learn through play. Children develop cognitive, social, and emotional skills in the process of playing. They also grow in self-confidence, learn to work in collaboration with others, and think out of the box.
Play supports the development of children in a few different ways:
It enhances a child's ability to focus
It promotes creativity and problem-solving
It builds a sense of mastery and self-confidence
It allows children to make new connections
It reduces stress and promotes socio-emotional development
Introducing BRICKZ, a unique "play-full" Chinese enrichment programme run by Square Education Studio.
BRICKZ is born out of collaboration between a former MOE Chinese HOD and Mr Mao Guangming, a former Lego curriculum specialist in Beijing. Mr Mao, a renowned Lego curriculum specialist in Beijing, was also actively involved in the translation of several Lego publications, such as The Lego Book and The Lego Ideas Book, into Chinese.
BRICKZ adopts a hands-on, play-based approach to spark children's natural curiosity and foster the sharing of ideas and teamwork.
Said Chloe Lim, Principal of Square Education Studio and former Chinese HOD at an MOE school, "Using Lego bricks and robotics to engage and sustain the interest of young learners aged 5 to 9 years old, we have seen our children inspired and eager to gain more knowledge and experiences in Mandarin."
Enjoy a free trial lesson, please call +65 6844-9003
How does BRICKZ cultivate a love for Chinese?
"Children learn best when they are actively involved in learning."
"Play helps children to make connections with ideas that they have already internalised. By integrating all of these elements, play allows the child to create a sense of meaning; it encourages new ways of seeing things."
– Duncan and Lockwood, Learning Through Play
The centre adopts a simple but effective philosophy towards education – Transform Chinese into a living language through a fun and positive learning environment.
By engaging students using a familiar and interactive medium, BRICKZ allows its learners to explore different topics and interests, and gain a deeper understanding of how the world works. Some of the topics include: A fun day at the playground, an excursion to the zoo, or my first ride on the airplane.
The centre covers the four core skills designated in the MOE Chinese syllabus, namely listening, communication, reading and comprehension, and writing.
What skills do students learn through BRICKZ?
BRICKZ develops a child holistically and builds the following skills:
Chinese Language and Literacy skills
Foundational Mathematics and Science concepts
Social-emotional skills, e.g. emotions regulation, coping with and expressing big emotions
Essential life skills, e.g. collaboration, communication, logical thinking, problem solving, and leadership
Why are parents choosing BRICKZ?
Strengthens cognitive and thinking skills
Through a teacher-guided session of LEGO and robotics play, our students get to explore different topics of interest planned according to themes such as our living environment, modes of transportation, or animals. They receive ample opportunities to put their critical thinking skills to practice, and to try new ways of overcoming problems and obstacles.
Builds all four Chinese literacy skills
A typical session begins with reading and understanding a passage. Through the given scenario, students collaborate and build with LEGO bricks. Each group will present their idea to the class, and receive feedback on improving their design. This covers the skills of listening and communication. Finally, they will get some writing practice based on the new vocabulary introduced in the lesson.
Boosts curiosity, creativity, and collaboration
Students learn to work in groups, and share and communicate their ideas with others. Through this process, they learn to respect different views and opinions, while working out differences and communicating their needs respectfully.
Motivates students to learn
LEGO and robotics are intrinsically fun and motivating platforms for learning. Students are drawn to them and the opportunities for creation and improvement are endless.
Strengthens character, values and leadership qualities
BRICKZ lessons create ample opportunities to inculcate positive values such as sharing, kindness, mutual respect, and active listening and feedback, while our students work together.
What do parents say about BRICKZ?
"I like the inclusion of social interaction and hands-on approach in BRICKZ lessons. In comparison to the method of drilling language skills to teach Chinese in a conventional way, I find that the BRICKZ programme is more effective in engaging young learners. My son enjoyed the lesson very much!" said Mr Gimson Tan, parent of a primary 1 boy.
"The teacher is very professional and is able to deliver her lesson well. The teacher engages the children through consistent questioning and is able to illicit responses for further interaction," said Ms Lyn Gwee, parent of a primary 2 girl.
For enquiries on the BRICKZ programme or to make an appointment for a free trial lesson, please call +65 6844-9003, email sjhf0809@yahoo.com, or visit our website.
This post is brought to you by Square Education Studio.
* * * * *
Like what you see here? Get parenting tips and stories straight to your inbox! Join our mailing list here.
Running a service or business targeted for parents? Reach out to a wider audience in our Best Enrichment Classes compilation. Leave your contact details here and we will get in touch with you.