Flour and toddlers? "Utter mayhem!" you say? Baking with kids is definitely more messy and inconvenient than baking alone, but it's double the joy!
Here are some practical tips for making the most out of the experience.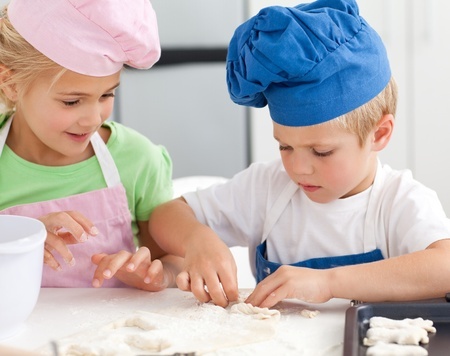 1. Plan ahead
Pencil in your baking slot with your child ahead of time. This allows you to prepare your child for the time together ("We are going to make cookies together after school!") and gives you time to check that you have all the required quantities of necessary ingredients. It's no joke running out of butter when your child has his hands elbow-deep in flour!
2. Find a recipe
Having a recipe to follow will give both of you better handles for what step to do next. When baking with kids, try to have something hard-copy for them to look at instead of looking at your phone. Even if your child can't read yet, she can look at the pictures or help you keep track of which step you are doing next. You can print out recipes from the Internet or open up a cookbook. Avoid choosing recipes that have too many steps or difficult tasks (like whipping egg whites for a meringue).
3. Use spoons to scoop out dry ingredients
Many of us just pour our ingredients directly from the box or packet where they are stored into our mixing bowl, but young children may not have adequate control of their limbs to accomplish this process without a significant amount of spillage. To minimise frustration and mess, give them a spoon to scoop portions of the ingredient into the mixing bowl or measuring cup instead.
4. Show, not tell
If you are doing the rubbing-in method for the first time, don't expect your child to understand your verbal instructions. Always show them what a process looks like before they get their hands in the mix.
5. Don't let them do everything
When baking with kids, it's good to think through beforehand which steps they can manage on their own, what they will need assistance in, and when they should step aside and let you do the work. For example, if you were baking drop cookies, your child could probably measure the ingredients with assistance, whisk the dry ingredients independently and switch on the mixer when the wet ingredients are added in.
However, he/she may not be able to scoop out the batter onto the tray as it would be difficult for him/her to judge what quantities and spacing look like. We recommend that you, the parent, take over the job of scooping out even balls of dough, and then let your child decorate the cookies independently.
6. Ask questions
The baking process can be a great time for fun learning to take place. Ask your child questions that help them think about what they are doing, and understand how things work. For example,
"Look, we have all the dry ingredients here and we're going to mix them first before we add the wet ones. Do you know why?"
"What will happen if we put the cookie balls too close together on the tray?"
"Watch how I am kneading the bread. Do you know why we need to knead the dough?"
7. Clean as you go
To avoid a massive clean-up and a sinkful of dirty dishes after baking, try to clean up what you can along the way. Have your roll of kitchen towel nearby so you can easily wipe up spills, and avoid your child tracking the food around the kitchen or house. If your child is gainfully employed in one step in the process (e.g. whisking the dry ingredients or decorating cupcakes), take advantage of the time to quickly wash up a couple of dirty dishes.
8. Get them to help clean up
Involve your child in clean up time too! Even a very young child can help to dry the clean dishes and utensils – just don't hand over the expensive ceramic or chinaware! Metal and plastics are fine.
By Dorothea Chow.
* * * * *
Do check out some recipes you can try in the articles below.
Want to be heard 👂 and seen 👀 by over 100,000 parents in Singapore? We can help! Leave your contact here and we'll be in touch.