Food would be the last thing on one's mind when it comes to the arena of education. "Learning through food?" you might scoff. "I'd be ecstatic if my kid just learns to eat food normally." You would be surprised at what kids can pick up through food. Be it general knowledge, linguistics, social skills and etiquette, even gratitude and appreciation, there is much to be fed to the brain through hungry little mouths!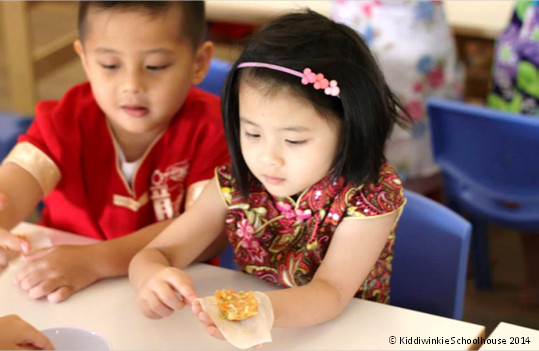 Getting picky eaters to be more involved in the process
Active participation helps kids be less intimidated by food. From farm (vegetable, of course) to table, make sure kids understand the hard work and effort that is put into farming, harvesting and the subsequent cooking of the food. Their opinion should be sought and valued. Have them help you cook. Depending on their age, this can mean counting out cherry tomatoes or toasting sunflower seeds to add to a salad, stirring, and later making a meal on their own. Even setting the table contributes to ownership.
Learning language and culture through food
KiddiWinkie Schoolhouse @ Grandstand holds a bi-monthly International Culture and Cuisine Day where a country is focused on in a week-long affair of thematic activities which includes craft and food craft. It culminates in a day of learning all about the chosen country's culture through food.
This event is KiddiWinkie Schoolhouse's initiative to cultivate cultural cognizance in children as we believe that exposure to cultural diversity helps shape astute and respectful children. Beyond racial and cultural tolerance, we aim to raise knowledgeable citizens of the world who have genuine fascination and respect for other cultures.
In February, China was the spotlight for the school's International Cuisine and Cultural Day and our children had a chance to learn about the country, its cultural practices and had a chance to make their own dumplings.
Get crafty with food
"Stop playing with your food and eat!" Sounds familiar?
Leave behind the days kids are chided for playing with their food. While it is important for kids to cherish the food that nourishes them, mealtimes shouldn't be presented as a daunting chore that they struggle to complete. Who said that playing with food and eating them had to be mutually exclusive?
Help strengthen the association between food and fun with these adorable little culinary projects.
1. Structure of Succulence
Aptly named for these sweet and juicy treats, the structure of succulence is an engrossing activity that will keep kids entertained for hours. Using grapes as building blocks, kids can construct towering creations borne of their own creativity. Problem-solving and critical thinking skills are engaged in this construction game. To make this project entirely edible, replace toothpicks with low sodium pretzel sticks.
2. Piglets and Jam
Suitable for the younger ones, this project can be used as a supporting activity when learning about farm animals. To make a piglet, simply cut out circles to make the face, little triangles for the ears and an oval for the snout. Have the kids put them together using jam as 'glue'. Chocolate buttons make the eyes and a couple of raisins complete the nose. A complimentary lesson on basic shapes or even teaching children about 'pairs' (and 'even numbers') can also be incorporated into this activity.
3. Cereal Necklace
Make rainbow necklaces with fruitloops. These pretty accessories are fun to create and do not require anything more than string and cereal. This simple little project was the pride of KiddiWinkie Schoolhouse @ Newton's K1 class who made the necklaces in commemoration of their 100 Days of School celebration hence, were exposed to a lesson in numeracy. The number '100' didn't seem so big and scary at the end of the day!
Food Craft can and should be included as part of our 'education' kitchen. Learning through such fun sensory activities is not just a great way for the children to acquire knowledge but it is also great for parent-child bonding as well as developing life skills such as perseverance and teamwork!
This is the first installment of our Food Craft series by Ms Pooja Vishindas, Chief Curriculum Officer from Nurture Education Group.
Stay tuned for more Food Craft activities!
This article was first published in The New Age Parents e-magazine.
Nurture Education Group is a well-established pre-school operator in Singapore with over 15 years of experience in the pre-school industry. It operates 14 childcare centres under four brand names: KiddiWinkie Schoolhouse, Pibo's, Little Footprints and a student care centre, Learning Leap Student Care, as well as various enrichment arms.
* * * * *
Like what you see here? Get parenting tips and stories straight to your inbox! Join our mailing list here.
Running a service or business targeted for parents? Reach out to a wider audience in our Preschool Singapore compilation. Leave your contact details here and we will get in touch with you.