Singapore Food Festival (SFF) 2018
13 July to 29 July 2018
(Accurate as of 4 June 12noon SGT)
STREAT
Date: 13 to 14 July 2018
Time: Fri 5pm – 10.30pm | Sat 12pm – 10.30pm
Venue: Empress Lawn, 10 Empress Place Singapore 179555
As the signature event of the Singapore Food Festival, the two-day long outdoor event, STREAT, will feature an exciting collaboration between local culinary talents.
Headlining STREAT is a four-hands pop-up restaurant helmed collaboratively by Chef Emmanuel Stroobant (from one Michelin-starred Saint Pierre) and Chef Haikal Johari (from one Michelin-starred Alma).
In addition, an exciting line-up of hawkers and chefs will also be serving up traditional and modern takes on Singaporean classics which are bound to excite local and visiting foodies.
Participating establishments include:
Old Bibik Peranakan Kitchen (halal)
Gayatri Restaurant
Sinar Pagi Nasi Padang (halal)
Fishball Story
CreatureS
Quarters
Xiao Ya Tou
Non Entrée Desserts
Lolla
Venue by Sebastian
Morsels
Xiao Ya Tou Hokkien Mee
For the first time, a dedicated bar will be set up at STREAT, helmed by Manhattan which was recently awarded Asia's Best Bar 2018. Beers launched exclusively in conjunction with SFF will also be retailed by Trouble Brewing.
Beyond indulging in the variety of food and beverage options, visitors can also purchase local souvenirs at STREAT's retail pop-up, enjoy a line-up of local entertainment acts in the evening and also partake in workshops and masterclasses by participating culinary talents and more.
For more information, visit here.




---
Love Local Campaign by McDonald's
Date: July 2018
As part of the Singapore Food Festival 2018, McDonald's will be launching a delicious new menu inspired by local favourites. Fans can look forward to special creations that take cue from a myriad of Singapore flavours.
For more information, visit here.
---
LoveSG at Changi Airport by Changi Airport Group
Date: 13 to 29 July 2018
LoveSG is an insignia for the best of Singapore that is available at Changi, and SFF will be the event kicking off the campaign this year! During the SFF, myriad activities and special promotions await both locals and tourists alike.
One can look forward to special local-inspired menus from the likes of Krispy Kreme, Paradise Dynasty, The World is Flat and more. Enjoy special Singapore food and beverage pairings at Duty-Free Singapore stores, or sample your way through unique local bites and drinks at TWG Tea boutique (T4), Asia Favourites (T2), Fragrance (T3) and Black Barista Coffee World (T2). At Discover Singapore stores (T1-4), exciting product launches await, such as 1872 Clipper Tea Co's Peranakan Delights and Home's Favourite Singapore Tingkat Cookies.
At Changi, visitors can "savour [your] lasting bite of Singapore at Changi". Changi is a place where one can truly experience Singapore and take home a lasting memory of Singapore.
For more information, visit here.
---
Feast at Sentosa – Sentosa Grillfest by Sentosa Siloso Beach Service Road
Date: 13 to 15 July | 20 to 22 July | 27 to 29 July 2018
Time: 6pm – 11pm
Mark your calendars for Sentosa GrillFest, where Siloso Beach will be transformed into a food street by the beach featuring Sentosa F&B operators and Singapore's very own 2nd-Gen Hawkers!
Treat your taste buds to delectable dishes ranging from international cuisine, BBQ delights to local and locally inspired treats such as Jumbo Prawn Hokkien Noodles, old school Calamansi with sour plum and Salted Egg Chicken Waffles! Also, don't miss Sentosa's inaugural Gourmet Market at Sapphire Pavilion.
Accompanied by soothing sea breeze and live music & ambience performances, Sentosa Grillfest is set to delight everyone over the weekends!
For more information, visit here.




---
Curry Day 2018 by Old Chang Kee
Date: 27 to 28 July 2018
Time: 11am – 9pm
Venue: Velocity@Novena Square Indoor Atrium 238 Thomson Road Singapore 307683
Celebrate, gather and share this curry movement with your friends and family at Old Chang Kee's Curry Day.
Curry lovers can look forward to trying all manners of curry dishes and snacks such as curry puffs, curry buns and curry chicken, as well as a range of curry-related activities, such as curry cooking demonstrations and spice art lessons for the young ones.
Also, look forward to the launch of a special curry puff to be released in conjunction with SFF 2018!
For more information, visit here.
---
Great Indian Food Affair by De Ideaz
Date: 13 to 29 July 2018
GIFA will be held at various fine dining locations and at Little India. Please refer here for details.
The Great Indian Food Affair (GIFA) aims to showcase regional Indian favourites and to give an opportunity to all visitors to fully experience and taste a diverse range of Indian dishes.
Organised in partnership with the Little India Shopkeepers & Heritage Association and the Indian Restaurant Association of Singapore, GIFA's anchor – Street Food of India – is an outdoor food event at Campbell Lane (opposite Indian Heritage Centre) on 27 to 29 July (4-10pm) showcasing classic Indian street food such as pau bhaji, sev puri, bhel and pau wada. In addition, cooking demonstrations and workshops by celebrity chefs Jawed Ahmed and Sarab Kapoor will be held at Punjab Grill (14, 15 July, 12-3pm) and Yantra (21, 22 July, 12-3pm) respectively. Both restaurants will also be serving special menus concurrently – Yantra with their Big Fat Indian Wedding and Punjab Grill with a Punjabi Food Festival!
---
Hawker Spotlight 2018
Date: 20 July 2018
Time: 10am
Coupon redemption period: 20 to 28 July 2018
Venue: Amoy Street Food Centre 7 Maxwell Road Singapore 069111
The fourth edition of Hawker Spotlight will feature Amoy Street Food Centre, home to many heritage hawkers.
Food connoisseur Moses Lim will once again be leading an intimate media tour to discover the stories behind some of Amoy Street Food Centre's most beloved stalls, including Nasi Padang Sederhana, Syed Mohammed Drinks and Quan Ji!
The public can also partake in a piece of Hawker Spotlight – in celebration of the Singapore Food Festival's 25th anniversary, visitors can pick up exclusive Hawker Spotlight booklets at the Citygas Gallery and Singapore Visitor Centres to enjoy special deals and discount coupons at Amoy Street Food Market.




---
Celebrating all-time favourite Food Films and Local Cuisine by Screening Room
Date: 13 to 29 July 2018
Time: Mon – Thur: 7pm and 9.30pm | Fri – Sat: 8.30pm
Venue: The Screening Room 12 Ann Siang Rd, #03-00 Singapore 069692
The Boutique Film Theatre at Screening Room is where film meets food. In this intimate screening room, it is a film lover's dream come true with a calendar of exciting films, uniquely matched with food and cultural events.
In the month of July, movie buffs can look forward to a slate of exciting food film screenings held at The Boutique Film Theatre at Screening Room in conjunction with the Singapore Food Festival.
Guests can kick back and enjoy all-time favourite food films such as Chocolat, Eat Drink Man Woman and Like Water for Chocolate, while being taken on a gastronomic journey through the lanes of Singapore, with a special menu offering popular local dishes such as crispy soft shell with chilli crab ragu and hawker-style BBQ chicken wings.
Visitors can refer to the movie schedule and make an online reservation via the Screening Room website.
Guests are required to spend S$15.00++ per pax on food and beverages to enjoy the screening.
---
The 50 Cents Fest: Colonial Singapore by Chinatown Food Street
Date: 28 to 29 July 2018
Time: 11am – 11pm
Venue: Chinatown Food Street Smith Street Singapore 050335
Take a sumptuous trip back in time down Chinatown Food Street at the 50 Cents Fest.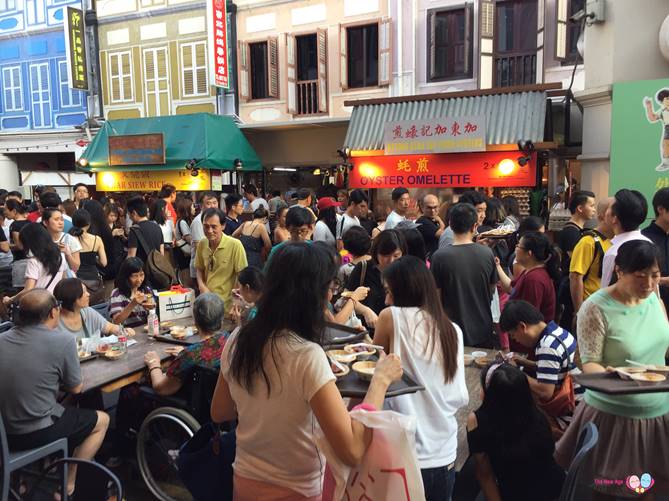 From as little as 50 cents, savour authentic 1930s dishes including Kerabu Bee Hoon (tossed rice vermicelli), Fish Moilee (lightly spiced creamy fish curry dish) and Kopi Gu You (butter caramelised black coffee) and other long-lost ethnic dishes from the colonial days!
This year's 50 Cents Fest will also be expanding to make room for more authentic 1930s sights and sounds. Watch street entertainment acts such as Taxi Girl performances and traditional opera, or walk down the streets of the 1930s (virtually) with a one-of-a-kind virtual reality installation, at this immersive, interactive and fun event of endless nostalgia.
For more information, visit here.
Free Entry
50 cents to multiples of 50 cents
---
SFF-Exclusive Collectible Beverages
In celebration of Singapore Food Festival's 25th anniversary, festival goers can enjoy limited-edition SFF branded beers and waters, produced in collaboration with local craft brewery, Trouble Brewing. The exclusive beverages are available at various SFF events, such as STREAT, Beer Yoga & Citylights, Weekends at Monniker – Singapore Goodness and Ape Studios presents Makan Cosmopolitan 2018.