The annual Singapore Primary One Registration Exercise is meant for children who are Singaporean Citizens or Permanent Residents to register for Primary One (P1) in the following year, as long as the child turns 6 years old before 2 January of that year.
This means that if your child turns six before 2 January 2018, he needs to take part in the registration exercise of the current year, 2017.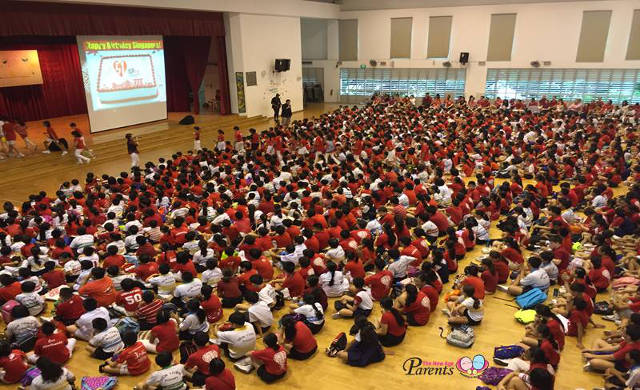 Your registration experience will vary widely based upon your citizenship status. Permanent Residents (PR) do not get the same priority as citizens, but will get a seat in the public schools.
Expatriates without PR status are in the riskiest position when it comes to Primary 1 admission, as they can only register at Phase 3, the final phase, by which time the number of vacancies left are few and far between. As a result, there will usually be a significant percentage of expatriate children who take the international school route in the end.
Parent Volunteer Route
However, the journey towards choosing a primary school for your child may go back another year, as the cut-off date for parents to register as a parent volunteer is typically around 30 June of their child's Kindergarten 1 year.
This means that, if your child is entering P1 in 2020, you would need to sign up as a parent volunteer in the school of your choice by 30 June 2018, in order to qualify for the chance to register at Phase 2B for the Primary One Registration Exercise in July 2019.
If all these dates look a tad confusing or overwhelming to you, don't worry!
Here's a bird's eye view of the various stages of preparing for the Primary One Registration Exercise, as well as considerations to take note at each stage.
If Your Child Is Now In Kindergarten 1 (5 years old)
For most parents, choosing a primary school for your child should begin during the K1 year.
Whichever phase you are registering your child under depends on that choice of school.
There are 7 phases in total in the P1 Registration:
Phase 1, Phase 2A(1), Phase 2A(2), Phase 2B, Phase 2C, Phase 2C (Supplementary), Phase 3.
For parents whose school of choice allows them to register at Phase 1 or 2A, you don't have much to worry about once you've made the decision.
But for parents who are not eligible for these two phases, then the requirements of Phase 2B and Phase 3 are worth considering, so that you can develop an action plan for yourselves.
The registration process is divided into phases to assign priority to students who are already affiliated to the schools (parents or siblings).
The phases proceed in a sequential manner, with no overlaps and are mutually exclusive.
What does this mean?
You can participate in 1 or more of the Phases, but you will have to surrender any successful registration you have obtained for your child in any earlier Phases before you can proceed to participate in the later Phases.
If you are a Singaporean or Permanent Resident, you can participate in any of the Phases. If you have a child who is not a Singaporean or Permanent Resident, you can only participate in Phase 3.
Click here for a detailed look at the various Phases and dates.
Qualifying for Phase 2B
If you want to qualify for Phase 2B, register as a parent volunteer in your school of choice by the end of June – the earlier the better.
If you are aiming for a school that is more popular, the school may have limited spots for volunteers. It's advisable to register as a parent volunteer earlier as it is allocated on a first-come-first-serve basis.
Schools may also have different requirements of school volunteers, asking parents to clock anywhere from 40 to 80 hours of volunteer work before the Primary One Registration Exercise of the following year.
Use the Onemap application to identify schools that are within the 2 km radius of your home. Find out more about the schools you are considering, bearing in mind that you should take comments made in online forums with a good pinch of salt and perspective.
The Kiasu Parents Forum is a good way to get the "inside scoop" on most Primary schools in Singapore, and also allows you to view past year statistics (how many registered at Phase 2B in School X, and how many qualified) and PSLE scores. Exercise discernment and self-control though, because these forum threads can sometimes be like a vortex that sucks you into the fray if you are not careful.
By now, you should have clocked in your required hours as a parent volunteer if you are going for Phase 2B.
Whichever phase you are registering under, it would be good to make a trip to the school of choice by this time to see what the school is like. Bring your child along, to get a sense of whether he takes to the school too.
Do look out for primary school Open Houses, which are typically on weekends during the first half of the school year. This would be a great opportunity to walk around inside the school, meet the Principal and teachers, and introduce your child to primary school life.
Ensure that you have your necessary documents in order to certify your eligibility for a particular phase.
For instance, if you are planning to register under Phase 2A (1), you would need to have the school report book or Primary School Leaving Examination (PSLE) Certificate, and a letter from the alumni association certifying the status and date that you joined as an alumni member.
Click here for a list of the required documentation.
Remember to check that all required immunisation procedures have been undertaken.
July – September
When the appointed day arrives, go down to the school of your choice with all relevant documents to register. Your child does not need to go with you. Only Phase 3 is first-come-first-served – for the earlier Phases, you're good to go as long as you register on the stipulated dates, as the only criteria for priority are distance (< 1km from school) and citizenship.
Here's what you will need to bring with you to register.
Each phase of registrants will be given their results before the next phase commences, so the wait is not too long.
But for those registering at Phase 3, the results can come anytime between August to November, which certainly makes for a long and uncertain wait.
We wish you all the best!
You can read more about the Primary One Registration Exercise here.
More tips!
It is best to register your child in Phase 1, 2A(1), or 2A(2) in the school where you have priority. This way, your child's place in the school is more or less guaranteed, and you can focus your energy on preparing him for primary school life, instead of worrying about the registration outcome.
Register as a volunteer to qualify for Phase 2B only if you are staying <2km from the school. In the event of balloting, you will not get a chance to ballot at Phase 2B if you stay more than 2km away, even if you have clocked in the required hours of service.
If you fail to get your child into the school of choice at Phase 2C, put him on the school's waiting list. Sometimes, parents may withdraw their children for various reasons, and your child might then get a place in that school.
By Dorothea Chow
If you find this article useful, do click Like and Share at the bottom of the post, thank you.
Want more comprehensive info? Check out our e-guides here.