Maternity leave is no walk in the park. That's something that 28-year-old mum Evelyn Chen quickly realised after giving birth eight months ago to her daughter, Alyssa. What Evelyn thought would be a nice break from work in the comfort of her home turned out to be quite different. "Taking care of a baby, especially alone, demands a lot of emotional and physical energy and it can get overwhelming at times," Evelyn said.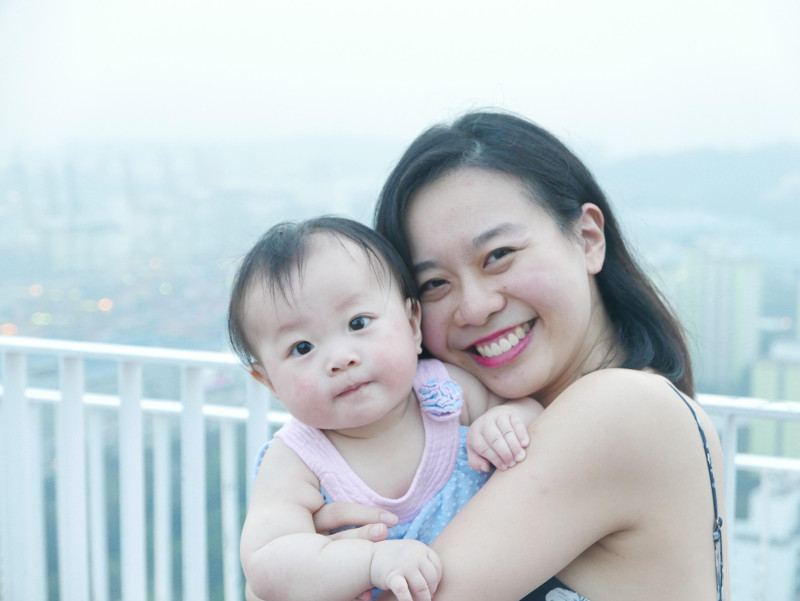 Photo courtesy of Evelyn Chen
Since becoming a mother, she's encountered several adjustments, from keeping the spark in her marriage and maintaining her social life, to accepting her post-baby body and choosing the right childcare. How does she gain confidence as a parent? By learning along the way, and keeping in mind that every baby is different. Learn more about Evelyn's perspective on becoming a parent in her twenties.
Many couples now become first-time parents when they're in their 30s. What are the perks of having a kid early on in your 20s?
Our parents are very happy to welcome grandkids earlier. It's also rare that four generations (my grandmother) can interact together.
How have your friendships and social life changed after you had Alyssa? How were hangouts different pre-baby versus post-baby?
I used to be able to go out with friends after work. But as Alyssa still largely depends on me to put her to bed at night, my social life has pretty much been confined to the weekends. I do occasionally bring Alyssa along, and I'm thankful that I have friends who love to be around her. Hangouts with Alyssa tend to be in baby-friendly places and restaurants that allow reservations or do not require too long of a wait.
How do you keep up your relationship with your husband after having a kid?
We do take "time off" by going on dates once in a while when Alyssa's under her grandparents' care. But we also make the effort to reconnect on a daily basis; after Alyssa goes to bed, we catch up on our day's happenings. It's the little interactions that count. After all, a healthy marriage builds the foundation for a happy family.
Your baby goes to daycare. What are the pros and cons of having your baby attend daycare?
Pros: It's a more stimulative and interactive environment, which helps with their social skills as they grow up.
Cons: Close proximity to many other babies exposes them to more germs, making them fall sick more frequently. When Alyssa falls sick, she won't be able to go to infant care and will need alternative care arrangements. But to think of it more positively, in the long run, it could make her more immune to bacteria and viruses she's been exposed to.




Any advice on how to make that transition to daycare easier for both baby and mummy?
If you're breastfeeding, one challenge will be getting your baby to take milk from the bottle when you return to work. Some exclusively breastfed babies reject the bottle at first. If you're planning on enrolling your baby in daycare after your maternity leave, introduce bottle-feeding around 6-8 weeks to familiarise your baby with the process.
⇒ Related Read: Back To Work Anxiety: After Maternity Leave
You and your husband live alone with Alyssa without any live-in family members or helpers. How do you divide parenting and household duties?
We recently hired a helper to come in once a week for four hours to do household chores. That way, it frees us up with more time to spend with Alyssa and relieves us of a huge load of chores to do on a daily basis. For the most part, we take turns between parenting and household chores, and we "cover" for each other when one of us has after work commitments.
⇒ Related Read: Finding The Right Domestic Helper Or Baby Sitter
Can you talk about the physical changes after childbirth and how you've managed to cope with them?
My body still sports battle scars of stretch marks and excess skin at my abdomen area. I think the most important way of coping with postpartum physical changes is to have realistic expectations and embrace your body for what it is. We grew a baby inside us for 9-10 months, so we shouldn't be so hard on ourselves and expect everything to return to normal in the blink of an eye.
Let's talk about travelling with an infant. You and your husband took your baby on vacation to Australia when she was four months old. What are your top 3 tips on travelling with a baby?
Travel has always been an important part of our lives, so the thought of not travelling for many years just didn't cut it for us. But travelling with kids is totally doable! It's actually one of the best times to travel with a baby before she starts solids.
Some tips for an easier trip with baby:
Try to take flights that coincide with baby's sleeping times, so there's less chance of the baby being fussy and restless.
Go with the flow. Buffer time to attend to baby's needs and mood. We made plans and had schedules but we learned that with a baby, we needed to be flexible.
If the thought of travelling with a baby still scares you, consider a road trip. A road trip offers flexibility in planning your itinerary, and you won't have to be lugging luggages and baby items around.
Finally, what is your parenting philosophy or motto?
You can never give your baby too much love; there's no such thing as spoiling your baby. Always give them your attention, hugs, and kisses whenever they demand it because they'll soon grow out of this phase.
By Jenny Tai.
If you liked this story, show some love by liking and sharing it at the bottom of the post.
Like what you see here? Get parenting tips and stories straight to your inbox! Join our mailing list here.