If you and your spouse are food-lovers, why not indulge in some gastronomical delights with your better half and, or little darlings this Valentine's Day?
TNAP lists down these romantic restaurants in singapore that promise the perfect ambiance and a sumptuous spread. Booking in advance is a must!
If it's just for two

Binomio Spanish Restaurant
Photo credit: Binomio website
"Binomio" is a Spanish word translated as "pair" or "duo". The restaurant seeks to bring together the liveliness of a Tapas Bar and the elegance of fine-dining, with a generous range of authentic Spanish food.
Add: Craig Place #01-02, 20 Craig Road, Singapore 089692
Tel: 6557 0547
Web: www.binomio.sg
Price: $$
For Chef Gunther, his main focus is to present sophisticated French cuisine and make his guests feel at home in his restaurant. "What I'm doing here is simple, honest food; cooking that comes from the heart." His menu is as creative as the man himself, and executed with finesse and excellence. There is also an extensive wine cellar for your perusing, for that glass of wine to accompany your meal.
Add: 36 Purvis Street #01-03 Singapore 188613
Tel: 6338 8955
Web: www.gunthers.com.sg
Price: $$$
L'Entrecote – The Steak & Fries Bistro
Photo credit: L'Entrecote website
For a perfect cut of steak, topped by a generous amount of their special sauce, paired with free flow of crispy, golden fries, and a fresh salad on the side, this is the place to go. Is your mouth watering already?
36 Duxton Hill, Singapore 089614
Tel: 6690 7561
Suntec City, #B1-128/129
Tel: 6690 7569
L'Entrecote Express
Pacific Plaza #01-04/05/06 Singapore 228210
Tel: 6690 7566
Web: http://lentrecote.sg
Price: $$$

For the family with the little ones in tow
Here are some kid-friendly options for more good food in Singapore.
1-TwentySix at Playground @ Big Splash (Please note that 1 TwentySix is now closed)
Situated along the East Coast Park, 1-TwentySix offers seating indoors and outdoors (shaded), with a grass patch in front for kids to run about or kick a ball. There are several brunch favourites, like Vegemite toast and toast soldiers with eggs, as well as good tapas for the adults and older kids.
Add: 902 East Coast Parkway, #01-26 Big Splash
Tel: 6348 2126
Price: $$$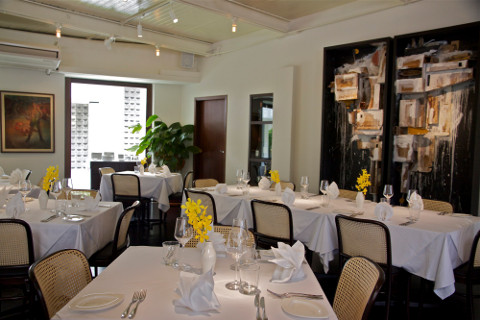 Photo credit: La Barca website
Whatever the weather, your kids will have a ball of a time whether they're indoors or outdoors. Inside, there's a playroom with a slide, a crawling tunnel, toys, books and a television set. Outside, there's space to scoot or run about, and a football table. Meanwhile, Dad and Mum can enjoy classic Tuscan (Italian) food and a glass of good wine.
Add: 90 Goodman Road 
Block C Goodman Arts Centre
Tel: 6346 5813
Web: labarca-sg.com
Price: $$$
One would think that a high-class restaurant like this would frown upon their patrons bringing kids for a meal, but Equinox Restaurant is truly one of a kind. On Sundays, the kids will get their own room stocked with toys, games and a Nintendo Wii, as well as their own buffet line. The means Dad and Mum can enjoy some alone-time without being too far away. Price-wise, this is definitely going to cost you big bucks, but the experience of being 70 storeys up in the air, having a view of the CBD and Marina Bay, and indulging in all manner of delicious and fresh seafood and a bottle of bubbly, makes this a truly magical experience.
Add: 2 Stamford Road, Swissôtel The Stamford, Level 70
Tel: 6837 3322
Web: swissotel.com
Price: $$$$
Price chart
$ – $20-50
$$ – $50-100
$$$ – $100-250
$$$$ – above $250
By Dorothea Chow
If you find this article useful, do click Like and Share at the bottom of the post, thank you.
Want more comprehensive info? Check out our e-guides here.