A dad's duty is never over. Few men would understand that better than Hansel Kwang, who took on the challenging role of a stay-at-home dad to his two young boys after his eldest was born, and looks back with no regrets!
Before he became a father, Hansel was employed as a social worker with a local voluntary welfare organization (VWO). In fact, that was where he met his wife, who used to be his colleague. He worked as a social worker for four years, before he left the workforce to care for their children at home.
It is rare that a man would choose to stay home to care for the children, while his wife goes out to work.
So what led to his decision to move away from the societal norm of the man as the breadwinner for the family?
"My wife was on a scholarship bond, doing her masters in social work at NUS at the time when we found out we were going to have our first child. Breaking the bond would definitely have been costly and irresponsible. Furthermore, as social workers who had worked with at-risk youths, we saw that many of these youths had similar family situations, namely poor parental supervision and engagement. Often they are latchkey children, or given too much unsupervised time and freedom to mix around with unhealthy influences in the community." Hansel shares.
"But the most important reason was a seminar that my wife and I attended before we got married. During that time, we became convinced of the critical role that parents play in a child's life, in relation to their social-emotional development, and also how the lack of strong and healthy parental love and attachment is the root for many mental illnesses experienced by adults today."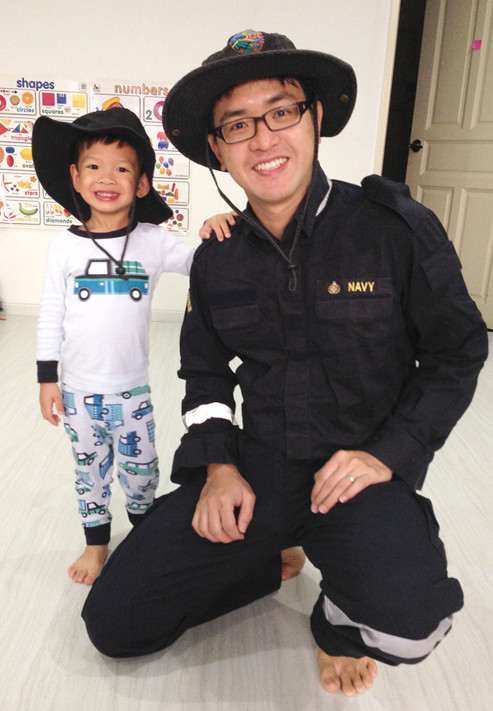 Challenges Of A SAHD (Stay-at-home-dad)
Being a caregiver for a newborn, then a toddler, then two children, is definitely not an easy feat, but one which took much time and patience. One of Hansel's first major challenges was coming to terms with the fact that children (especially babies) are constantly changing. After a couple of days, you might think you have gotten their sleeping schedule down to a T, and then suddenly your child decides to sleep less as he's more alert, and has grown older.
Best Moments
Hansel recalls that his best moment thus far was being able to be present when his elder son needed to be comforted after being frightened by loud thunder during a heavy downpour. At that moment he learnt that, while parenting was tiring and intense, he was now able to be his son's source of comfort and protection. His little boy was depending on him for assurance, comfort and safety. That realization was mind-blowing in itself.
Low Moments
There have been many difficult moments as well. One low was when his elder son went through a stage of feeling especially insecure and became unwilling to sleep by himself in his own room (even though they had painstakingly and successfully trained him to sleep on his own prior to that) when their second child was born. Managing his son's emotional adjustments to the new arrival was very challenging, as he would suddenly hit his brother, disobey his parents' instructions and/or not want to sleep alone. Truth be told, that period was a nightmare for Hansel and his wife, Jean.
It wasn't easy for Jean to adjust to their unusual arrangement too. There were times when she really struggled with the decision, especially when their first son preferred his dad to be his source of comfort and security and did not want his mum to be around. Thankfully, this was a phase that has since passed, but it took a lot of hard work and patience on the part of Jean to persevere in trying to engage and build a close relationship with their first child.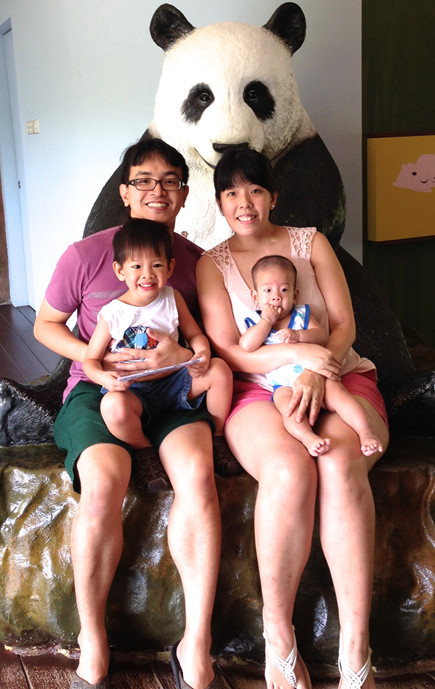 Disapproval From Parents
That was not the only hurdle. Hansel's parents felt that it was a waste for him to stay home with the children, after all the time and money that had gone into getting his university degree. His mother even urged him to return to work and let her look after the children. But Hansel and Jean were sure of what they were doing – and so, with much patience and love, just kept repeating that it was not about whether they could or couldn't take care of the children, but rather that they wanted to parent and care for them themselves. Over time, his parents have come to accept their family arrangement.
Hansel is quick to point out that he does feel that his wife is better at nurturing and teaching the children. His hope is that someday they can swap roles again, with her staying at home while he goes back to work. However, there are some practical considerations to work out since his pay would probably be lagging behind hers (due to her higher academic qualifications and years of working experience).
Yes, there may be challenges in the road ahead, but Hansel is unfazed.
"We'll think about it when the time comes. Right now, it's one step at a time. I am enjoying the present moment with my children. My time with them has left many precious memories with me."
Words Of Advice
To other families or fathers-to-be who are considering a similar family arrangement, Hansel has this to say:
"Our children are only young once. Money – we can earn later. But laying a foundation of love and relationship, and being present in their lives, cannot wait. It will be challenging, but also extremely rewarding. So, I say, go for it if you have the opportunity."
Text by Dorothea Chow | Photos courtesy of Hansel Kwang
* * * * *
Like what you see here? Get parenting tips and stories straight to your inbox! Join our mailing list here.
Want to be heard 👂 and seen 👀 by over 100,000 parents in Singapore? We can help! Leave your contact here and we'll be in touch.