The demand for Ministry of Education (MOE) kindergartens has been growing. Last year, there was a 50 per cent increase, from 850 applications in 2015, to 1,300 applications in 2016. Curriculum, proximity, facilities and affordable fees were among reasons cited for the hike in enrolment.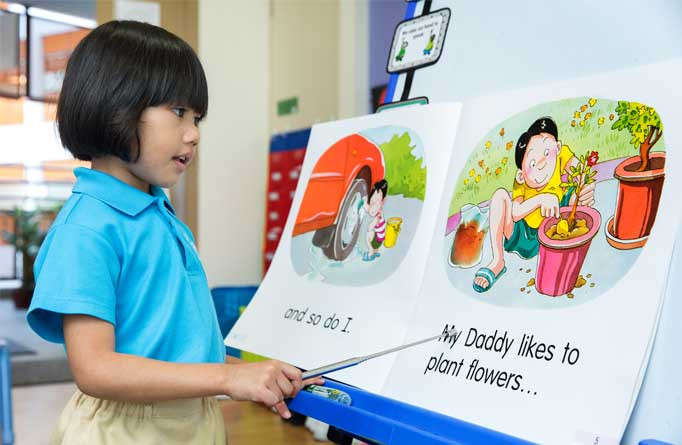 Photo source: MOE Kindergarten
MOE kindergartens are located in the HDB heartlands, within community spaces and primary schools where collaboration can thrive. Of the 15 MOE kindergartens, twelve are housed within primary schools, and offer classes in the three main mother tongue languages – Chinese, Malay and Tamil. 
Their two flagship programmes are the HI-Light Programme and Starlight Literacy Programme. It offers a half-day (4-hour) programme. Parents who require a full-day programme can enrol their children in Kindergarten Care, a service available at most MOE Kindergartens.

Key features:
Nurturing an all-rounded child
The HI-Light Programme nurtures the child holistically in six learning areas: Aesthetics and Creative Expression, Discovery of the World, Language and Literacy, Motor Skills Development, Numeracy and Social and Emotional Development. MOE Kindergartens adopt an integrated approach to learning to help children make meaningful connections across different learning areas.
The Starlight Literacy Programme nurtures early childhood bilingualism and is offered in English and the three official Mother Tongue Languages. It uses interesting Big Books, songs and games to make language learning fun and enjoyable for the child. Ms Leong Pik San, Lead Specialist with the Preschool Education Branch, Ministry of Education adds, "The curriculum is designed to be relevant for the Singapore child, focusing on holistic development and nurturing early childhood bilingualism. It provides children with opportunities to enjoy learning English and their Mother Tongue Language, communicate with confidence and be aware of local traditions and customs."
Distinct Singapore flavour
Children learn best when they can relate to what they are learning. The curriculum has a distinct Singapore flavour, with local topics, stories, songs and dances to make learning relevant for the child. This also helps children learn about Singapore traditions and community values such as respect and harmony, to help them build a strong sense of national and cultural identity.
Play is a natural way for children to learn about themselves and the world around them. Teachers carefully plan fun activities which allow the child to explore, interact, develop creativity and enjoy the learning experience.
Children's thinking and learning are enhanced when they are given opportunities to share their thoughts and ideas with others. Teachers engage the child in shared and sustained conversations to facilitate and extend their learning. For example, to deepen children's learning, each theme culminates in a Weeks of Wonder (WoW) project at the end of every term. Children work together with their peers and teachers to investigate topics of their interest and find answers to their questions.
To cater to the high demand for preschool places in Punggol, The Ministry of Education announced that three more MOE Kindergartens will open in 2018. Registration for K1 admission next year to the new MOE kindergartens and the 15 existing ones will take place in April.
For the full list of MOE kindergartens, visit www.moe.gov.sg/moekindergarten
Read our Enrichment and Preschool Guide to learn about other preschool programmes for your toddler or preschooler.

Running a service or business targeted for parents? Reach out to a wider audience in our next Enrichment and Preschool Resource Guide. Leave your contact details here and we will get in touch with you.
If you find this article useful, do click Like and Share at the bottom of the post, thank you.
Want more comprehensive info? Check out our e-guides here.