English enrichment in Primary 1 can make all the difference to your child's education. Here's what to consider when you choose an English enrichment centre – plus some information about how the British Council can enhance your child's education.
How to choose an English enrichment centre for your child
We know that choosing schools and educational programmes is tough. Every parent wants the best so that their child can be successful, happy and fulfilled. You might also be looking for an English enrichment centre that offers a particular educational philosophy, skills focus, or areas of support.
However, once you find the right English teacher or programme, the search is always worth it. The best enrichment programmes engage your child and provide long-lasting memories. The key skills of literacy and creativity flourish when your child enjoys learning.
As parents, your most important task is to find an English language school that aligns with your values and can help your child learn English. Whether that means academic achievement, creative learning or cultivating an international worldview, there will be an enrichment programme out there that works for you.
The British Council's approach to children's education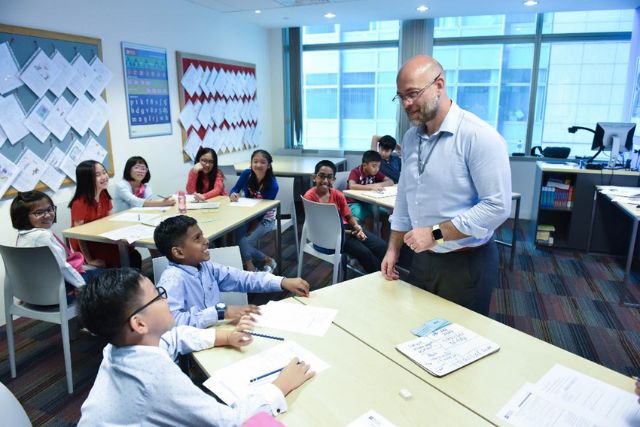 The British Council offers English enrichment for children in Primary 1, with island-wide locations for easy access to learning. The British Council's experienced course-writing teams have created programmes that encourage children to become confident, motivated, and responsible learners.
The British Council takes a 360-degree approach to English tuition. Enrichment isn't about learning perfect grammar (although we encourage that, too!). It's about creating good communicators who can take responsibility for their own learning and solve problems both inside and outside the classroom. It's also about discovering the beauty of the English language through literature and media.
At primary school level, children are still learning how to be part of a classroom community. That's why the British Council's English classes focus on key values and skills for the 21st century, too – such as resilience, integrity, self-motivation, social awareness, self-confidence and being an active contributor.
How the British Council works with students
All the enrichment programmes for younger children at the British Council are aligned with the English syllabus set by the Ministry of Education. The English teachers are supported by the latest teaching methodologies and global expertise of the British Council.
The British Council offers English classes in three locations around Singapore – Napier Road, Tampines and Toa Payoh. Each enrichment centre has been specifically built for education and is equipped with the latest technology. They are designed to be accessible and safe for all Lower Primary children.
The enrichment courses focus on learning through literature. Your child will discover a range of literature, from stories to poetry, while developing their literacy, fluency, and creative skills. The British Council will support them and you as parents with regular progress reports, teacher meetings and email communication.
The British Council also offers English classes for Secondary students that place a strong emphasis on helping them build a global mindset by developing their intercultural confidence, critical thinking, and analytical reading skills. Stimulating up-to-date topics are linked to current world issues and incentivise students to develop their written and spoken communication skills and achieve academic success.
Find out more about English for kids with the British Council in Singapore.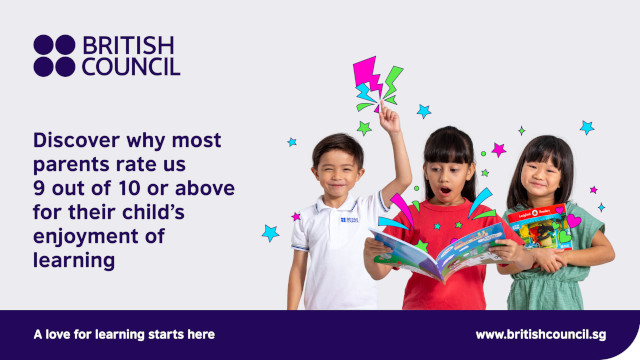 The British Council in Singapore offers a wide range of English enrichment classes for young children – including group courses, one-to-one private lessons and study camps.
Let your child shine with our English enrichment course and prepare them for success in school and beyond. A love of learning starts at Britsih Council. Watch their confidence soar in 2023. Enrol your child today here!
The British Council's Holiday Camps are an opportunity for your child to explore the world beyond English and develop the 21st century competencies needed for academic and future success. Sign up today!
Why the British Council?
The British Council is the UK's international organisation for cultural relations and educational opportunities. For several decades, the British Council has helped elevate the English standards of pre-schooler, primary and secondary school students in Singapore. Through well-planned courses by highly-qualified and experienced teachers, their enrichment courses hope to nurture children's interest in the English language, through a fun and interactive learning environment.
This post is brought to you by British Council.
* * * * *
Want to be heard 👂 and seen 👀 by over 100,000 parents in Singapore? We can help! Leave your contact here and we'll be in touch.
Looking for english course for your child? Do check out our English Enrichment Class compilation for some recommendations.