Looking for a childcare centre or kindergarten with a strong arts-based background? We round a few childcare centres for you to consider.
Arts Based Preschools
It is the unique approach that integrates the essentials of literacy and numeracy with the wonders of the Arts – Visual and Performing. Within the creative environment, these preschools strive to use the Arts to broaden students' horizons and open doors to flexible thinking and holistic development.
What is Visual Arts
It is a piece of creative physical or static artwork that can be appreciated by sight. Examples include painting, sculpture, ceramics and photography.
⇒ Related Read: What is the Reggio Emilia Approach
What is Performing Arts
It is a form of creative activity that is performed in front of an audience. Artists use their voice and/or their bodies to convey artistic expression. Examples include drama, music, and dance.
Benefits of Art
Improves development: Encourages

fine motor skills

, problem-solving abilities and

social skills

Useful teaching medium: Can be used to teach academic subjects such as language, maths and science.
Fun and enjoyable: Keeps children engaged and happy
Outlet for self-expression and creating something
Fosters creativity
There is also a strong correlation between early involvement in the arts and measurable success later in life. In a study by Michigan State University, researchers suggest that children exposed to arts are able to think "out of the box". One possibility is due because the art process involves a lot of working with hands and figuring out how to solve problems creatively.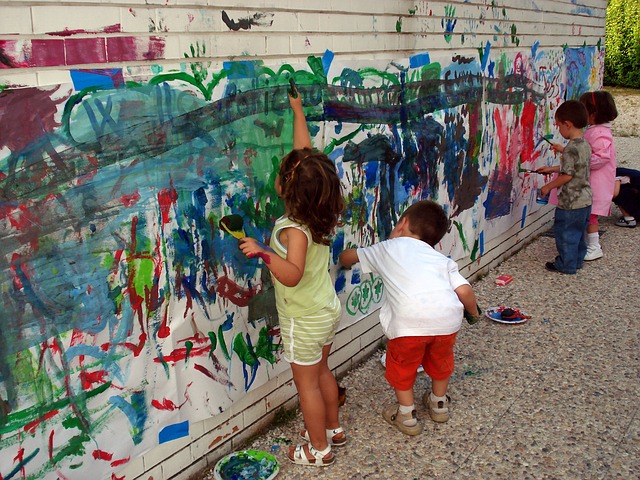 There is no right or wrong way to explore and create art, says Ms Elaine Cheong, Curriculum Head of Da Little School. "Every child is free to explore the techniques, tools and materials. The experience is enjoyable and calming. The outcome of every art piece is unique. Through the open-ended process of making art, pre-schoolers learn to make decisions, problem-solve, trial and error, and emerge to be a confident individual."
Ms Cheong, who has fifteen years of experience in early childhood education, urges parents to extend their children's fun art experience at home. "Preschoolers are curious about the world around them. Singapore is a melting pot of many cultures, this advantage brings about a culturally rich society where preschoolers are able to appreciate the aesthetic beauty in multicultural art. This cohesive environment promotes a diverse style of art in children from a young age."
Key features of an arts-based school:
Create fun and joyful experiences though art
Shape how children (and later on as adults) see the world
Provide children with the ability to understand human experiences
Develop children's imaginations and creative thinking skills
Develop aesthetic awareness and appreciation
Provide opportunities for self-expression and self-awareness
Create respect for and understanding of others' individuality
Improve physical coordination, motor skills and technical skills.
Arts based preschools in Singapore:
Read our Enrichment and Preschool Guide to learn more about other preschools and enrichment programmes for your preschooler.
* * * * *
Like what you see here? Get parenting tips and stories straight to your inbox! Join our mailing list here.
Running a service or business targeted for parents? Reach out to a wider audience in our Best Preschools compilation. Leave your contact details here and we will get in touch with you.