There has been a growing demand for pre-school education that offers a strong foundation in Chinese. Various centres and kindergartens in Singapore offer bilingual programmes for their students, where Chinese is given equal exposure and importance as English.
Some centres, such as Eton House International at Hwa Chong Institution and Nanyang Kindergarten, offer a pure Mandarin speaking curriculum, where lessons are entirely taught in Mandarin from pre-nursery and nursery classes
We highlight two schools that caught our eye.
Chengzhu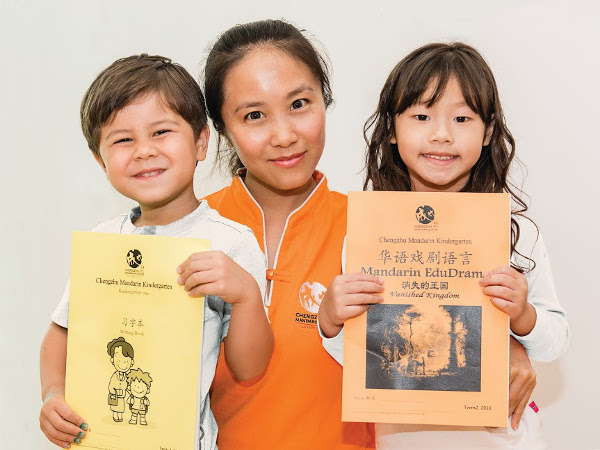 Bilingual Immersion
Chengzhu Mandarin Kindergarten offers a 4-hour programme from Nursery One to Kindergarten Two in a language-rich environment. Programme for Nursery One and Nursery Two are conducted in purely Mandarin. Kindergarten One and Kindergarten Two classes consist of three hours Mandarin programme and, as required by Ministry of Education, one hour of English per day. This enables children to build a strong foundation in English literacy before transiting into Primary school, where the primary language of instruction is English.
Curriculum
Includes activities such as drama, music and movement, storytelling, role-play, arts and crafts, speaking and listening, reading and writing, enabling children to develop confidence, independence and excellent communication skills.
Highlight
Bright and spacious, the 6,000 square foot centre features nine studios, an indoor playground and the StoryHouse '故事屋' (pictured below), a unique children's library that has been lovingly designed with cheerful colours and cosy corners to capture the imagination of young children and bolster their enjoyment of learning Mandarin. The StoryHouse boasts an impressive collection of 1,855 carefully selected books relating to all aspects of Chinese culture, which children can enjoy at the reading loft or borrow to take home.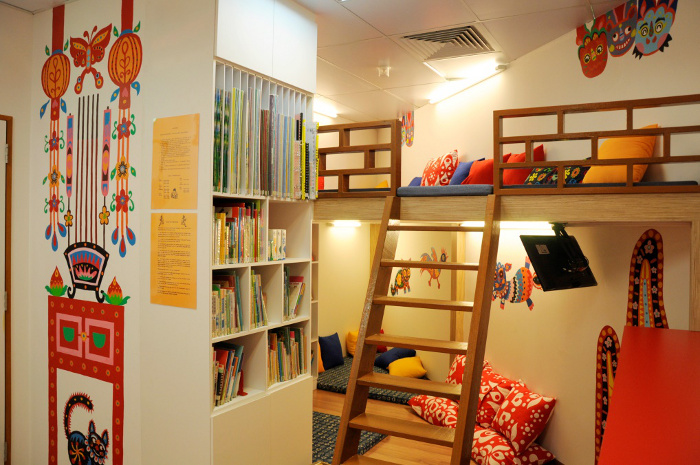 Photos: Chengzhu Mandarin Kindergarten
Address: 35 Rochester Drive, #03-01 Rochester Mall, Singapore 138639
For more info, visit chengzhu.edu.sg
---
MindChamps Chinese PreSchool @ Tampines Central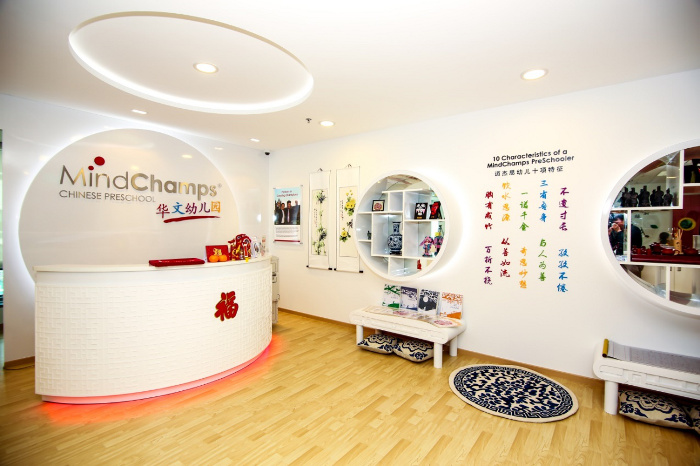 Photo: MindChamps Chinese Preschool
By infusing the Chinese language into our unique pre-school curriculum, MindChamps Chinese Preschool offers a nurturing and vibrant speaking and learning environment specifically designed to inculcate in Young Champs an understanding and love for the Chinese language and its culture.
Bilingual immersion
Whilst Mandarin is the primary medium of instruction, the curriculum is structured in such a way that English is increasingly used in classes as pre-schoolers progress from the Playgroup level to the Kindergarten level. Essentially, the curriculum of MindChamps Chinese PreSchool moves gradually towards the integration of Mandarin and English to prepare pre-schoolers for Primary school.
Highlights
In their Chinese Culture Appreciation programme, pre-schoolers learn about China's rich history and culture through activities such as clay modelling, Chinese painting and calligraphy. Moreover, integrating rich and colourful language teaching activities that introduces them to Chinese poetry, stories and nursery rhymes keeps the learning of Mandarin exciting and helps to develop their appreciation and understanding of the language.
Address: 3 Tampines Central 1, Abacus Plaza, #03-01, Singapore 529540
By Rachel Lim and Michelle Ang.
Read our Enrichment and Preschool Guide to learn about other preschool programmes for your toddler or preschooler.
* * * * *
Like what you see here? Get parenting tips and stories straight to your inbox! Join our mailing list here.
Running a service or business targeted for parents? Reach out to a wider audience in our Best Enrichment Classes compilation. Leave your contact details here and we will get in touch with you.