It is common to find Singaporean mothers returning to the workforce after the delivery of their newborn. Most mothers go back to the workforce due to the desire to be relevant to the working society, the need for financial independence, to boost up depleting family resources and other reasons.
Ms Serene Seah, a mother of two who decided to take on the role of a full-time working mother after being a stay-at-home mum for three years shares that it was not easy for her husband to shoulder the family finances alone, especially with the high cost of living in Singapore.
Some mothers on the other hand, are able to continue to have a career as they have family support from their own parents. Ms Sandra Lim shares that she is blessed to have parents who willingly help her take care of her 3-month-old and 4-year-old daughter. On top of that, it helps that her workplace is 15 minutes away from her parents' place and that her boss is flexible in allowing her to manage both her work and her daughters
How Happy Are Our Working Parents?
NTUC U Family conducted a Happiness Poll to find out the state of mind and well-being of Singaporeans in November 2012. About 5,720 U Family members were polled: 61% indicated they were happy, 34% gave a neutral response, and 5% said they were unhappy.
A supportive network and marriage and parenthood were found to be contributing factors to happiness.

However many respondents indicated a lack of workplace support, and inadequate family and personal time.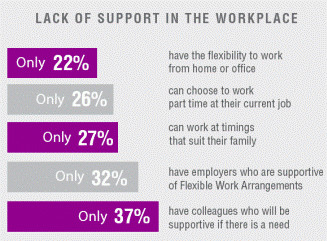 When asked what would make them happier in the poll, work-life balance and financial stability came up tops.
What A Career Means to Parents
Choosing between work and family for mothers (and fathers too) is not just exclusive to Singapore, it is a worldwide concern. A career is not about having a job where parents have to slog it out every day with long hours, low pay and little career prospects.
For most employees, a career means having a Progressive Wage Model where they are given career advancement opportunities, space to improve their skills and productivity, and paid fairly for the quality of work and contribution to the company.
➡️ Related Read: Plan Your Mid-Career Switch with NTUC's e2i
For employers, it is not only important to put into place a clear Progressive Wage Model for their staff, but also create and sustain a culture of trust and flexibility in the workplace.
Why Should Companies Focus On A Family-Friendly Culture?
According to a survey conducted by The Working Mother Research Institute in America (2012), having flexibility at the work place topped the charts of the importance of work benefits for mothers. Furthermore, most mothers who enter back to the workforce would seek an employer with a reputable name for having pro-family policies.
One example companies here could adopt is to allow mothers to work from home (if their job allows it) or come up with a four day work week schedule. Another example is to allow employees to use paid sick leave to care for their sick child.
Work-Life Balance For Parents: What Are The Actions Taken
There are ongoing discussions between unions and companies to set up action plans and goals to support employees for Work-Life Harmony. One such action plan is to implement Flexible Work Arrangement (FWA) & Right to Request for FWA in Unionised Companies.
The right to request for FWA is proposed to be extended to all parents, priority to parents with children with special needs and parents with very young children. Employers may review employees' request for FWA and any refusal must be shown by employer to have been made on "reasonable business grounds".
* * * * *
What do you think of the above suggestions and current policies? Share your thoughts with us.
Want to be heard 👂 and seen 👀 by over 100,000 parents in Singapore? We can help! Leave your contact here and we'll be in touch.