With effect from 1 May 2013, it's not just mums who get precious leave after the birth of their baby. Working fathers, including those who are self-employed, are now entitled to one week of government-paid paternity leave (GPPL).
UPDATE: In his National Day Rally speech 2015, PM Lee announced that all fathers will get 2 weeks of paternity leave. The extra week will be paid by the Government. The 2 weeks paternity leave will be implemented on a voluntary basis for now, but with the public service launching it with immediate effect.
This leave (government funding is capped at $2,500 including CPF contributions) is to be taken within 16 weeks after the birth of the child. It can also be taken intermittently up to a year after the birth of the child, if mutually agreed upon between the employer and employee.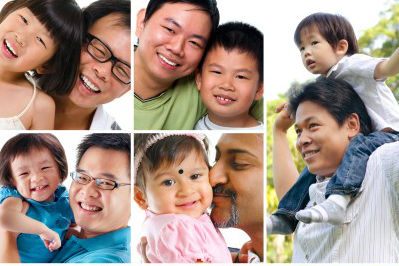 The following criteria need to be met:
The child must be a Singapore Citizen, born on or after 1 May 2013.
The child's parents must be lawfully married.
Father must have served his employer for a continuous duration of at least 3 calendar months immediately preceding the birth of the child. For self-employed fathers, they must have been engaged in a particular business/ trade/ profession for a continuous duration of at least 3 calendar months immediately preceding the birth of the child. In both cases, there must be evidence of lost income as a result of not engaging in the trade, business, profession or vocation during the paternity leave period.
Yet many men are especially concerned that taking too much leave can adversely affect their career or standing in the company. A lot of fathers are not taking their long-awaited, well-deserved paternity leave, for this and various other reasons. If you're a father or father-to-be, here are five reasons why you should:
#1. Your wife needs you
That super woman who carried your baby inside her for nine months, went through a grueling labour, and has now to grapple with the intricacies and frustrations of feeding and caring for a newborn – she's not that super. No matter how tough or efficient your wife may appear to be (and many new mums are more likely overwhelmed with stress and emotions), she needs the strength, the stability, the security of your presence. She needs to know that you're on her side when well-meaning relatives and friends offer all manner of unsolicited advice and feedback.
She needs you to be by her side as you face the challenges and struggles of parenthood together. If you work together, some kind of routine will begin to emerge and normalcy will (sort of) resume within the first few weeks. But it takes hard work to get there, and it's easier together than alone.
#2. Your body needs the rest
If you're going to be the pillar of support that your wife needs, it's going to use up all your energy reserves. Now is not the time to be inundated with meetings and stress. Don't discount the value of a week of no work constraints and deadlines – it could be vital for your health, and give you the window of time you need to ease back into 'normal' life again after baby is born. When you do take your paternity leave, don't waste it by gaming late into the night or meeting friends for late night suppers.
Treasure whatever rest you can get, and try to be up at least some nights with your wife as she feeds baby round the clock.
#3. It's just a week (now its two!)
It's not like you're taking a month off work. True, a lot can happen in one week, but it's highly unlikely you'll lose your standing in the company simply by virtue of being absent for a week! If you're self-employed, or run a small company, it's true that taking time off can be challenging, but look at it as a small and short-term price to pay for a good head start to this new long-term role of fatherhood.
#4. You are not indispensable
Don't lie to yourself that your absence from the office for a mere week is going to ruin the business. Your company does not (and should not) depend solely on you to function. (And if it does, maybe it's time to rethink that area of your life?) It could take some extra preparation work and thinking ahead, but you can delegate the important tasks to trustworthy persons, prioritize your workload, and manage your expectations, so that you can take that one week off without worrying about work.
#5. Making memories won't wait
Those first few days of your baby's life are irreplaceable. His first bath, his first poo accident, the first time he grasps your hand like he would never let go. Watching him sleep, tiny eyelashes against smooth cheek. His skinny arms and legs that will very soon become chubby and round. His first time out in a pram or a sling. The first time your wife breastfeeds outside the home. His first (of many) midnight screaming fits. His gassy smile in his sleep. That milk-drunken look after a good feed.
Be there. Capture the moment in your memory.
Sometimes, you might catch it with your camera. Share these early memories with your wife; cherish every one. Before you know it, in the blink of an eye, your newborn will be crawling, then walking, and then running at full speed around the house! Time flies so fast, enjoy the present while you can.
By Dorothea Chow
If you find this article useful, do click Like and Share at the bottom of the post, thank you.