Cleaners, kitchen assistants, waiters, lorry attendants, security guards and production workers. What is the first similarity that strikes you in jobs mentioned above? Jobs that require little education? 'Come and go' jobs with low pay and poor career prospects?
We like to see this group of people as society's unsung heroes; a group of people in our country who work tirelessly behind the scenes. This group of people should not be regarded as just 'come and go' commodities in the workforce; they too are instrumental for the growth in our economy.
In a booming economy like Singapore, the cost of living has risen substantially over the past 10 years, where a $2 Chicken Rice is now a thing in the past. As prices rise, wages should also increase for people to bear with the rising cost of living.
However, for many years, the low wage workers have been neglected and their wage increase has not risen in tandem with the rest of the workforce.
Source: Business Times article (22 April 2013) on stjobs.sg
Now why would this information be of concern to you? In fact, this may not even affect you directly. You and your spouse may already hold a comfortable white-collared job, with a stable income and rosy career prospects. However, in your circle of relatives and friends, you may know of one or two people who fall into this category and are struggling with the current rising cost of living.
How can they ever be able to keep up? What will become of their families if they can't?
What about implementing minimum wage?
A minimum wage is the lowest pay that employers may legally pay their workers. It is normally used to acknowledge the increased standard of living of workers, and aims to decrease poverty, and inequality. Countries such as Hong Kong and Malaysia adopt this system. However, there are several drawbacks.
Firstly, employers may fire some workers because of the increased labour cost incurred to comply with a minimum wage, and may even look to hiring more experienced foreign workers for the same wage instead.
Secondly, there is no room for career progression as there is no incentive for companies to upgrade and train their workers.
Thirdly, the minimum wage may eventually become the workers' maximum wage as companies can simply choose to pay them this minimum wage throughout their entire career.
And lastly, without a clear career progression and little opportunity to increase wages, workers are not incentivized to work smarter or harder, causing business competitivity and productivity to become stagnant.
But…what if there is another solution which can enhance the minimum wage model?
Taking a step at a time
Imagine a flight of stairs, where each step represents a different salary tier. The low wage worker is at the bottom of the stairs. A few ways he can advance to the next tier would be taking a course to upgrade his skills, increase his productivity, expand his job scope or assume a supervisory role. But in order for him to move up, he first needs support from the company to create and define a progression of these steps and provide opportunities for workers to climb up the flight of stairs.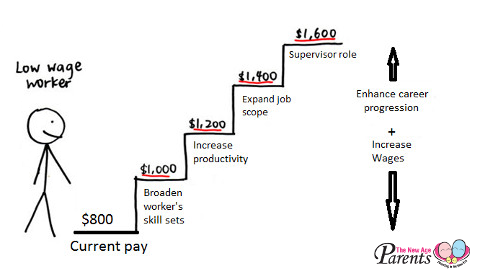 PWM to the rescue!
This is where the Progressive Wage Model, also known as PWM, kicks in. More than just ensuring the minimum wage for a worker, the model takes it many steps further. Based on skill, productivity and job level, workers will be given opportunities to earn more for their families sustainably.
Here's an example: if a cleaning contractor company servicing a school implements PWM, it could send its school cleaner (who currently earns $800/month) for training to learn a new skill on how to operate a cleaning machine. This will allow him to clean a larger area than what he could previously cover.
No More Stagnant Wages for Low-wage workers
The company can now manage the cleaning of a school with fewer cleaners (which lowers manpower costs) and redeploy the remaining workers to take on more cleaning projects elsewhere (leading to higher sales). With the increased profit margin, the company is able to pass on these productivity gains to the workers by raising their wages.
Already in Action
To ensure that PWM is put into action, the respective union clusters and companies work out a Progressive Wage Model that is tailored to each industry. Some 7,000 cleaners for the civil service are already receiving a minimum monthly salary of $1,000 as part of the government's scheme to only award government contracts to cleaning agencies that have developed a career path for cleaners to up-skill and progress to higher wages under the PWM.
What's more, to help companies implement progressive wages, the government has provided grants to companies to send their workers for Workforce Skills Qualifications through the Workforce Development Agency, and co-funding for productivity projects under the Inclusive Growth Programme through e2i, where companies share the productivity gains with their workers.
Tzer Jing, a mommy who blogs at TheKamFamily.com, believes that the Progressive Wage Model "works well in industries with younger group of workers, with workers who are eager to learn and to improve themselves.".
Edmund Tay, a blogger and father of three, says that "Not only will the well being of lower income workers be looked after, but these companies will be more competitive as well!".
Do you think the Progressive Wage Model will work?
If you are a business owner or manager in your company, what else can you do to help your low wage workers?
Share your comments with us below!
Images by The New Age Parents
If you find this article useful, do click Like and Share at the bottom of the post, thank you.
Want to be heard and seen by over 100,000 parents in Singapore? We can help! Leave your contact here and we'll be in touch.