Madam Alice Teo, a single mum who works as a security officer, can finally look forward to getting more pay and a better career via NTUC's Progressive Wage Model, which will be implemented 1 September 2016.
Progressive Wage Model A Tough Fight For Unions
For Alice, the Progressive Wage Model (PWM) for her profession was a long wait as she saw the cleaners working in her building getting a 25% pay increase by September 2014 when PWM was legislated as a mandatory condition for cleaning companies.
NTUC had been pushing for PWM for the security industry for the last few years in the face of strong opposition from security employer associations.
Last year, a fed up Lim Swee Say (NTUC's leader) warned he would not back down from getting better wages and jobs for security officers.
"Let me be very clear, we will never allow any one of them (the employer associations) to slow us down." He said, referring to the employer associations which had refused to cooperate.
After much pressure from NTUC, the breakthrough came this year with the government announcing that Progressive Wage Model would be made mandatory for security agencies from 1 September 2016.
[ Click here for a larger image]
Chart: Security Industry Progressive Wage Model
Many security officers will receive more than a 30% pay increase from $800 to $1,100 basic salary a month. Some companies such as Alice's employer are incrementally adopting the Progressive Wage Model to pay their staff slightly more according to their skills, productivity and career experience.
Age Is No Barrier To Lifelong Learning
For the past year, she has been attending courses with the support of her company. Happily recounting her experience, she shares how she has attended a course on CPR, customer service and fire-fighting, by NTUC Learning Hub.
Speaking in mandarin, she says she "enjoyed the courses" and "learnt a lot". "Now I know what to do when emergencies happen. I feel more prepared and equipped to handle these situations."
For Alice, her greatest wish is to be able to learn English Phonics. She has also attended English courses to brush up on her reading and writing skills, but due to her poor grasp and understanding of English phonics it hinders her from improving her level of literary proficiency.
What Does She Think About the Progressive Wage Model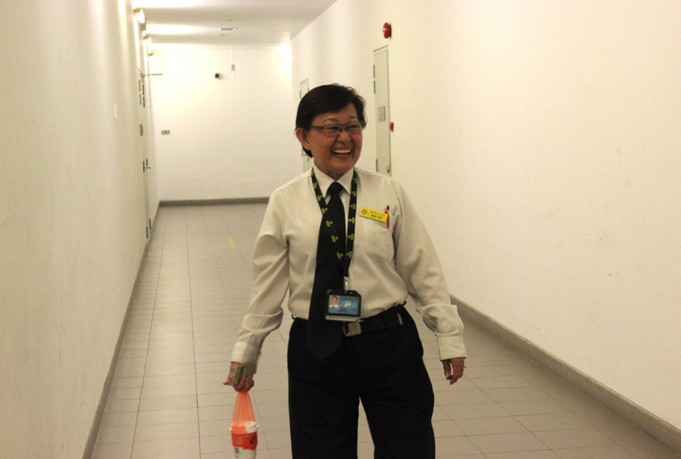 For security officers like Alice, her 20% pay increase of $200 is just the beginning.
Alice commented that $200 is a lot of money. With a higher basic salary of $1,100, it would also mean that she would get higher OT pay.
The OT pay is crucial for her, as it helps her get by each month's expenses. With the additional income, she will also be able to start saving for retirement, and tide her over during festive periods like Chinese New Year, where she will need to give ang pows and make more purchases.
She also hopes to work hard to move up the four ladders of Progressive Wage Model ladders.
"If I can improve my English, I would be very happy. I think I would be able to take on a bigger job responsibility and maybe advance to a supervisory role."
This is the second part of a two-part series which looks at how a single mum will get a 20% pay raise by the Progressive Wage Model. Read the first part here.
If you find this article useful, do click Like and Share at the bottom of the post, thank you.
Want to be heard and seen by over 100,000 parents in Singapore? We can help! Leave your contact here and we'll be in touch.