"A mother should never share the ugly side of a failed marriage with her child."
Vivian Pan, a 31-year-old single mother, founded the Single Parents Support Group (SPSG) as a way to support other single parents. From organizing fund-raising garage sales to alerting SPSG members of job openings, Vivian is constantly on the lookout for ways to help single parents in need." My main focus is on the children. Kids should not be left hungry," Vivian said. Groceries and milk powder, as well as diapers and pre-loved items such as strollers and playpens, are "blessed out" by kind donors.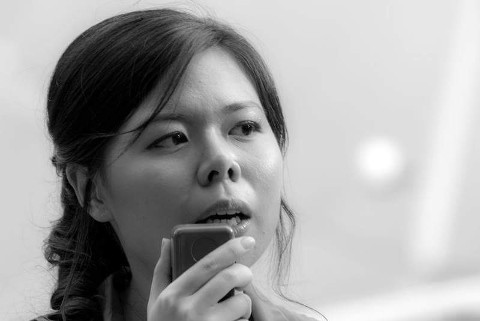 Vivian Pan, 31, founder of the Single Parents Support Group
Sometimes all it takes is a listening ear and words of encouragement to make a difference, and Vivian has those too: "I admire the courage that single mothers have and it's not easy, but you are not alone. We walk this path together bravely… Nothing is impossible. The word IMPOSSIBLE decides it: 'I'M POSSIBLE.'" Vivian shares her own story, along with the stories of other single-parent families that she has helped.
How did you become a single mother?
My ex-husband was a drunkard and jailbird. He had an affair, didn't take care of the family, neglected his responsibilities as a father, and failed to work. I finally decided to go through divorce.
What is the relationship between your kids and their biological father? Does he help out with the kids, and if yes, to what extent?
After our divorce, he disappeared. Most of the help comes from my very supportive parents who have been key figures in my child's upbringing and during my most difficult times.
How is Father's Day handled in your single-parent family?
At the start, my child would ask where his father was. After some time he stopped asking, as he began to understand who was there for him and who was not.
Father's Day has been a struggle for me, as the school focuses on both Mother's Day and Father's Day and preparing gifts for both. Whenever Father's Day approaches, I can feel my son going through seeing his friends making gifts for their fathers. But he is not the only one; there are many kids from single-parent families, too.
I strongly believe a mother should never share the ugly side of a failed marriage to her child. A child is the most innocent party. Till now, I have never revealed to my child the kind of person his father is. My child is still young and his focus should be on studying, building character, pursuing his passion, and having fun. Perhaps when he reaches the mature age of 16, I will share with him more.
What are some of the most memorable cases involving single parents that you've come across?
There was a single father with a young daughter whose wife passed away due to cancer. He had to learn how to tie his daughter's hair. He struggled but as time went by, he braved up. He has a very kind girlfriend now who loves his daughter a lot. It always cheers me up when I see single parents finding their true happiness, showing that life is still worth looking forward to.
⇒ Related Read: Sharings Of A Single Father
In another case, a single mum successfully got her rented flat. However, she could not afford anything when she first moved in. I gave her a rice cooker, washing machine, and kettle via kind donors. At that time, her only daughter was also suffering from a scalp problem and had to shave her head bald. I told the girl that she looked beautiful because she had the sweetest smile. I first helped this family two years ago. Recently I revisited them during Chinese New Year and brought them groceries and Chinese New Year clothes. Seeing the children's smiles motivates me to keep SPSG going to bring more smiles and hope to single parents.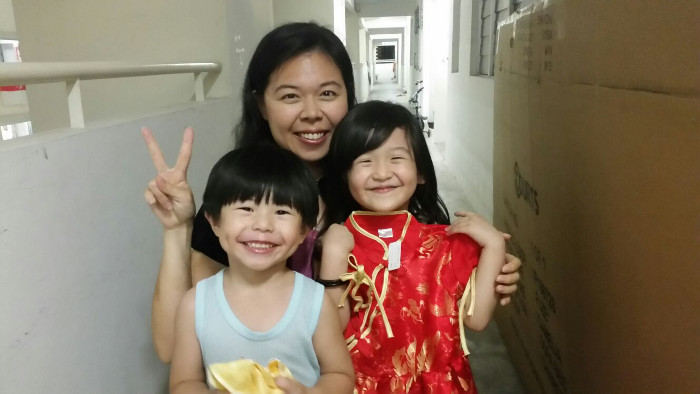 Vivian, with two kids she helped.
The cost of raising kids in Singapore can be high. Single parents aren't entitled to the same benefits as married parents. How do you feel about that? What do you think should change?
It's true that the current policy is unfavourable toward single parents. There is a 50-50 judgment on this. Unwed marriages should not be encouraged, thus, baby bonuses are not given to single unwed mums. But those single unwed mums may be facing betrayal or the sudden departure of their other half. They still choose to hold onto the little innocent life in their belly and take up the role of a mother.
Recently, the government has given the same number of parental leaves for single parents as married couples. This is encouraging.
I still feel that if the full amount of baby bonuses cannot be given to single unwed parents, the government may consider giving 50% of it to cover the newborns' basic needs such as milk powder and injection fees. Many single parents struggle with medical expenses; it's a concern because babies' immune systems are weak. The children are innocent, and no matter what they are still Singaporeans who may turn out to be scholars and valuable citizens who contribute greatly to our society.
⇒ Related Read: The Difference Between Baby Bonus And CDA
What do you feel when you hear married parents complaining about how stressed out they are – especially when, as a single parent, you are taking on the role of both a mother AND a father?
Single parents are also parents. Maybe we should not be coded as single parents but as parents. Stress levels are faced by all. My advice for married couples is this: The best support is to have a supportive partner who is ready to share their time on parenthood. Communicate as much as possible, and be understanding and encouraging to one another.
What are the must-know resources for single parents especially when looking for financial help?
This website may be helpful. Visit their nearest Family Service Centre or their Members of Parliament.
To learn more about SPSG, visit their website.
Photos courtesy of Vivian Pan.
By Jenny Tai.
This article was first published in The New Age Parents e-magazine.
* * * * *
If you liked this story, show some love by liking and sharing it at the bottom of the post.
Like what you see here? Get parenting tips and stories straight to your inbox! Join our mailing list here.