Gain insights on essential parenting skills and get trusted advices from our healthcare professionals. This parenting forum is an event you should not miss!
KEY HIGHLIGHTS
Childhood respiratory infections and the impact to your child's heart
Planning your family finances and maximising your child subsidies and schemes
Potty training your child – The right time, the right way
Face-to-face discussion with experts on post-partum care – Pelvic floor dysfunction: Understanding the cause, how it affects you and treatment options
WORKSHOPS (Each participant is entitled to 1 workshop per session)
Workshop (Session A)
Recognising the developmental red flags for early interventions
Techniques for successful breastfeeding
Fostering a secure relationship with your child through the "Circle of Security" (for parents with children aged 0 – 5)
Caring for your newborn skin
Stretching the dollar for your family
Workshop (Session B)
Ways to enhance your child's development
Techniques for successful breastfeeding
Raising little warriors: Help your child develop effective coping skills
Tips for parents: Parenting in the new digital age
Self medicating your child and how to do it safely
Click here to download information
For online registration, please click here.
Registration closes on 20 July 2017 (Thursday). Seats are confirmed upon full payment on a first-come-first-served basis. Registration fee is non-refundable.
For more details, please call 6394-5038 (Monday to Friday, 8.30am to 5.30pm). Or log on to www.kkh.com.sg/ParentingForum.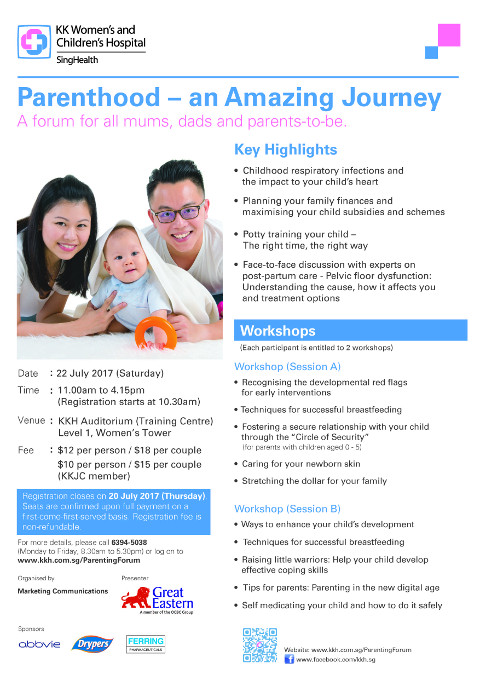 Click here for a larger view.