"Bubbles have made me understand that life is ephemeral and you've got to enjoy it at an emotional level."
TNAP caught up with Pep Bou, the 63 year-old Spanish bubble whiz behind Bubble Magic to tell us more about his magic and fascination for bubbles.
Hi Pep! What's it like to create soap bubbles as a career? 
To create soap bubbles as a career, you must be patient, trust the work and be a complete perfectionist. I love the nature where I live and I try to go to the sea whenever I have time. Bubbles have made me understand that life is ephemeral and you've got to enjoy it at an emotional level.
How long does preparation take and what do you need to prepare before a show?
It takes 6 hours of preparation on the first day. On the following days, we need two hours to get everything ready: soap mixtures, humid atmosphere, instruments, wardrobe, lighting and sound.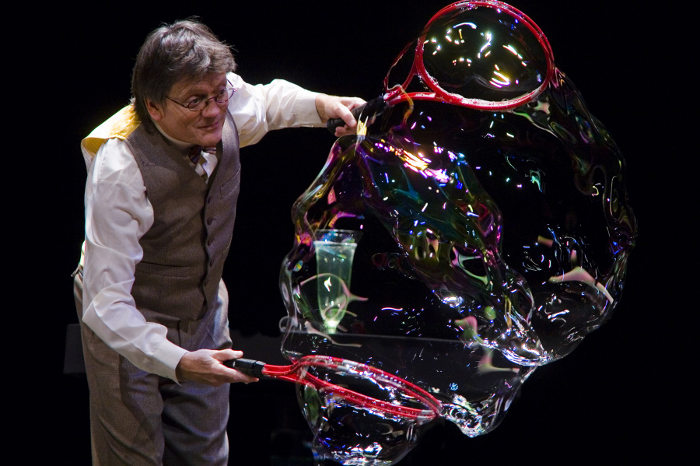 Which countries have you performed in and who were your favourite audience?
I have always had an exciting, emotional and pleased response in all the countries where I've performed. The audience's age is not important to me. I work so that any person of any age becomes excited and leaves the theatre with a smile on their lips. I don't believe in shows with age restrictions. Theatre is for everybody.
Bubbles seem to have a certain hypnotic effect on children. Why do you think so?
Bubbles have a hypnotic effect on children from 4 to 13 years old, from 14 to 20, kids from 20 to 60 years old and also those 70 years old and above…
One little known fact people know about bubbles is…
That when they burst, they don't explode in all directions, but instead they pull into a spherical shape due to surface tension, like they want to change into drops. As a metaphor, they are the exact size of our times.
One little known fact about your show is…
That we perform and manipulate the bubbles as if it were all very easy, but it is actually extremely complex and difficult.
When I am not busy creating magic with bubbles, I am….
Our soap bubble performances require a lot of work, as does creating new projects, holding meetings and interviews, building materials, conducting tests with soap, replacing materials, management. I don't have children, but I do have a brother with kids and grandchildren. All the people I work with are also part of my family.  If I have a bit of time left over at the end of the day, I meet friends, play sports, read and cook nice meals.
Children and adults should watch our show because…
An audience of children, parents, teenagers, the elderly…. besides sharing the excitement of bubbles, they also share the different reactions each viewer has depending on their age.
The show will be performed by cast members Isaias Antolín Jiménez and Eduardo Telletxeagarcia.
Tickets are available at Sistic.
If you find this article useful, do click Like and Share at the bottom of the post, thank you.
Want to be heard and seen by over 100,000 parents in Singapore? We can help! Leave your contact here and we'll be in touch.