Our family loves the zoo. Whenever we ask the boys if there's somewhere they want to visit during the school holidays, "the zoo!" is their unanimous response! So it's no surprise, then, that we normally pencil in a trip to the zoo at least twice a year – during the June and December breaks.
Buying our tickets
Quick tip: To save on time and the hassle of queueing up to pay the entrance fees, we always buy our tickets online. Buying online also entitles you to a discount! If you're planning in advance, look out for promotions from Wildlife Reserves Singapore or Klook.
What we brought
A trip to the zoo is never complete without our arsenal of snacks, water bottles, wet wipes and mosquito repellent. And because our boys are so prone to falling down, we brought along some band-aids as well. Even though there are quite a few F&B options within the zoo, I like packing us a veritable picnic so that we can eat on the go whenever any one of us is hungry. We also save some money this way, as things in the zoo can be pretty expensive.
Planning the route
Quick tip: One of the first things we always do when we enter the zoo is to grab a couple of maps! To be honest, I've been to the zoo enough times to have a pretty good grasp of the general layout of paths and habitats, but it's still handy to have a map to refer to for the nearest restrooms or to track down a specific species of monkey.
This trip, we let David help to plan the route. Of course, he wanted to see every single animal. Of course, we gently explained to him that the zoo was really big, and perhaps we should not stop at every single exhibit, but head to the ones we really wanted to see.
We looked at the map together and I helped him to read the names of the shows. We also looked at the feeding sessions which allowed them to participate (look for the asterix in the brochure), and shortlisted the ones he definitely wanted to be at.
Learning along the way
What we love about dates like these is how there is so much fun-learning to be found around every corner. There's really no better way to learn than to be immersed in an environment that engages your child's interests and senses, and the zoo is definitely one such place! It's no wonder that many homeschoolers I know make almost weekly trips to the zoo.
B1 is just beginning to read, and there were plenty of signs all around to pique his interest. I was pleasantly surprised to hear him trying to read some of the signs on his own initiative, and proud of him when he did manage to read or guess a fair number of words! Not to mention that these signs really pack a lot of interesting information in digestible chunks.




For his younger brother, we took the chance to increase his vocabulary in terms of the names of various species of animals, and to ask him questions about their appearance. For example,
"Look at the tiger! What are those lines on his body? Do you know what they are called?"
"See the lion! It's another big cat. Does it look the same as the tiger we saw?"
"Wow! So many monkeys! What colour is his face? Oh, look! His bottom is blue!"
"Look at the giraffe's tongue! What colour is it? What colour is your tongue?"
The learning continues long after our zoo trips are over. For instance, during this visit, David was busy drawing all the monkeys and apes that he had seen while we waited for our lunch. I was pleasantly surprised that he could distinguish some of the key species we saw, like the cotton-top tamarin, spider monkeys, orang utans and gibbons.
The day after our zoo trip, the boys wanted to draw their own zoo map. So I gave them a huge sheet of brown paper and some crayons, and they proceeded to draw paths in their zoo and cordon off habitats for the animals. Such a simple project, but a good exercise in utilizing space and spelling the animal names.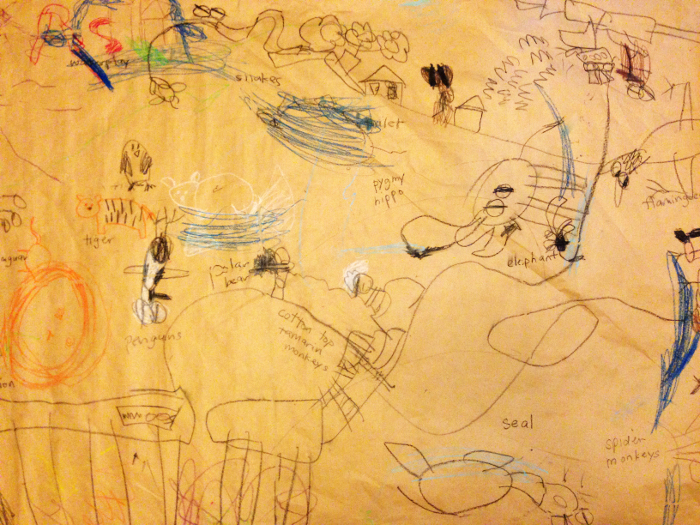 The highlight of their day
No trip to the zoo with kids is ever complete without some time spent at Rainforest Kidzworld. As always, the boys loved feeding the goats and watching the Animal Show. B1 enjoyed a pony ride, but his younger brother wasn't keen to try. And to end the day with a splashing good time, we let them loose for half an hour of water play!
These dates with my boys are definitely physically and emotionally exhausting, as any mum of two can attest to, but these are the moments I hope they will remember and cherish for years to come. Yes, their school organizes field trips and excursions, and yes, they will visit such places with their friends in time to come. But there is something special about visiting these places as a family, creating precious memories together.
Through such times, I learn to appreciate the wonder that they have for creatures great and small, from the huge African elephants to the small brown snail we spotted along the path. I watch them holding hands, and my heart swells with love for these brothers. I hope they will support each other through all of life, not just during these days of childhood. And when I see their palpable joy when they spy their favourite animal or spot the lion hiding behind the rock, their joy becomes mine too.
After a long and tiring day, we arrived back home with two sleeping boys in the backseat, a bag of wet swim clothes and towels, empty snack packets and four full and happy hearts.
Text and images by Dorothea Chow
If you find this article useful, do click Like and Share at the bottom of the post, thank you.
Like what you see here? Get parenting tips and stories straight to your inbox! Join our mailing list here.