Rosemary, sage, thyme, basil, coriander.
All these herbs are well-known for adding flavours to our foods. Besides making our food taste good, herbs also have healing and medicinal benefits. For example, herbs can also help to boost our immune system, ease our digestion and some even have anti-cancer properties. But did you know, herbs not only improve one's health, they can also improve one's hair and scalp health?
Healing Your Scalp with Herbs
Did you know? To treat scalp problems, ancient Africans steeped flowers and avocado leaves in olive oil to make healing infusions.
Is your hair always dry and frizzy and doesn't seem to agree with your comb all the time?
Do you always see clumps or strands of hair strewn all over your toilet floor?
Embarrassed of always finding speck of white flaks or spots on your shoulders?
Well perhaps it is time to get acquainted with these 6 'hair' herbs!
• Burdock – For healthy locks
We normally use this in soups, but this long 'woody' herb promotes healthy hair, relieves scalp irritation and improves scalp conditions.

• Leopard's Bane – Free of infections
Though it has a masculine name, this yellow flowering herb is pain relief, helps stimulates one's immunity and helps clear fungal and bacterial infections
• Chicory – For sensitive skin and inflammation
Have sensitive scalp and skin prone to allergies or inflammation? This purplish-blue bloom aids in hair growth, and helps to relieve skin allergies and inflammation.

• Rosemary – For Clean hair follicles
This herb is effective in cleaning hair follicles and improves circulation to the scalp; in turn promoting hair growth.
• Sage – The natural moisturiser
A natural moisturiser and hair darkener, this is used for hair loss prevention and dandruff treatment.

• White Willow – For itchiness
Can't stop that itch in your scalp? Good for dandruff and dry itchy scalp, this herb is also highly effective anti-inflammatory for oily and acne-prone scalp.
Premium European Herbs
The herbs used in TrichoKare's products are not like the ordinary herbs where you can just buy from any nursery. Firstly, the herbs used in TrichoKare's products are premium herbs grown in Europe.
Secondly, their products are prepared under strict laboratory standards, ensuring that what you apply to your scalp is 100% drug-free. Because these products contain pure bio-extracts from the herbs, it does not leave a greasy residue, neither does it alter one's hair colour. In fact, it can be used on almost any type of hair condition.
With the gentle healing properties of these herbs, your hair is in for a treat and natural indulgence, free from any harsh chemicals and artificial fillers.
Introducing The Hair Experts: Tricologists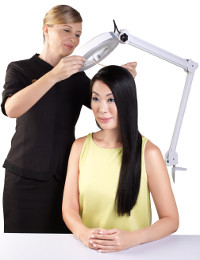 Who are they?
Trichologists study the science of the structure, function, diseases and care of the human hair and scalp. They also learn about the anatomy, chemistry and physiology of the hair and scalp, as well as nutrition, genetics and microbiology.
Are there certified Tricologists in Singapore?
Yes, there are certified trichologists in Singapore. One such place is TK TrichoKare. TK TrichoKare is the first in Singapore to be started by a certified trichologist. It is also the first ISO 9002 certified trichological centre in Singapore. TK TrichoKare uses only European herbal hair remedies developed from natural and aromatic herbs to effectively treat hair and scalp problems and prevent them from returning.
A solution to every scalp, no matter how dry, itchy or oily
Whether you have hair loss, dandruff, dry and itchy scalp or oily scalp problem, the hair specialists at TK TrichoKare ensure a solution for every customer with hair and scalp problems.
This post is brought to you by Trichokare.
Keen to address your hair and scalp concerns? Try out TK TrichoKare's award-winning Scalp Purifying Therapy at $40 nett. It comes with a FREE MaxiKare Ampoule (applied during treatment), as well as a Nourishing Hair Bath and CompleteKare Mask.
Sign up now at this link or WhatsApp 9150 8891 and quote <NewAgeParents> – our exclusive promotion code! – to enjoy this time-limited offer. Promotion is applicable from now till 30 April 2023!
* * * * *
Like what you see here? Get parenting tips and stories straight to your inbox! Join our mailing list here.
Want to be heard 👂 and seen 👀 by over 100,000 parents in Singapore? We can help! Leave your contact here and we'll be in touch.