One day, as you were cleaning the house, your little one comes to you with a bunch of black mass in his hands. "Mummy, look at this black stuff!" he says to you.
To your horror, he has picked up all the hair that has amassed in your shower cubicle drain. That's when you began to notice the signs.
You spot more of your hair around the house – on the floor, your bed and on the sofa. Even the hair on your comb seems to accumulate faster than before.
A quick google search shows that there could be a variety reason for your increase hair loss – family history, hormonal changes, stress, diet, lifestyle, age and medical conditions or medication. But how do you get to the root of the problem? How do you know if it's due to your diet, age, or a sudden hormonal change? Where do you even start and who do you look for?
Getting To The Root of Your Hair Issues
TrichoKare has helped more than 10,000 customers regain their hair and scalp health since 2014, and is now the leading trichological centre in Singapore. Face the hair problems below?
TrichoKare can help you regain your crowning glory and healthy scalp.
Why TrichoKare?
1. You receive the best advice from an expert in the field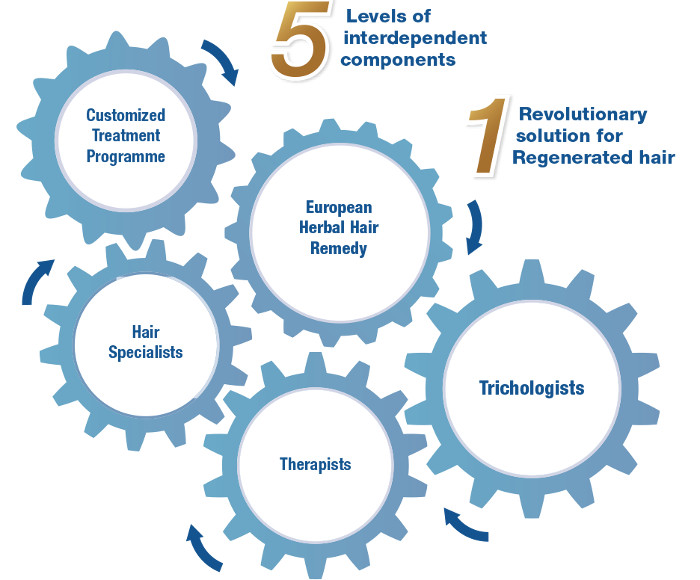 A certified trichologist will be assigned to give you a personal assessment of your hair and scalp condition. A trichologist is someone who is well-studied in the area of hair care and scalp. They adopt a holistic approach and look at your lifestyle, diet and general well-being before diagnosing your hair condition.
After diagnosing your scalp and learning about your lifestyle and diet, the trichologist will tailor a special remedy catered for your scalp and hair type. Using the most updated technology and premium European natural herbs, let the hair experts at TrichoKare show you what they can do.
2. They use premium European herbs in their hair remedy
Natural active extracts of herbs are blended into TrichoKare European Herbal Hair remedy. These herbs have been carefully selected for their healing and strengthening properties. 100% drug-free and containing pure bio-extracts, they are prepared under strict laboratory standards and do not leave a greasy after-feel or alter your hair colour.
Some of the herbs in their remedy include:
• Burdock: Improves strength, the shine and the thickness of the hair
• Rosemary: Slow down premature hair loss and grey hair and helps to clear dandruff
• Aloe Vera: Keeps scalp healthy through its antibiotics-mimicking properties and moisturies the hair and scalp
• Jojoba: Removes sebum from the scalp and dissolve follicle blockages, delays aging through its unique antioxidant properties which protect the hair and scalp from free radical damage so your hair looks shiny with unsurpassed manageability.
3. You get a hair treatment customised just for you
Whether it is hair loss, dandruff, dry, itchy or oily scalp, or a combination of a few hair issues, there is nothing the trichologist can't solve. Each treatments is customised based on your own hair and scalp conditions, using a remedy that offers the best hair and scalp solutions catered just for you.
4. Because it works
You can read our TrichoKare review to learn more about the before and after treatment.
5. It is the people's choice
With 13 years of experience in providing targeted hair solutions, TrichoKare is the people's choice in hair treatment and has received several awards in the year.
Relief your fears and stress over your tresses and regain your healthy, strong locks again!
Even if you think you don't have major hair issues, you might be surprised at what you find.
Don't wait till it's too late.
TrichoKare is having a special give away this May!
---
TrichoKare x TNAP Giveaway
By taking part, you immediately stand to receive a $350 hair treatment voucher.
To redeem your voucher, top up an extra $40 to enjoy an Award-winning Hair Densifying Treatment, which includes a FREE Revitalising Ampoule + Energy Serum worth $743 in total!
One lucky winner will also be selected to win their Grand Prize:
TrichoKare Ultimate Hair Care Hamper worth $313
Hamper includes:
Purifying Bath 200ml
Organic Herbal Conditioner 200ml
Wooden static hair brush
$100 Award-winning Hair and Scalp Treatment Voucher
Enjoy this one-time only deal before it ends!
Fill in the form below:
Oops! We could not locate your form.
Contest ends 21 May 2017.
For more contests and giveaways, go to The New Age Parents Contest Page
Terms and Conditions apply. Please also read our Privacy Policy.