Classes that pack a punch
At Heguru Education, the right brain is being effectively stimulated using a variety of techniques which are not used in the typical Singapore classroom. Each class is packed with a range of over 40 activities in an hour.
Complementary activities are also peppered throughout the classes to train your child to harness their powerful right brain abilities such as photographic memory, speed calculation and concentration. The left brain's linguistic and analytic thinking skills are also strengthened simultaneously. Other focus areas include motor skills development, character building and parent-child bonding.
---
"The best investment I made for my child!"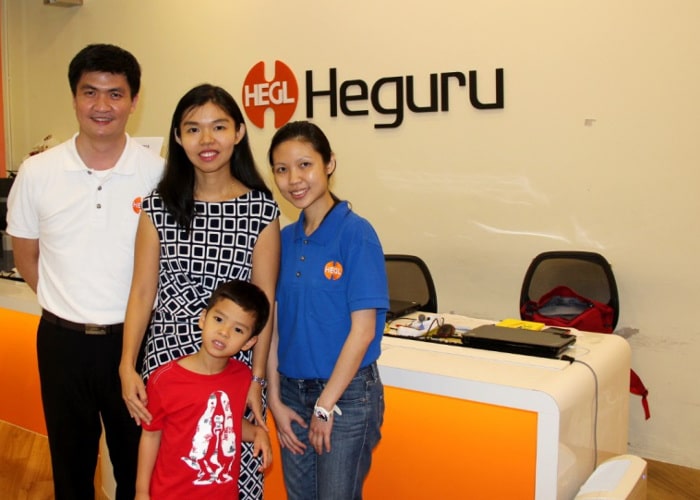 Miss Lee Pei Lin, mother of William Teh, with CEO Mr Kuah and Head Teacher Paige
What makes you attracted to an enrichment programme for their child? The curriculum or the teachers? For Lee Pei Lin, it was both. Just three months into the programme, she observed that her second child, William, was able to concentrate better and had a longer attention span. He has been attending the programme for the past three years.
"The curriculum of the programme appealed to me. On top of focusing on developing the right brain, Heguru Education helps to discover a child's hidden talent, hone their critical thinking skills and boost their confidence to become more independent. William takes pride in his learning and is very motivated to practice what he has learned in class at home." adds Pei Ling, a mother of three.
All her three kids, aged eight, six and three, attends classes at Heguru Education Centre @ One KM.
---
"My son, who was not speaking even at the age of two, showed rapid progress in his speech."
Miss Noeline Wong, mother of Nathan James Wong, with Teacher Yun Tong
Noeline Wong, a MOE school teacher, was initially hesitant to enrol her son. But after a few sessions, she saw how he progressed rapidly in his speech. "We had our concerns when Nathan was still not speaking at the age of two.
When he first started with the toddler programme, there was hardly any participation. Slowly but surely, about four months into the programme, his speech rapidly progressed. After attending Heguru classes for a few months, he was subsequently discharged from his clinical follow-ups for his speech." Noeline has been sending three-year-old Nathan to Heguru Education for the past year.
She also enrols her eight-year-old daughter in the Heguru Primary course at Heguru Education Centre @ One KM.
---
"It stretches his cognitive thinking and appetite for learning."
Miss Chan Wai Leng, mother of Matthew Chan, with CEO Mr Kuah and Head Teacher Paige
Chan Wai Leng, was looking for a program that would fit her inquisitive and energetic boy. After attending Heguru classes, she has not looked back. Like Pei Lin, the mother chose Heguru Education because of the programme and strong parent-child bonding element.
"Most of the materials taught were slightly daunting at first, but after a few lessons, we were surprised to see that Matthew was able to complete the tasks. This opened our eyes to the potential of our child and we are glad that the Heguru Education techniques are effective in unlocking Matthew's potential and helping him to learn at an amazing pace across various domains of studies. Matthew is still ever inquisitive and never fails to surprise me and my husband with his nuggets of knowledge and techniques he picks up from the lessons."
Apart from Matthew, Wai Leng also sends her four year old daughter to Heguru Education Centre @ One KM for the past three years.




Dedicated team of teachers
What differentiates Heguru Education Centre from the rest is also its dedicated, passionate and highly experienced team of teachers, the majority of whom are graduates from Singapore universities or universities in Australia and the USA. "Nathan absolutely enjoys every class. Not once did he show any signs of refusal to step into his classes. He adores his teachers – Teacher Yun Tong and Teacher Shu Mei, who never fail to shower the kids under their charge with lots of love and attention."
Under the guidance of the teachers, Pei Lin also saw how he has grown from a shy to a confident and active learner. "Head Teacher Paige, who has been teaching William for the past three years, is a very dedicated and passionate teacher. She takes the initiative to conduct meetings with parents and keep us updated on our child's progress. On top of that, she is very generous with her advice and encouragement. She would constantly give me ideas on how I can engage William at home." This is probably also the reason why most of the parents hear about Heguru Education through word-of-mouth.
Branch at Punggol Waterway Point!
The campus at Waterway Point provides a conducive learning environment for the little learners. It is conveniently located in the heart of the North-East region and is directly linked to the Punggol MRT station.
Heguru Education builds a strong foundation and provides a head start for young children before they start formal education. Learning techniques acquired at Heguru Education will benefit them for a lifetime!
Visit www.hegurueducation.com.sg for more details. Follow them on Facebook at www.facebook.com/HeguruEducation or drop them an email at enquiry@hegurueducation.com.sg
If you find this article useful, do click Like and Share at the bottom of the post, thank you.
Want to be heard and seen by over 100,000 parents in Singapore? We can help! Leave your contact here and we'll be in touch.